Uncovering the Experiences of Female Loyalists
Elizabeth Lilly is a rising senior at Washington College in Chestertown, Maryland where she is pursuing a Bachelor of Arts...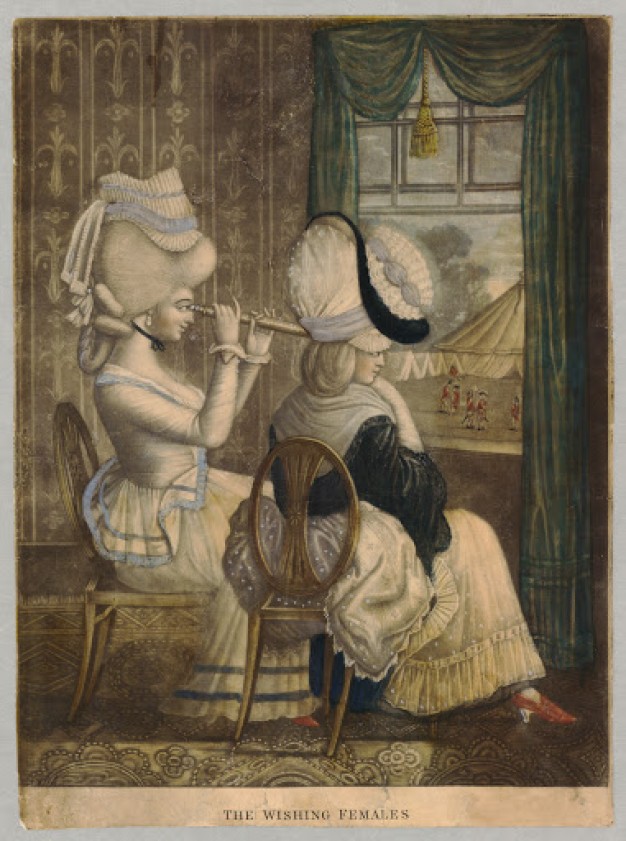 At the time of the Revolutionary War, political allegiance became one of the most important points of identification for a colonist: would one stay loyal to the British Crown or join the Patriots in fighting for American Independence? However, white men often made this choice for themselves and on behalf of their wives and other dependent members of their households. By remaining committed to their husbands, white women could be seen as joining one side of the war. Despite their lack of agency in defining their own political perspective and allegiance, women still faced significant consequences in identifying (or being identified) as Loyalists, but we rarely hear their stories. The Maryland Loyalism Project, on which I worked this summer as a CV Starr Intern, has set out to counter that silence and uncover the experiences of free white loyalist women. (To learn more about the Maryland Loyalism Project and how it worked to uncover the stories of Black Loyalists, check out this blog post.
The Maryland Loyalism Project makes available 18th-century primary sources through processes of transcription, analysis, and research to uncover and display the experiences of Loyalists in Maryland during and after the Revolution. Loyalism in Maryland was most concentrated on the Eastern Shore of the Chesapeake Bay. The utilization of ports in the Bay and the proximity to Philadelphia and subsequently New York City made the Eastern Shore, Annapolis, and Baltimore prominent locations throughout the Revolution. Each of these locations, along with scattered stories of Loyalists in Western Maryland, are chronicled through the Maryland Loyalism Project. 
One set of documents in the Maryland Loyalism Project are the Memorials presented to the Loyalist Claims Commission (LCC). LCC documentation reveals the stories of some white Loyalist women during the American Revolution. Individuals who remained loyal and actively worked in support of the British Crown could make a claim to the LCC following the war in hopes of compensation for losses incurred as a result of their loyalty. Within each Memorial is a story of wartime experience along with a schedule of losses, most of which were in the form of lost property. Lost property included land, buildings (dwelling houses, warehouses, etc.), household items, personal effects such as clothing, plantation utensils, livestock, and individuals whom they enslaved. With the help of witnesses and supporting documentation, Loyalists attempted to prove their need for compensation. Based on how well they met a certain standard of proof, the commissioners would determine the level of compensation they were awarded; most received far less than they requested.   
The Maryland Loyalism Project includes 73 Memorials submitted by Marylanders. These documents chronicle the stories of many male loyalists, but there are five submitted by women. Their presentation and experiences are notably different from most loyalist men. In the Memorials of female loyalists, narratives often focus less on themselves and more on their husbands or other male relatives by whom their loyalty was determined (and their property held). Typically, their experiences were subsumed by their husbands', providing less insight into the experiences of female Loyalists during the Revolution than we might like. 
Looking to the example of Elizabeth Dulany who resided in Annapolis, Maryland before relocating to Bladensburg in Prince George's County, Maryland, her narrative starts with the words "That your Memorialists Husband was…" and continues to elaborate on the story of Lloyd Dulany, her deceased husband.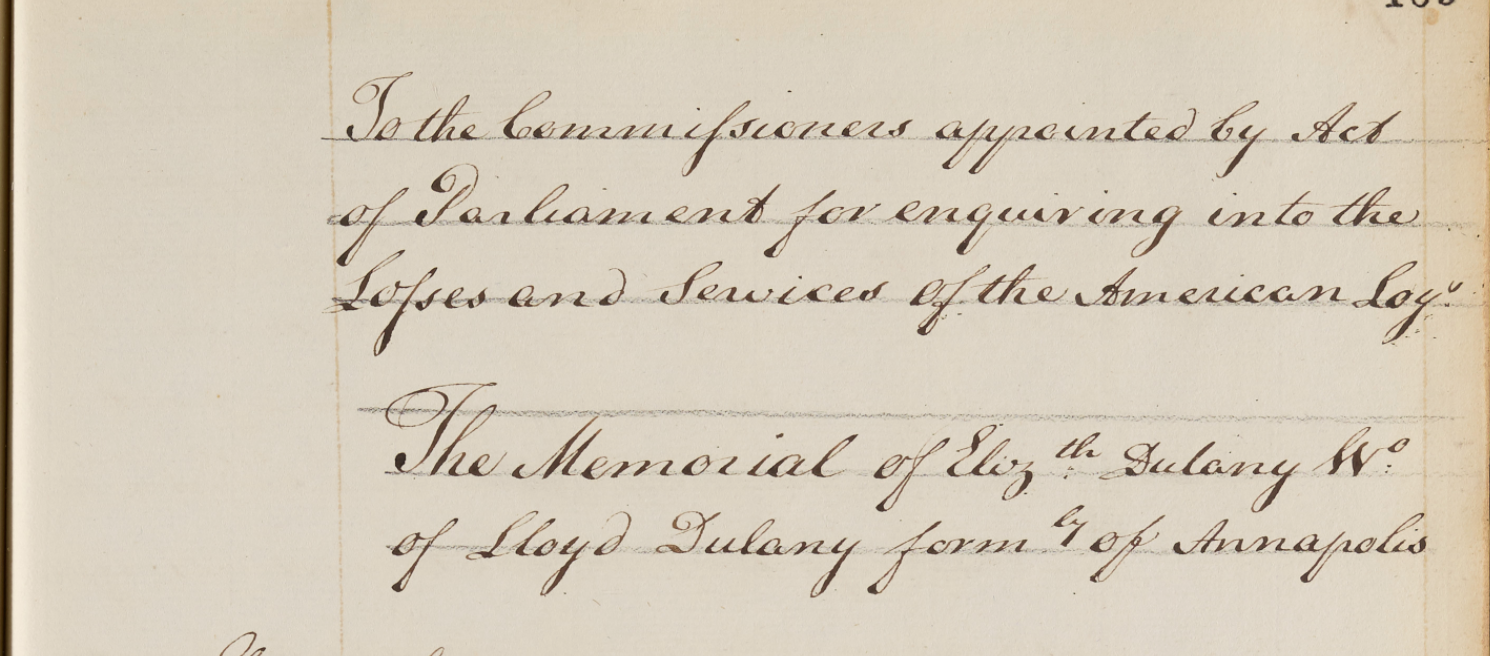 We learn that from the beginning of the Revolution, Lloyd Dulany "in no one instance departed from his allegiance [to Britain]," but never is Elizabeth's political affiliation or personal action noted. We later learn that her husband's estate was confiscated and sold and since the death of her husband, Elizabeth had been seeking the dower to which she believed she was entitled.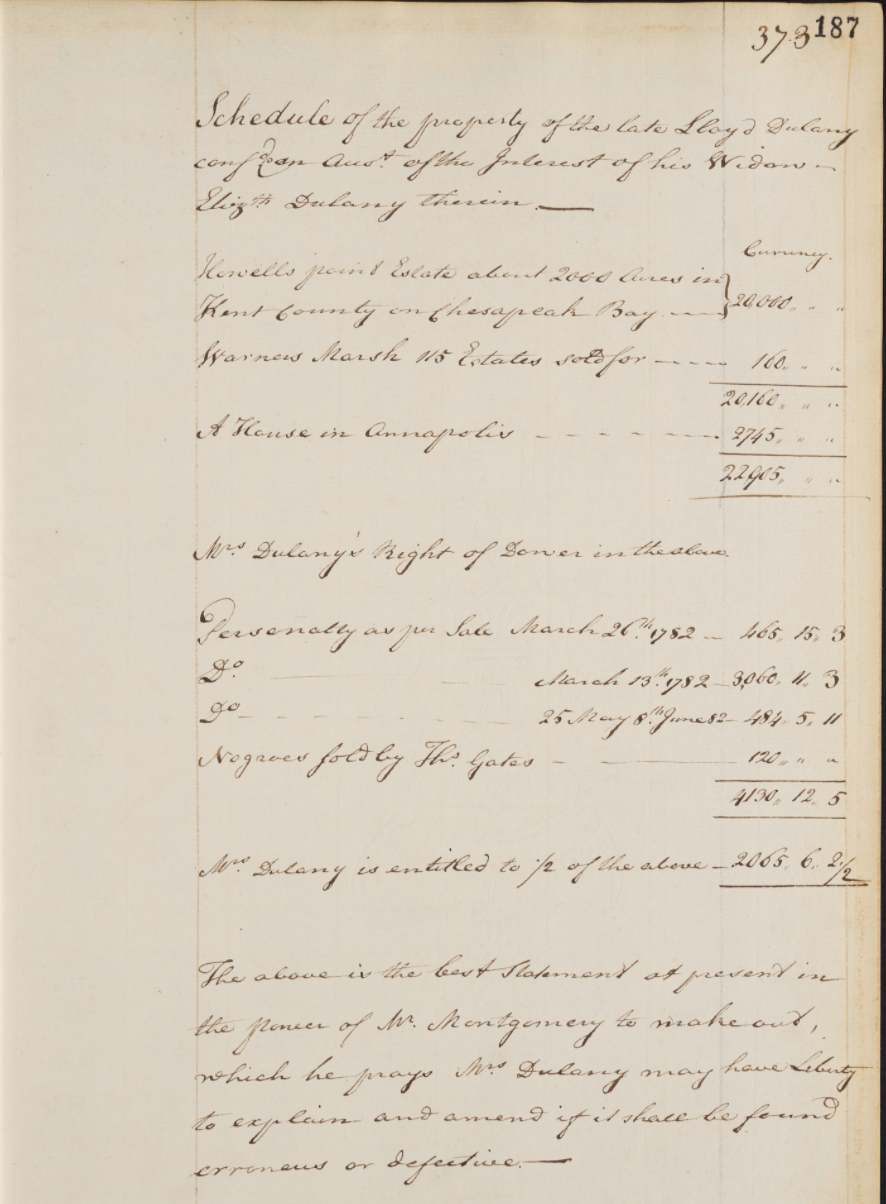 Nothing is revealed about Elizabeth beyond the scope of her husband when only looking at LCC documents; the same is true for the memorials of Mary Brerewood and Ann Russell. However, further research into the experiences of Loyalist women suggests many possibilities. Despite their general lack of agency in defining their own political affiliation apart from their husbands, women were still a valuable and complex part of the story of the American Revolution. 
Some women stayed at home if their husband left to fight or to escape to England. They took over caring for and running the family estate, hoping to fend off confiscation. This was the case for Elizabeth Allen. When her brother left Maryland to return to England, she stayed behind in hopes of maintaining the property. She was able to actively engage with the Loyalist cause by providing assistance in the form of donations to British Prisoners in Frederick, Maryland until she ultimately returned to England and requested financial assistance through the LCC out of necessity. Another white female Loyalist of Maryland, Susannah Marshall also stayed behind when her husband left the country and she was forced to quarter soldiers in her home and had blankets seized from her home for soldiers. Other women joined the Loyalist cause by following their husbands to the battlefront and served as camp followers helping to cook, clean, and care for soldiers. 
Regardless of their wartime experience, it is important to note how much these women lost as a result of the Revolution. With the loss of property, many women became refugees and had their lives uprooted. Others faced more gruesome consequences. For example, Susannah Marshall was almost tarred and feathered when she refused to quarter soldiers in her home. Their stories go far beyond tales of battles and noteworthy generals.

The stories of Loyalists often get overlooked, especially the stories of female Loyalists. Possibly due to inadequate historical records or a lack of current academic focus, there are many missing pieces to these stories, and it's time to start filling in the gaps using resources like the Maryland Loyalism Project. 
Research conducted using Ruma Chopra's Loyalist Women in British New York City, 1776-1783 and Mary Beth Norton's Eighteenth-Century American Women in Peace and War: The Case of the Loyalists (1976)