RevolutionaryPHL: Julia Stockton Rush Letters
Sabrina Bocanegra holds a B.A. in Anthropology from Temple University and her M.S.L.I.S. from Drexel University. Sabrina got her start...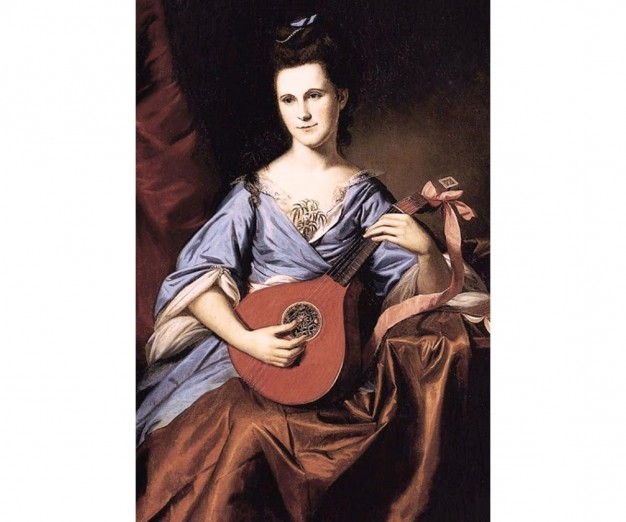 Two newly digitized letters from the Julia Rush Letters, 1776-1809 were recently added to the American Philosophical Society's digital library. As functionality and design testing begin on Revolutionary City: A Portal to the Nation's Founding, these two letters are among the primary sources currently being added to the beta web portal. In our January meeting, Revolutionary City stakeholders were able to engage with the letters by creating enhanced metadata for each. In these conversations, the project's stakeholders provided their own perspectives on the research value, access points, and themes for the two letters, ultimately producing meaningful and useful metadata for the primary sources' digital surrogates.
The Julia Rush letters give us a rare glimpse into a woman's life during the Revolutionary War. Coming from a prominent wealthy family, Julia was educated and free-thinking. Nevertheless, her letters demonstrate how her life, like many others, was (and was not) affected by the War for Independence. 
In her first letter, dated March 14, 1776, Julia writes from Philadelphia to her uncle, Samuel Stockton, in London. Her letter begins by expressing the love she has for her uncle and the deep sadness she feels that she has not heard from him in over half a year. Samuel is presumably held up in London pursuing his legal studies when the war breaks out and remains there until 1779. Yet midway through the letter, Julia's tone lifts as she recalls her first meeting, swift courtship, and marriage to Dr. Benjamin Rush, a prominent Philadelphia physician and friend of the family. An example of familial correspondence, Julia's 1776 letter highlights various themes: transatlantic communication, family separation, courtship, and marriage. While the beginning of Julia's letter demonstrates the impact the Revolutionary War has on her (such as not being able to get in contact with a beloved relative), the end of her letter reveals that life during wartime presses forward (she is proposed to and married in less than a year).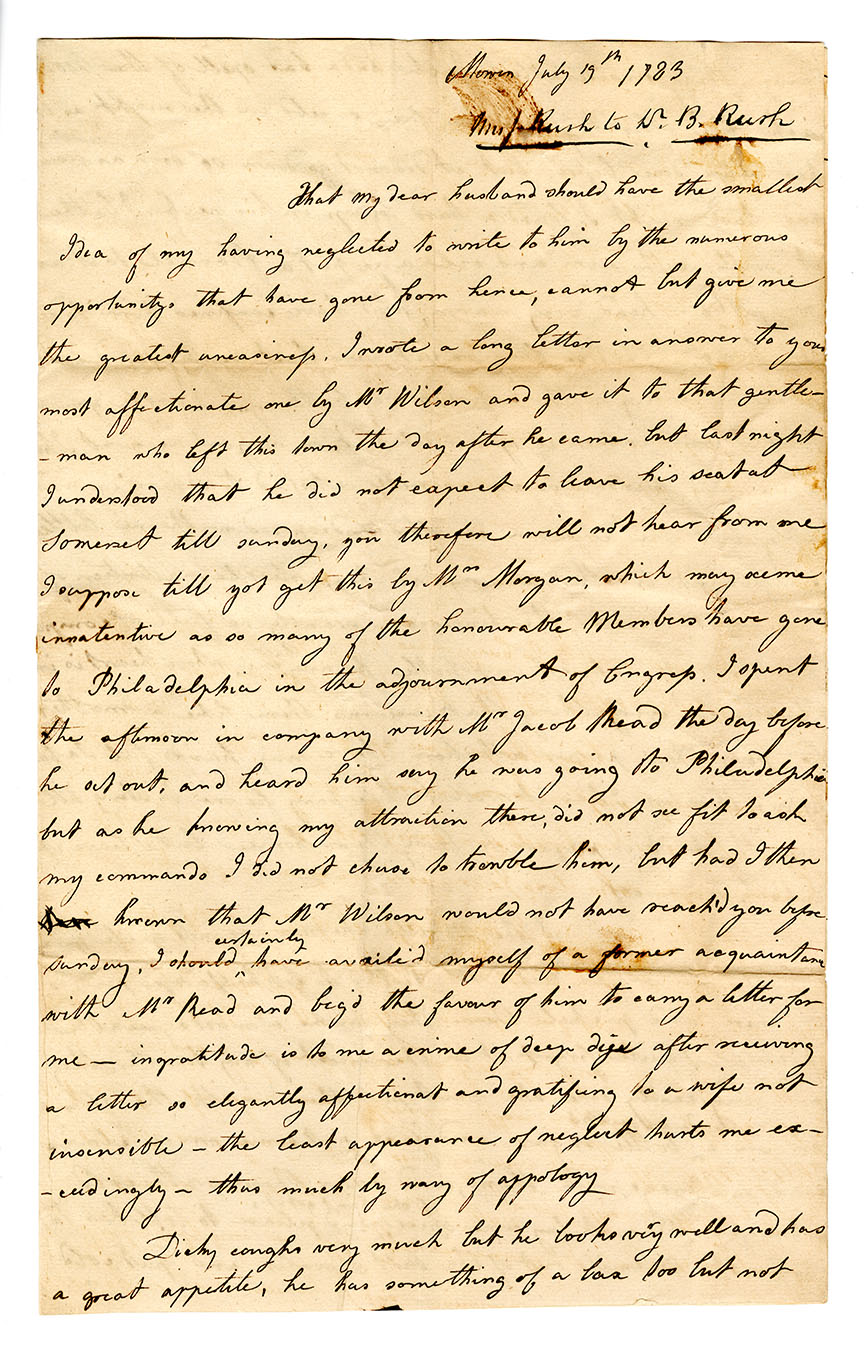 In her second letter, dated July 19, 1783, Julia writes from Morven (Princeton, New Jersey) to her husband, Dr. Benjamin Rush, in Philadelphia. Morven is Julia's family's estate, where she and her children reside during the latter half of the war along with other relatives. She writes to Benjamin, who is working at a hospital in Philadelphia, of their children's health and her care for their ailments (including a recipe and method to heal a toothache), while simultaneously delegating housekeeping chores for Benjamin to see through in Philadelphia. Like the 1776 letter, this letter is also familial in nature; however, the Revolutionary City stakeholders emphasized the way in which Julia weaves politics into her daily trials. Julia mentions the adjournment of Congress in Philadelphia and having spent some time with a member of the Continental Congress, Jacob Read. Themes drawn from this letter deal with social and political networks, motherhood, domestic child care, and medicine.
While the political history of America's Revolution is well documented, Julia's letters add to researchers' understanding of the era's social history. Through this project, I have not only been able to engage with our project's stakeholders, but also researchers who have an interest in this primary source material. 
Sarah Narramore, assistant professor of History at Northwest Missouri State University, helped contextualize Julia and Benjamin's relationship. Narramore emphasized Julia's age in her 1776 letter where, at 16 years old, Julia married 30-year-old Benjamin. Reading Julia's letter again after learning her age, I realized that this was not only a woman's narrative, but also a narrative of youth experience during a tumultuous time period. Narramore's blog post for Nursing Clio, expresses frustration with the lack of women's voices, especially ones like Julia's which is present in her husband's writings. Narramore contends, "Nevertheless, we can learn about [Julia] by paying careful attention to those fragments, evidence not only of [Julia's] social importance but often her medical knowledge."
Another researcher, Meg Roberts, a Ph.D. candidate in American History at Newnham College looking at caregiving and disability during the American Revolution, opened my eyes to the demands of motherhood and caregivers during this time. In Julia's 1783 letter, Roberts points out that men, specifically husbands, "could respond to the demands of the war and their professional lives with relative mobility." Dr. Benjamin Rush, as a member of the Continental Congress and a physician in the Continental Army, made his professional concerns his priority, whereas, in her 1783 letter, Julia makes it clear her children's care is her priority.
In corresponding with Sarah Narramore and Meg Roberts and engaging with Revolutionary City stakeholders, it is abundantly clear letters like Julia's have high research value. Julia Rush's letters show the many roles women played at the time, weaving together motherhood, housewife duties (especially those of a doctor's wife), and politics. As a member of the Ladies' Association of Philadelphia, Julia's daily experience also merges with that of the mobilized populace as she helps raise funds for Continental soldiers.
Revolutionary War narratives of women were identified by the Revolutionary City stakeholders as needing to be brought to light. For some time now, historians and scholars have highlighted the multiple roles women played in the fight for independence. History tells us that at least 50% of the population were women during this period and many of those women were participating in the war in one capacity or another. Narratives of the more "important" roles like camp followers, disguised soldiers, and fundraisers are often told more than those of ordinary women. We often forget the dramatic effect the war took on the lives of women as their husbands, sons, brothers, fathers, relatives, and friends were thrown into campaigns, sent into exile, imprisoned, recuperated in hospitals, and impaneled in boardrooms. 
While the letters of Julia Rush are few, they give us invaluable access to a woman's voice during this revolutionary time. Personal letters and diaries are a rarity, so we must sometimes look in unexpected places for the experiences of the historically excluded. As we dig to uncover the narratives of the daily life of ordinary people, we want to be cognizant of the different concerns of these people—especially women—whether they were poor or wealthy, black, white, indigenous, enslaved, free, single, widowed, or married. All of these differences matter in regards to how the narratives of the Revolutionary period should be remembered and told.
In my last blog post, I emphasized how crucial metadata is for making materials findable, understandable, and useful to the end-user. I also mentioned that it can be quite labor intensive. Through this project, we are fortunate to have the experience and expertise of our stakeholders to help enhance metadata for primary source material that would otherwise receive only core metadata. Before enhancement, the captured metadata for the 1776 Julia Rush letter consisted of the title (Rush, Julia Stockton to Samuel Stockton), creator (Rush, Julia Stockton), and date (1776-03-14). While this core information aids in the discovery of primary source material, additional metadata such as keywords in abstracts and controlled subject terms increase the access points to historical material and visibility to end-users. After enhancement by our stakeholders, the 1776 Julia Rush letter consists of a descriptive abstract including a quote from the letter, keywords such as proposal and marriage, and controlled subject terms such as United States--History--Revolution, 1775-1783--Women, War and families--United States--History--18th century, and Philadelphia (Pa.)--History--Revolution, 1775-1783--Social life and customs.
Throughout the project, our stakeholders and outside researchers will continue to share contextual information and perspectives that help compose meaningful and useful metadata. By adding enhanced metadata to primary source material like those described above we hope to lift up the voices that have been so hidden in the Revolutionary War period.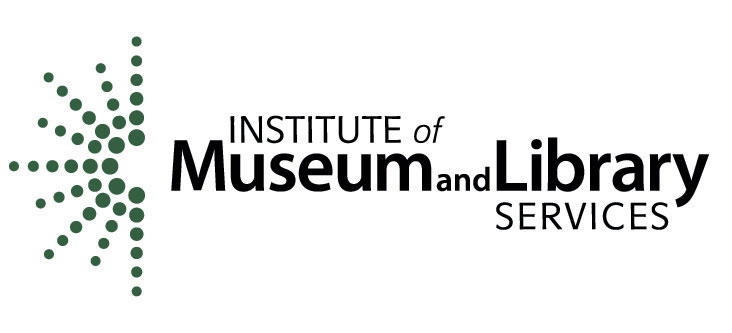 This project was made possible in part by the Institute of Museum and Library Services.