Revolutionary PHL: Tech Spotlight
Sabrina Bocanegra holds a B.A. in Anthropology from Temple University and her M.S.L.I.S. from Drexel University. Sabrina got her start...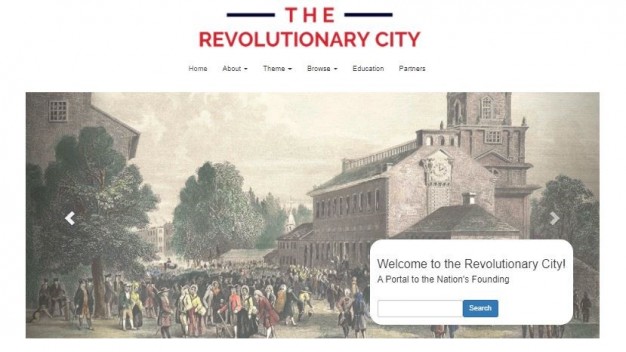 The Revolutionary City project team continues to work behind the scenes to keep the project on track despite delays due to the COVID-19 pandemic. While access restrictions to physical collections held within our participating institutions have curtailed our ability to digitize new material, over the past few months we have transformed and enhanced existing metadata, created and tested new workflows, designed a display interface and discovery layer for the beta portal, and engaged with the project's diverse group of stakeholders.
Last month we hit a big milestone and now have a portal prototype populated with digitized manuscripts along with their metadata! While this prototype is still in the early stage of development, we are at a good point to reflect on some of the decisions we have made along the way.
One of the most important aspects of our internal planning involved choosing a platform to host digitized manuscripts from collections physically scattered across multiple institutions. A guiding principle that has driven our team during this development phase is do not reinvent the wheel. With this in mind we built our portal using the open-source digital asset manager Islandora. The main factors in our decision to use Islandora were: knowledge (the project team is well-versed in the platform), support (Islandora is one of the most collaborative and supportive open source communities out there), and technological infrastructure (the APS Digital Library is built with Islandora). This last point is especially important as we already have a built-in repository to store all of our digitized material. While this project will share a repository with the APS Digital Library, to the end user the Revolutionary City portal will be a free-standing project. 
But choosing the platform was only the beginning. In a previous post I mentioned that the team spent time exploring the design and functionality of digital projects built on Islandora. This research was infinitely helpful, as it allowed us to see all of the possibilities the platform had to offer. With some inspiration from the Islandora community we were now ready to focus on design and functionality. 
We had a general sense of what we wanted the portal to look like, so the first thing we did was draw it out on a piece of paper: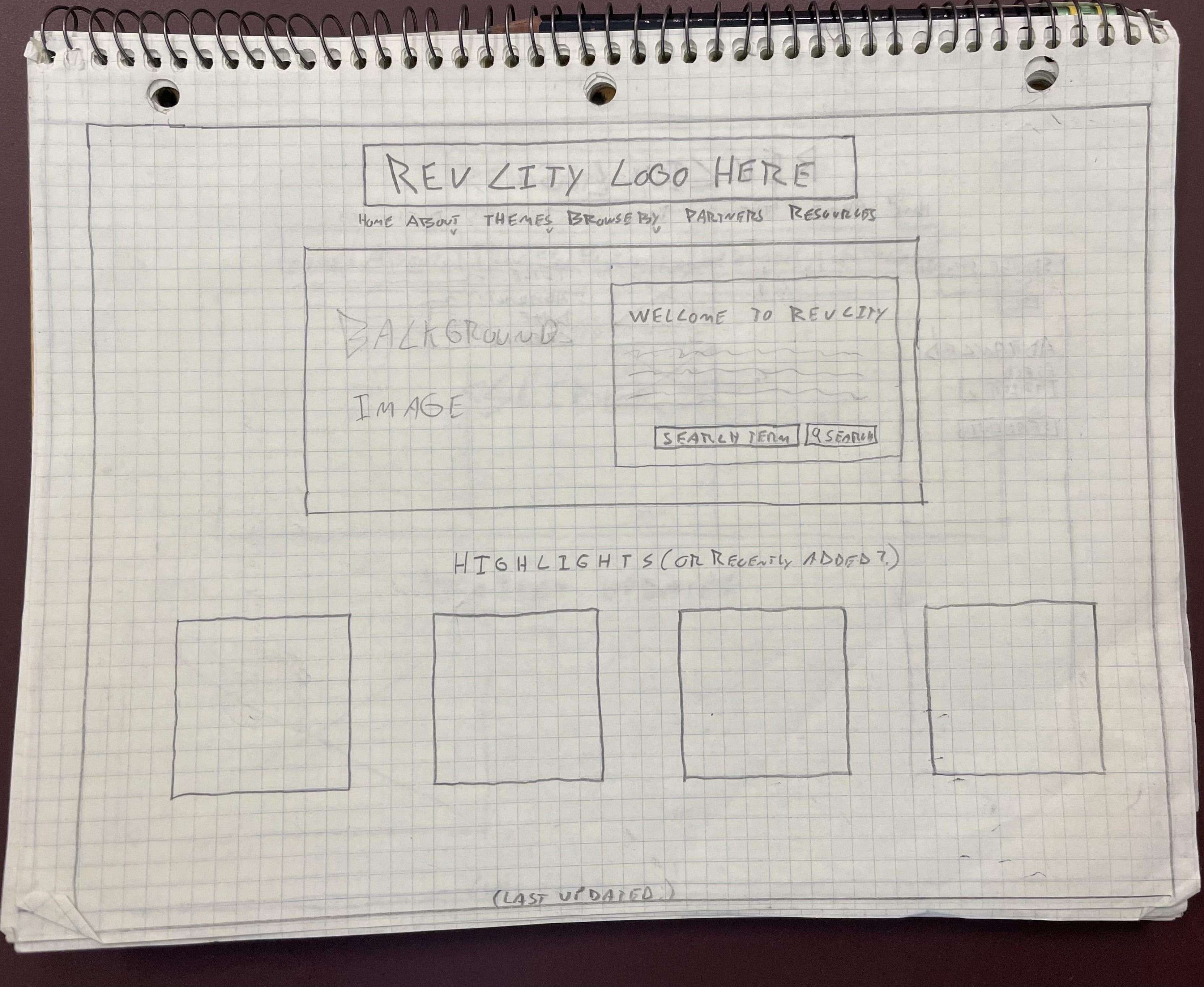 Once we agreed on our design, we brought in our lead developer to discuss steps for implementation. 
With the general design completed, we turned our focus to functionality, and created an exhaustive wishlist for the portal. We then sought guidance and feedback from internal and external stakeholders who helped us narrow down our list to prioritize essential function and design elements.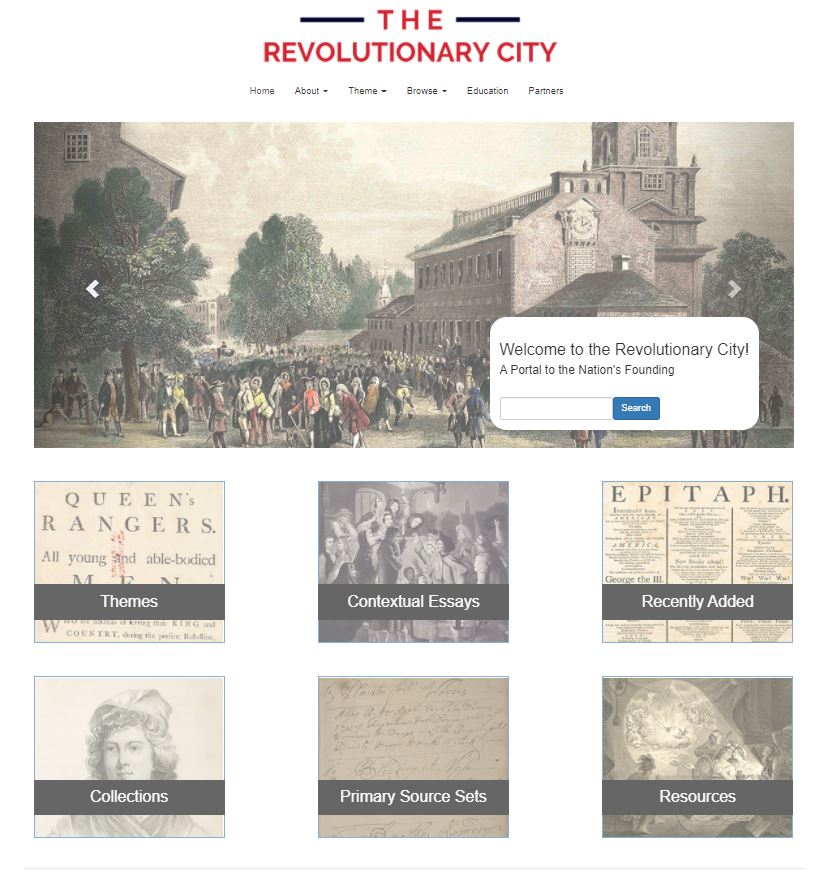 Along the way, it has been important for us to keep in mind that the whole pilot is iterative, and designed for testing through feedback and modification over the course of the IMLS grant year. This has allowed us to engage a diverse group of stakeholders and to incorporate their feedback into our design.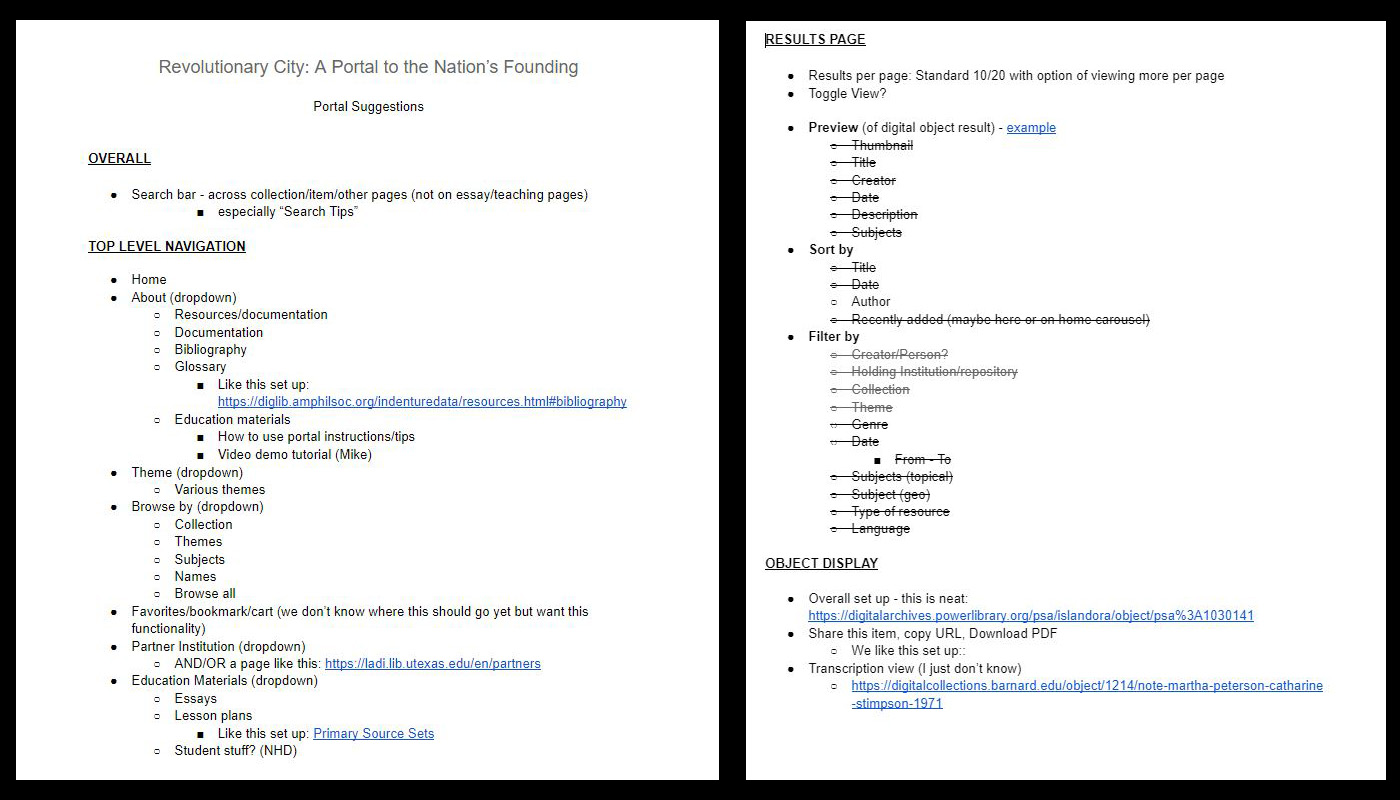 A silver lining of the pandemic year is the amount of time we've had to establish our project workflows. A significant part of the past few months was focused on customizing and refining current APS workflows for metadata creation and bulk uploading and applying them to the Revolutionary City project. This has been time well spent. Establishing solid workflows at this stage will allow us to achieve the long-term goal of expanding this project beyond the grant period. 
We look forward to revealing a more robust portal in a few months and exploring any impediments to the functionality and design with our stakeholders. Currently we are working with project stakeholders to figure out how to use the diverse narratives and newly digitized materials to engage different audiences.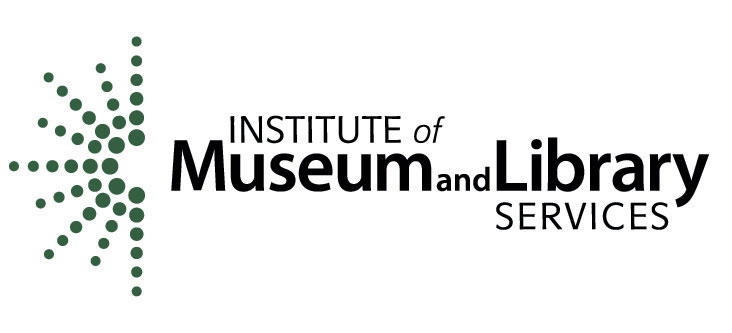 This project was made possible in part by the Institute of Museum and Library Services.