Revisiting Benjamin Franklin and the Art of Eating: Janine Boldt
Kyle Roberts is the Associate Director of Library & Museum Programming of the American Philosophical Society Library & Museum. Dr...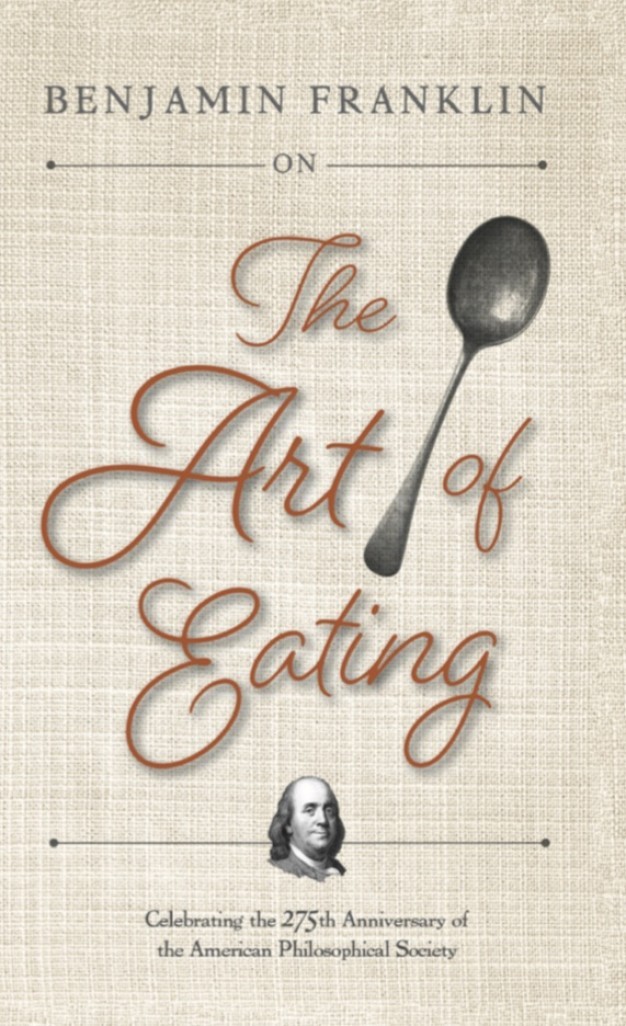 This week, we continue our exploration of the series of cooking recipes, found in the American Philosophical Society's collections of Benjamin Franklin's manuscripts. Nearly sixty years ago, APS Member and French-born literary critic Gilbert Chinard (1881-1972) was so taken by these rare survivals that he published a short volume about them, Benjamin Franklin on the Art of Eating (1958) which remains an APS bestseller. (Order your copy here.)
Benjamin Franklin remains a source of enduring fascination for the APS community. This past April we were scheduled to open a new exhibition, Dr. Franklin, Citizen Scientist. The exhibition considers the relationship between science and public life in the 18th-century Atlantic World by examining the production, circulation, application, and accessibility of scientific knowledge through the life and work of Benjamin Franklin. Throughout, it highlights lesser-known contributors to the scientific enterprise and the various spaces where science was performed. And as the title suggests, the exhibition connects Franklin's scientific pursuits to contemporary issues in science and society. The outbreak of the COVID-19 pandemic has necessitated that we postpone the opening of the exhibition until April 2021, but there are plans for a virtual exhibition to be launched in Fall 2020.
This week's conversant: Janine Boldt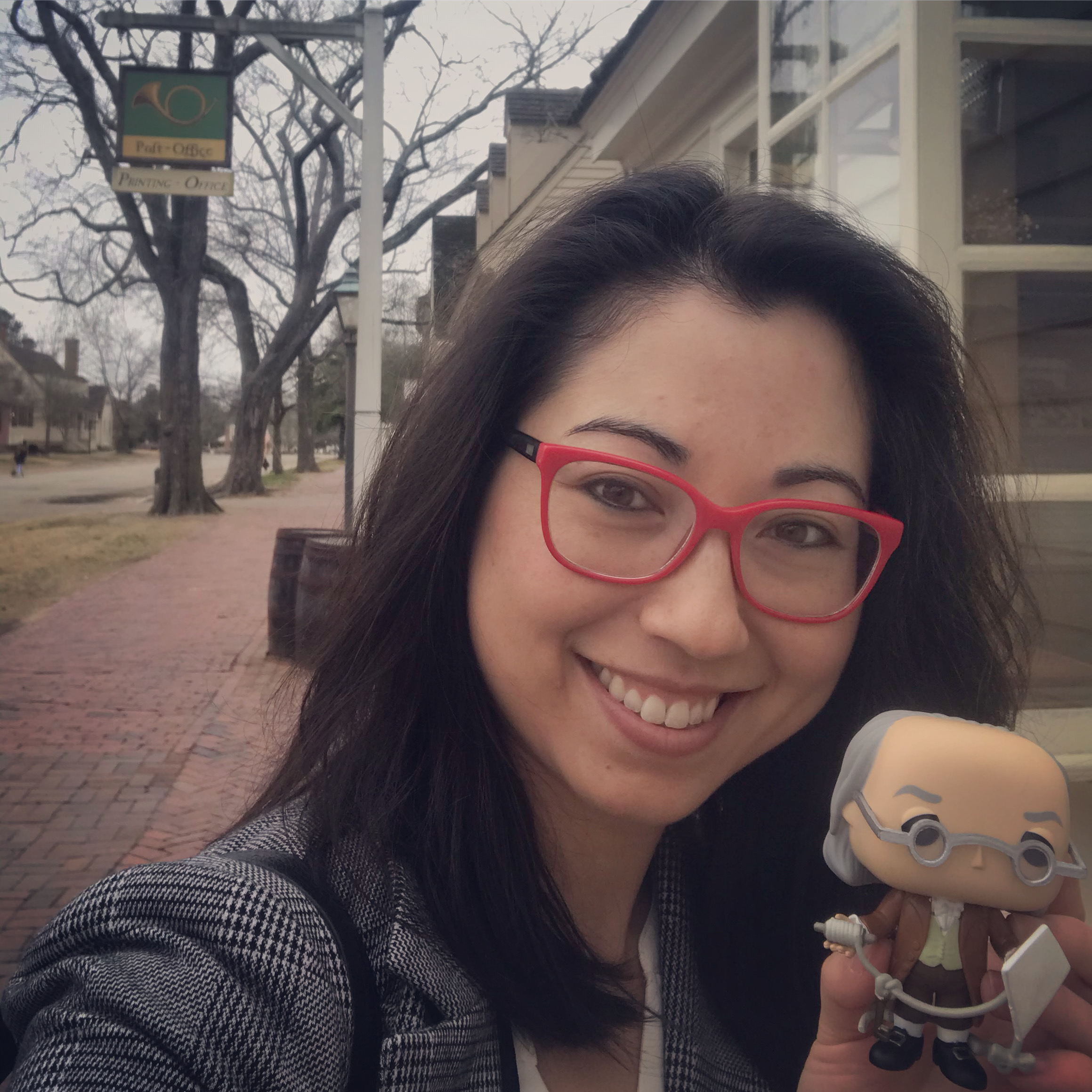 For the second in our series, we caught up with the lead curator of Dr. Franklin, Citizen Scientist and APS Mellon Postdoctoral Curatorial Fellow, Janine Boldt. Janine received her PhD in American Studies from William & Mary in 2018. This past spring she launched Colonial Virginia Portraits, an interactive database of all known portraits of Virginians painted at home or abroad before 1776. She is also at work on a book project that investigates the political function and development of portraiture in colonial Virginia.
What was the first thought you had when you learned that there was a recipe book in Franklin's papers?
 I wondered who wrote the recipes and why Franklin saved them. Who cooked them? Were any of them recipes used by Deborah? His mother or sisters? Perhaps Jemima, the enslaved woman owned by the Franklins?
What do we learn when we think about Franklin in the domestic sphere rather than the public sphere?
We get a fuller picture of Franklin and insight into how he became a political leader and scientist. Franklin was influenced by his family and experiences that occurred within the domestic sphere. When we think of Franklin's domestic life, we are also forced to confront some important but difficult topics and apparent contradictions. Franklin generally supported education for women but did not pay much attention to his daughter Sally's education. By the end of his life, he was publicly an abolitionist, but he and Deborah owned a number of enslaved people who lived and worked in his Philadelphia and London households.
Further, the line between the domestic and public spheres was blurry. As made clear by the letters and papers quoted in Art of Cooking, the public often blended with the domestic. Franklin's home was a gathering place and Deborah and other family members sent food and gifts to Franklin while he was away on business, some of which he redistributed. The people and activities we often consider domestic frequently engaged with the public sphere.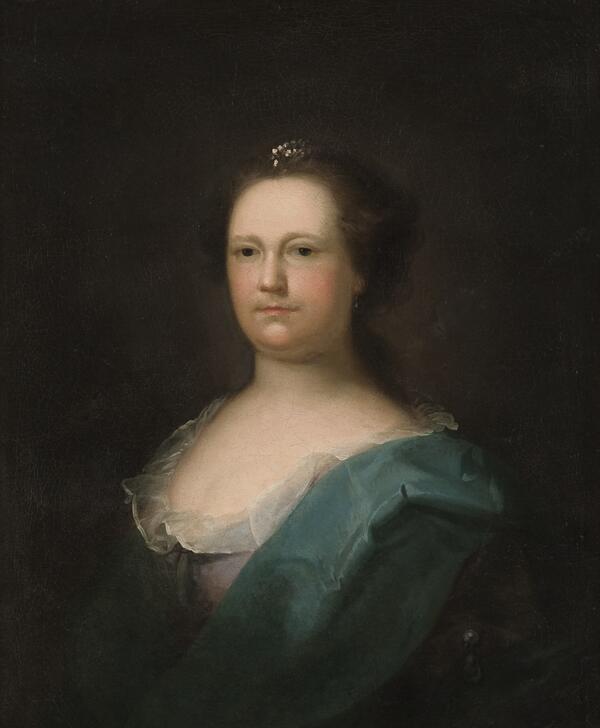 What influence did Deborah Franklin have on her spouse?
 Like most wives in the 18th century, particularly working-class wives, Deborah helped run the business, raised the children, and ran the household. As discussed in the Art of Eating, she was hostess to the many visitors to the Franklin household, even when Franklin was out of town. And Franklin was out of town a lot. He knew Deborah could handle his affairs capably or he would not have left her in charge of his business affairs so often and for such long periods of time. Many of Deborah's letters to Franklin no longer survive, but we know that Franklin respected her. There is also some evidence that Deborah held progressive anti-slavery views before Franklin did. It is hard to know which of Franklin's ideas and political views Deborah directly influenced, but she surely affected her husband more than most historians have given her credit for.
Your new exhibition (opening virtually later this year and to the public in 2021) is called Dr. Franklin, Citizen Scientist. What themes from the exhibition resonate with what you saw in the Art of Eating?
 One of the themes in the exhibition is Franklin's respect for manual laborers and the sciences typically dismissed as trade or domestic sciences. Franklin was a tradesman and grew up in a family of tradesmen. The experiential knowledge of manual laborers – from sailors, to chandlers, to printers – was knowledge that Franklin respected and that influenced his hands-on approach to science. Cooking and baking are household sciences, and that Franklin kept recipes and information about food amongst his scientific and business papers is evidence of Franklin's broad interest in useful knowledge.
 Another theme in the upcoming exhibition is that 18th-century science was a social practice. Many of Franklin's experiments were conducted in collaboration with others and he corresponded with a wide network of contacts about his experiments and theories. Eating and drinking while conversing – including in the Franklin household or at meetings of the American Philosophical Society – was part of Franklin's scientific practice.
At the APS, we revere Franklin as our founder, but why does the larger world continue to hold Franklin in such fascination?
 I think that Franklin remains a fascinating figure because he seems to exemplify the rags-to-riches dream. Despite his humble beginnings, he was incredibly famous and influential by the end of his life. It also helps that he was witty and very quotable, and wrote about such a wide variety of topics that there seems to be a Franklin-related fact for nearly any circumstance. There are also a lot of myths surrounding Franklin – the myth of him as a womanizer, discovering electricity, etc. I think people remain drawn to Franklin because he is both larger-than-life and relatable in a way our other Founders are not.
Which recipe in Franklin's recipe book intrigued you most and why?
 Probably the mince pie, even though it does not sound particularly appealing. I've been watching a lot of The Great British Bake Off and I'd be interested in trying a Franklin-approved mince pie recipe, which feels like a quintessential British bake. The recipe I most want to try for myself, however, is the orange shrub recipe, because who doesn't like a good cocktail?
Original French recipe in Franklin's papers:
Recette d'un Pâté haché.
Prenez trois Livres de Graisse de Mouton hachée très menu.
Deux Livres de Raisins de Chorinte, bien épluché, lavé, essuyé et seché auprès du Feu.
Prenez un demi cent de Rénettes écorcées sans Pépins et coupées très fin. Une demi-Livre du plus beau Sucre râpé finement. Le Quart d'une Once de Fleur de Muscade.
Un Quart d'Once de Clous de Girofle. Deux grosses Muscades.
Le tout pilé très fin.
Mettez le tout ensemble dans une grande Casserole, et remuéz le dans une demie-Chopine d'eau de vie et une demie Chopine de Vin de Malaga. Ensuite vous le mettrez dans un Pot de Fayance.
Quand vous ferez votre Paté, Prenez un plat, cou- vrez le d'une Croute de Pâté, mettéz y une Légére Couche de votre Mélange, et puis une Couche de Citron très mince; ensuite une autre Couche de votre Mélange haché, et une Couche de Pelures d'Oranges très fine. Pardessus tout cela, un légere Couche du Melange, exprimez y le Jus d'une Orange ou d'un Citron. Méttez une Croute égale à celle du dessous et méttez votre Pâte au Four.
Modern English Translation:
Recipe for a chopped pie.
Take three pounds of sheep fat minced very fine; two pounds of grapes, well peeled, washed, wiped, and dried by the fire. Take half a hundred of apples, peel, core, and cut very fine; half a pound of the finest grated sugar; quarter of an ounce of mace; quarter of an ounce of cloves; and two big nutmegs. Pound the whole very fine.
Put everything together in a large saucepan, and stir in half a pint of brandy and half a pint of Malaga wine. Then put it in a faience pot.
When you make your pie, take a dish, cover it with a crust, put a light layer of your mixture in it, and then a very thin layer of lemon; then another layer of your chopped mixture, and a very thin layer of orange peels. On top of all that, a light layer of the mixture, and pour the juice of an orange or a lemon. Add a crust equal to the one below and bake your pie in an oven.