Associate Director of Library & Museum Programming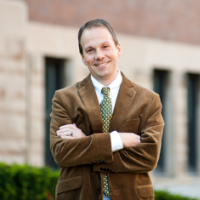 Kyle Roberts is the Associate Director of Library & Museum Programming of the American Philosophical Society Library & Museum. Dr. Roberts helps to integrate the programming departments of the Library, which manage scholarly programming and digital outreach, with those of the Museum, which oversee education programming and adult learning. 
Prior to coming to the APS Library & Museum, Dr. Roberts was an Associate Professor of Public History and New Media and Director of the Center for Textual Studies and Digital Humanities at Loyola University Chicago. A scholar of Atlantic World religion, print, and library history, he is the author of Evangelical Gotham: Religion and the Making of New York City, 1783-1860 (Chicago, 2016) and the co-editor, with Stephen Schloesser, of Crossings and Dwellings: Restored Jesuits, Women Religious, American Experience 1814-2014 (Brill, 2017) and, with Mark Towsey, of Before the Public Library: Reading, Community, and Identity in the Atlantic World, 1650-1850 (Brill, 2017).
Dr. Roberts is an accomplished public historian and digital humanist who is the Director of the Jesuit Libraries Provenance Project and co-Director of the Maryland Loyalism Project. He has held positions at Queen Mary, University of London – where he co-created Dissenting Academies Online: Virtual Library System, an innovative reconstruction of the holdings and borrowings of the leading English dissenting academies; Georgetown University, the American Antiquarian Society, and the Harvard Museum of Natural History. In addition to being the consultant for numerous digital and public history projects, he sits on the Executive Committee of the American Catholic Historical Association.