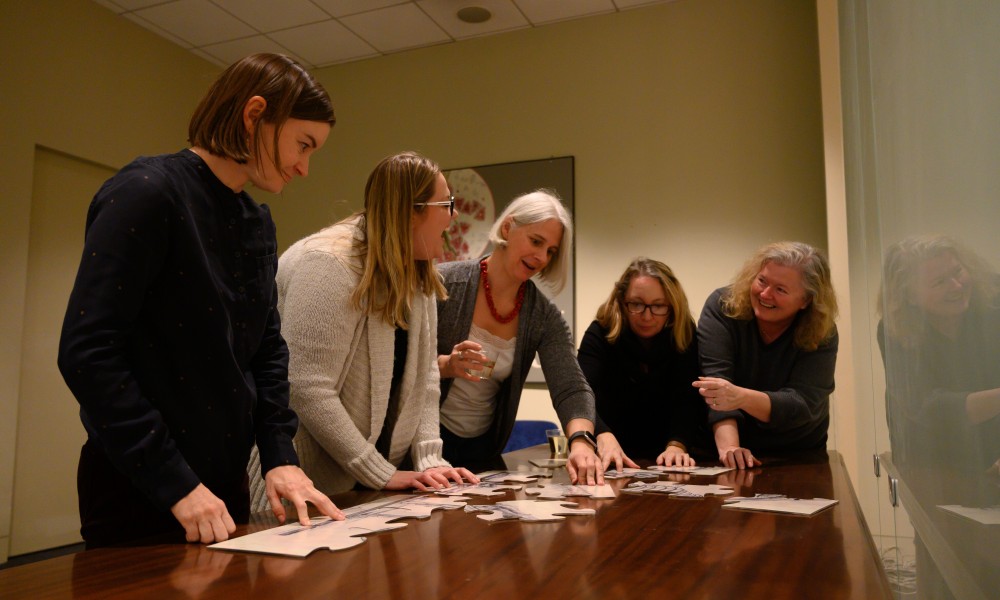 Welcome, Educators! 
This landing page is meant to be your hub for any and all classroom resources. At the APS, our Education team creates and scales lessons, materials, and resources for grades 4-12. Undergraduate professors have also found our materials useful.  
---
Who was the young Franklin? How did he accumulate so much wealth so rapidly? What social contacts did he have that enabled this? The Franklins' Shop Books, 1730-1748, provides tools to explore these questions. The American Philosophical Society holds several of the account books and ledgers Benjamin Franklin and his wife Deborah Read Franklin used to document their business dealings.
Visualizing Women in Science uses the collections of the American Philosophical Society to recover biographies and information about women in science not previously known. The network visualization at the heart of the project illustrates networks that were essential to sustaining women's work in science.
A Portal to the Nation's Founding is a one-stop-shop for students, teachers, scholars, and lovers of history to learn about diverse stories of the American Revolution from the perspective of early residents of America's revolutionary city.
Many of the APS Library's manuscripts and images have been digitized; this website will allow you to explore those pieces of the collection.
---
This page contains an archive of several years of online exhibitions and resources compiled by the APS, many topics might be of interest to educators and National History Day participants.
Paired resources for each of the digital galleries and exhibitions. Start here before checking out the many digital galleries and exhibitions created by Museum staff and our Center for Digital Scholarship! 
From transcription to post office records, explore these resources to learn about science and scientific learning in early America through the many works and communities of Benjamin Franklin.
A page containing free crafts and activities for de-stressing or hands-on learning.
This page is for those curious about the practice of letter writing before, in, and after the 18th century. You'll also find materials to teach transcription skills and the basics of reading and writing in cursive. 
Learn about edits to the Declaration of Independence, from when they happened to what they mean along with some the legacies of the American document. 
Explore the careers and people that make the APS what it is! 
An immersive and sensory lesson on the 1793 yellow fever epidemic in Philadelphia and the roles played by doctors, the Free African Society, and many others. 
Information and activities on 18th and 19th century naturalists and their roles in both science and the APS.
Starting point for students and teachers of all grade levels interested in accessing, understanding, and using archives
This lesson plan introduces the idea of "useful knowledge" and why Jefferson would have sought it in the western regions of North America. It asks students to contemplate what makes knowledge useful, and how knowledge is collected and recorded.
Distance Learning
Have questions about other distance learning opportunities with the APS? Email us at [email protected]!
---
Contact Us
We'd love to hear from you: [email protected]. 
The APS is a proud partner organization for National History Day Philly (NHD Philly).