What's the Weather Today?
Alexandra Rospond is the Museum Education Coordinator at the APS. She has also worked as an educator at the Independence...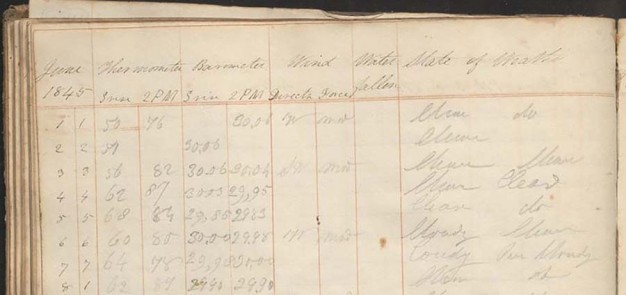 Weather affects our everyday lives. We look it up before we go outside, to work, or to school. Today, we can check weather forecasts on our computers, TVs, and phones in seconds. In the past, people had to rely on their own past experiences or patterns they observed.  
The American Philosophical Society and its Members (past and present) have been interested in the weather and the collection of weather data for centuries. In the 1700s and 1800s, many farmers observed weather patterns since the weather could help or harm their livelihoods. For example, APS Members Thomas Jefferson, James Madison, and even George Washington carefully monitored weather at their plantations. Some, like Madison and Jefferson, systematically recorded and collected weather data in journals, which are now in the Society's collection. The image below is a page from one of said journals kept by James Madison. The APS also has weather journals from Thomas Jefferson, David Rittenhouse, and Anne Haines (from the Wistar-Haines family) among others.

As part of an Open Data Initiative, the Society's Center for Digital Scholarship has been transcribing and making these records available for download. Due to the less-accessible nature of handwritten data, reliable sets of instrument-based meteorological records calculated before the mid-19th century have been underutilized and often overlooked. This multi-year project will offer users unprecedented access to data that is ready for analysis by scholars of climate change, environmental history, the history of science and technology, and many others. (Learn more here). Public access to this information is both an exciting and important prospect, as knowing and understanding the weather can empower individuals and communities to better understand climate change and the effect people have on the environment.
These historic weather journals, coupled with the themes of the exhibition Dr. Franklin, Citizen Scientist, were the inspiration for a new Community Science Project in collaboration with local students. For the pilot phase of this project, the APS partnered with two schools: Bodine High School and Newtown Middle School. The goals going into this pilot were to encourage students to discover the basics of meteorology, understand that people have been collecting meteorological data and still do today, and show them that everyone can take part in scientific data collection. Students collected data similar to what can be found in many of our weather journals: temperature, air pressure, wind speed, wind direction, the general weather, and outside observations. Due to the COVID-19 pandemic, students were attending school virtually, thus, they collected their data daily from the Weather Channel website at 8:00 a.m. and 4:00 p.m. These times are similar to when Jefferson and Madison collected weather data: once in the morning to get a cooler temperature and once in the afternoon when the temperature was at its warmest. 
Overall, 98 students participated in this pilot project. Students received an introduction to the project in February and March and collected data from April to the end of the school year in May. At the end of the collection period, APS educators reviewed the students' data together and compared the differences between Philadelphia and Newtown, PA. Below is an example of one of those graphs, this one specifically noting the April AM temperatures of Bodine and Newtown. Throughout the project APS educators checked in with the students to see how they were doing and to discuss the information they had gathered.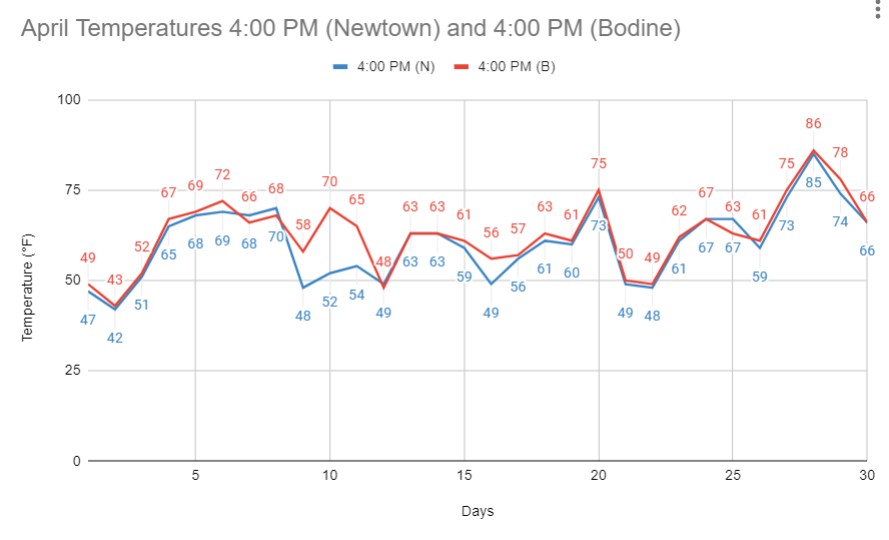 As this part of the project ended, APS educators gathered student opinions and feedback. One student said, "I definitely enjoyed doing this project, as it was enjoyable and informative." Another student said, "I know more about the resources I can use to study the world around me." These words help echo the main mission of the APS since its founding, "to produce useful knowledge." 
The Community Science Weather Project will resume in the coming school year. In this next phase, APS educators will be able to teach students first hand about meteorological instruments and data collection. The expectation is for this data to be compared with historic information and stored for future usage, much as Thomas Jefferson, James Madison, and Ann Haines did centuries earlier. Stay tuned for more updates!