Will Fenton was the 2017–2018 Elizabeth R. Moran Fellow and recently completed his Ph.D. at Fordham University where he specialized...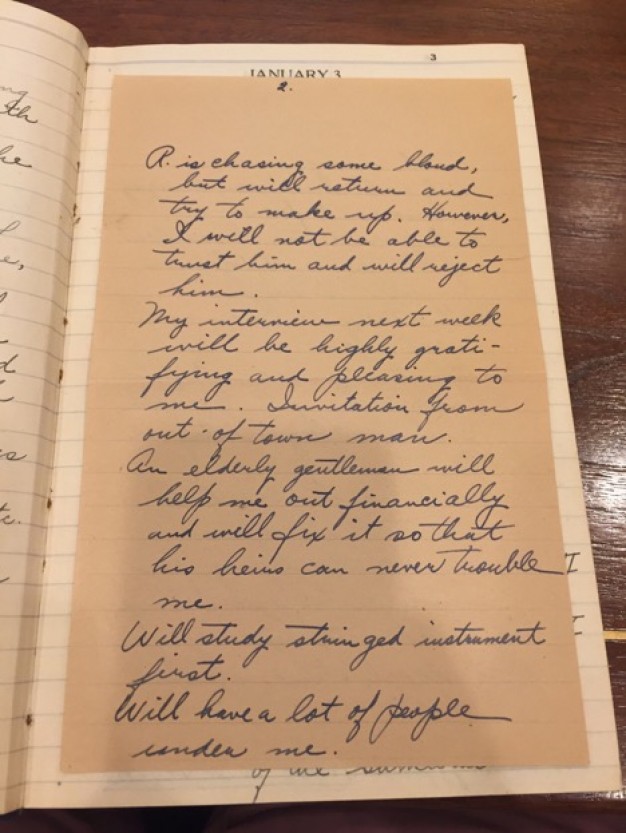 Well before she became a leader in comparative linguistics, Mary Rosamond Haas (1910–1996) maintained a diary (1928–1931) that provides some candid insights from her formative years. While Haas rarely discusses relationships in later correspondence, her diary offers a rich record of an ambitious young woman striving to navigate romance, curiosity, and career aspiration.
In the early pages of the diary, Haas encloses a series of resolutions, dated December 1929, which extend from managing finances ("Watch money") to career goals ("Will pursue two branches of the same profession, music"). She also includes a note regarding a fickle suitor, whom she calls "R.":
R. is chasing some blonde, but will return and try to make up. However, I will not be able to trust him and will reject him . . . R. is just a kid and will never group up. [Flighty.] Just ordinary, not the sort of man for me. I will meet all kinds of men in my profession, from among whom I shall be able to find someone better who will make me happy.
Haas returns to this resolution the following year. In an entry penned December 7, 1930, she reflects on her misplaced pining over R. and her latest beau, "J.":
A year ago I thought I could not live unless I had R. and I caused myself much unnecessary suffering by weeping and worrying over him. But now I see only too clearly why I was not to have him. Now it is hard to see why I am not to have J. who is ever so much more of a man than R. ever will be. But I know that if I am never to have him that it will not be long until I know why.
Once again, her instincts prove prescient. Two short years later, Haas launched her prolific career with her first publication, "A Visit to the Other World, a Nitinat Text," co-authored with Morris Swadesh, her first husband.