"Much of you in it:" Art, Archives, and Henry Allen Moe
Susan Anderson has led a distinguished career in Philadelphia-area archives for the last three decades. Before coming to the APS...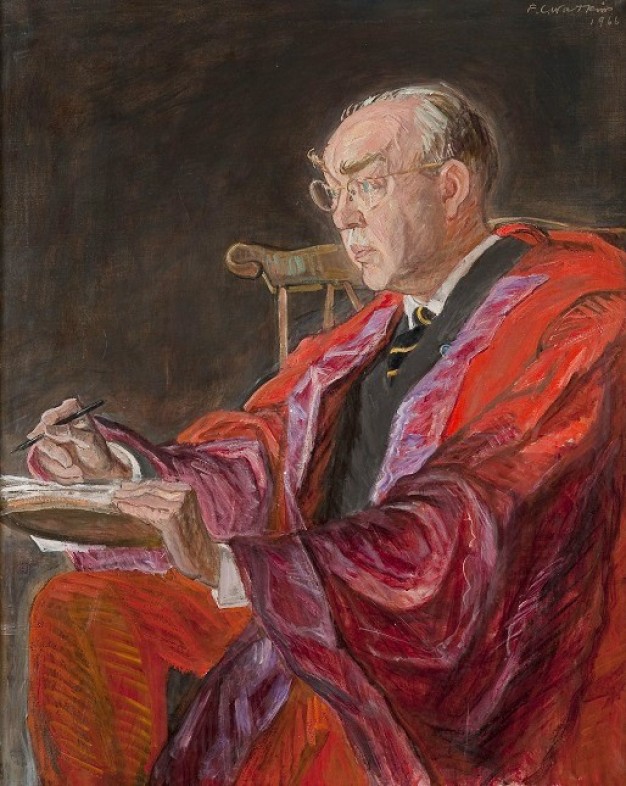 Before I joined the Manuscripts Processing team at the American Philosophical Society's Library & Museum in 2019, I was lucky to gain insight into the lives of interesting people whose papers and art collections were held at the Philadelphia Museum of Art (PMA) during my tenure there. While I was happy to come to the APS, I was sad to part with many of my PMA colleagues—both my coworkers and the subjects of archival processing projects. Strange as it may seem, it's possible to feel a connection with record creators from long ago. When I read their papers, it was like I had become an honorary member of an inner circle, sharing an entre nous moment. I had a definite sense of the art museum's former staff–their personalities, talents, and foibles–given the amount of time I spent with their documentation. 
Imagine my surprise when some of these "acquaintances" appeared in the APS Archives—specifically in the records of the Executive Office, which I have been processing over the past year. I was aware that former PMA Directors, Sidney Fiske Kimball (1888-1955) and Henri Gabriel Marceau (1896-1969), were APS Members, elected in 1943 and 1949 respectively, but I wasn't fully aware of their involvement as honorary curators of the Society's art collection. Another person who overlapped in the city's artistic and scholarly communities was former PMA Print Curator, Carl Zigrosser (1891-1975). The three of them were captured in a tongue-in-cheek caricature (see below) by Philadelphia architect and illustrator, Alfred Bediner (1899-1964).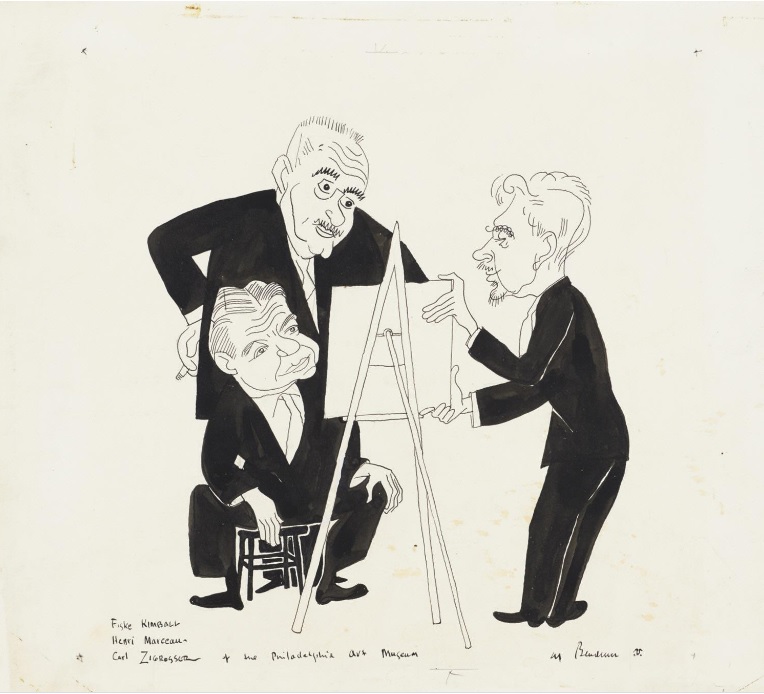 For instance, Marceau and Zigrosser were involved with a 1966 portrait commission for the Society's then-President, Henry Allen Moe (1894-1975; elected Member in 1943). It would be painted by noted Philadelphia artist Franklin Watkins (1894-1972; elected Member in 1967). This work of art would eventually join a number of portraits owned by the APS, which were previously documented in a special catalogue produced under Marceau's supervision.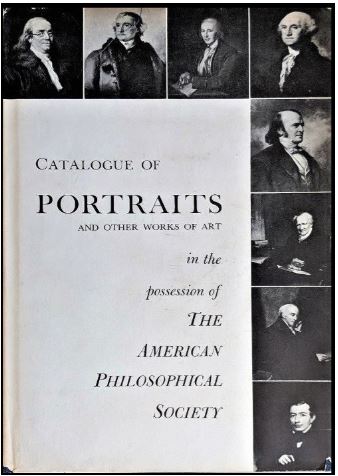 What is missing from this distinguished tome, however, are the portraits' backstories. Fortunately, I was delighted to find one such tale in the records of former Executive Officer, George W. Corner (1889-1981; elected Member in 1940). In turn, here are some excerpts from Dr. Corner's file on Dr. Moe, so readers can get a sense of what conversations were like among Society's "inner circle" of friends and colleagues from the 1960s.
According to letters from February 1966, Moe and Marceau discussed a portrait commission for another administrator, William Robbins. Based on his initial research, Marceau suggested Watkins–nicknamed "Watty"–to paint Robbins, which Moe agreed to. However, when Moe was unable to attend a subsequent meeting, Corner, Marceau, and the committee decided that the self-effacing Moe should also have his portrait painted. Corner politely broke the news to Moe, who jotted a wry response on the same letter, which was their method of communication (see below): 

Undeterred, Marceau wrote a follow-up letter the next week to convince Moe that now was the time for his portrait to be painted by their friend Watkins, whose work they both admired (see below):

The reluctant Moe eventually acquiesced to the Society's curator, due more to his desire for a Watkins in the collection, and less about being immortalized on the Society's dime. Interestingly enough, the otherwise modest subject agreed to wear his scarlet doctoral robes from Oxford, where he had recently earned an honorary degree. Watkins seems to have approved of the garment, and his painterly rendering of it enlivens what may have been a more conservative portrait. Upon completion, Moe wrote a letter of appreciation to Watkins (see below):

An intriguing take on the portrait can be gleaned from a letter written by Zigrosser to Moe, where he discussed Watkin's composition and painting style at length. Zigrosser also touched on the complexities of portrait painting itself, and how an artist should balance different aspects of a person's character in the likeness they are trying to capture: 

In the final analysis, Zigrosser declared the portrait a success, "There is much of Watty and much you in it." However, I'd like to respectfully offer that much of Dr. Moe is also present in the APS Archives, along with Corner's diplomacy, Marceau's curatorial advocacy, and Zigrosser's philosophical (and gently flattering) analysis. It makes our understanding of Moe's portrait—and the person depicted in it—all the richer for it.