From Moldy to Marvelous: Petrus Ramus's Via Regia ad Geometriam, Part 1
Renée Wolcott is Assistant Head of Conservation and Book Conservator. A high school interest survey listed "book restorer" as the...
When I first saw Petrus Ramus's 1636 Via Regia ad Geometriam—its thin wooden boards warped and broken, its mold-eaten leaves as soft, pulpy, and ragged as used paper towels—I passionately wanted to make it whole again. As a special collections book conservator, I've seen some amazingly valuable books: manuscripts that were studded with gems, encrusted with gold leaf, and painstakingly illuminated. But it's the once-commonplace rare books that get my heart pounding: Old children's books, textbooks with homemade repairs, books doused in spilled beer, full of ink blots and marginalia. I love books that were used, if not for religious purposes, at least for the holy purposes of study and learning. 
The Society's battered copy of Via Regia ad Geometriam is a 1636 geometry textbook from England, written by the French humanist Petrus Ramus in the 1560s. Prior to its 1636 publication in London, the book was translated into English and expanded by William Bedwell. Like many other textbooks produced at the time, its covers were made from extremely thin, planed wooden boards, also known as scaleboards. According to contemporary sources, scaleboard was also used to make veneer, splints, scabbards, and hat brims. Printers used it to create space between lines of type, and this suggests a possible connection with its use in bindings. Whatever its origins, scaleboard was often used in Northern Europe, England, and America to bind the small texts of everyday life—religious tracts, sermons, music books, and primers—from the seventeenth to early nineteenth centuries. 
Scaleboard is both lighter in weight and more fragile than boards made of pulped or laminated paper (which were more expensive). In Via Regia ad Geometriam, whose spine was soaked with liquid at some point, the thin wood and the leather covering it expanded when wet, and shrank as they dried. The leather shrank more than the wood, cracking the vertical wood grain and causing a large loss in the front board. The book also stayed wet long enough that mold grew wherever the paper was damp, secreting pigments that stained the text and enzymes that ate away at the paper fibers. By the time I first saw it, the book leaves were so thin, tattered, crumpled, and full of holes that they were almost impossible to handle.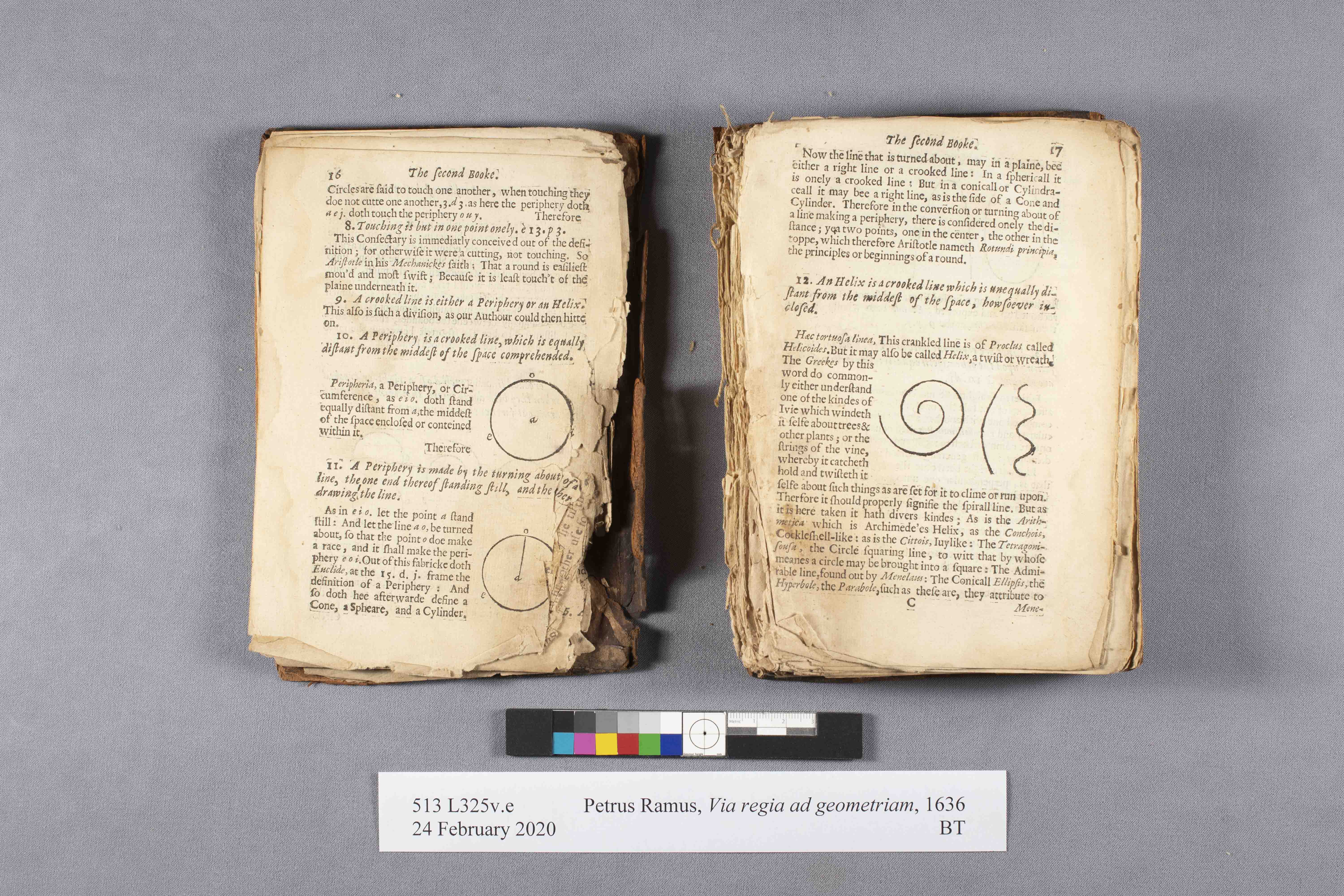 I knew that washing the paper would help to strengthen it, because purified water rinses out impurities and allows the cellulose molecules in the paper to link up with new hydrogen bonds. In this case, however, just re-establishing the molecular network of the paper was not going to be enough. I would also need to re-size the paper, or coat it with a dilute adhesive that would penetrate the paper and stiffen it. Traditionally, Western papermakers sized their freshly made paper in a bath of warm gelatin, both to strengthen it and to make it less absorbent. But how could I immerse this weak, crumpled, tissue-thin paper in water or gelatin without tearing it apart?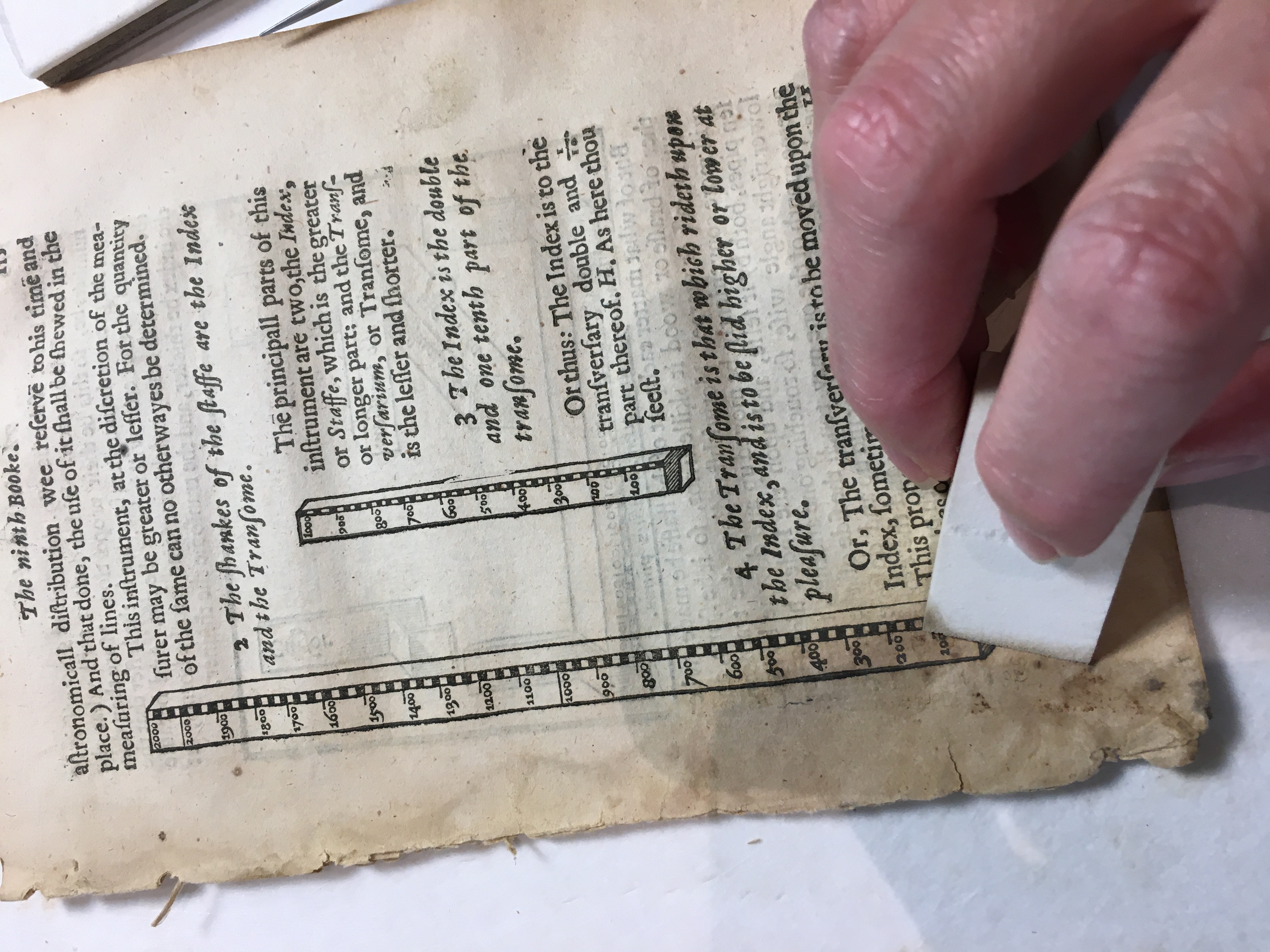 After much consideration and consultation with colleagues, I treated the disbound text block in several steps. First, I cleaned the leaves gently with cosmetic sponges to remove surface dirt that would otherwise become trapped in the paper fibers when the book was washed. Then I opened up and flattened all of the creased, tattered leaf edges using purified water applied by brush.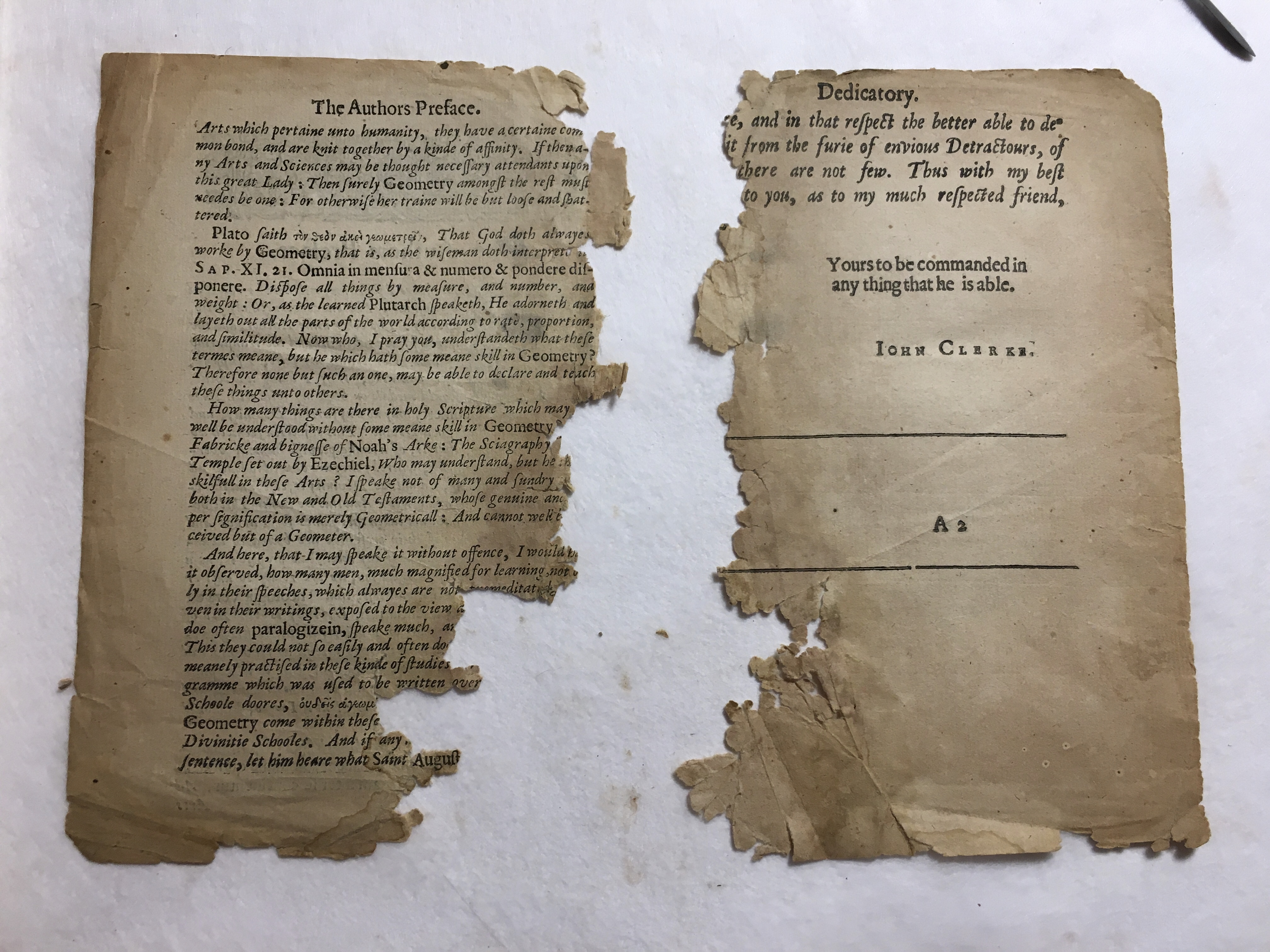 Once the leaves were as clean and flat as I could make them, I placed each folio of the book between two sheets of nonwoven polyester fabric, which serves to support the paper when wet. Spraying the folios with alcohol allowed the paper to humidify and relax immediately. The humidified folios—some of which indeed smelled highly beery—were then sandwiched between sheets of water-saturated Tek Wipe, a highly absorbent cleaning cloth made of cellulose and polyester. Capillary action and diffusion gradually pulled acidic materials and mold staining from the paper while it was fully supported and immobile. After this modern take on the traditional "blotter washing" technique, the Tek Wipe could be washed for re-use.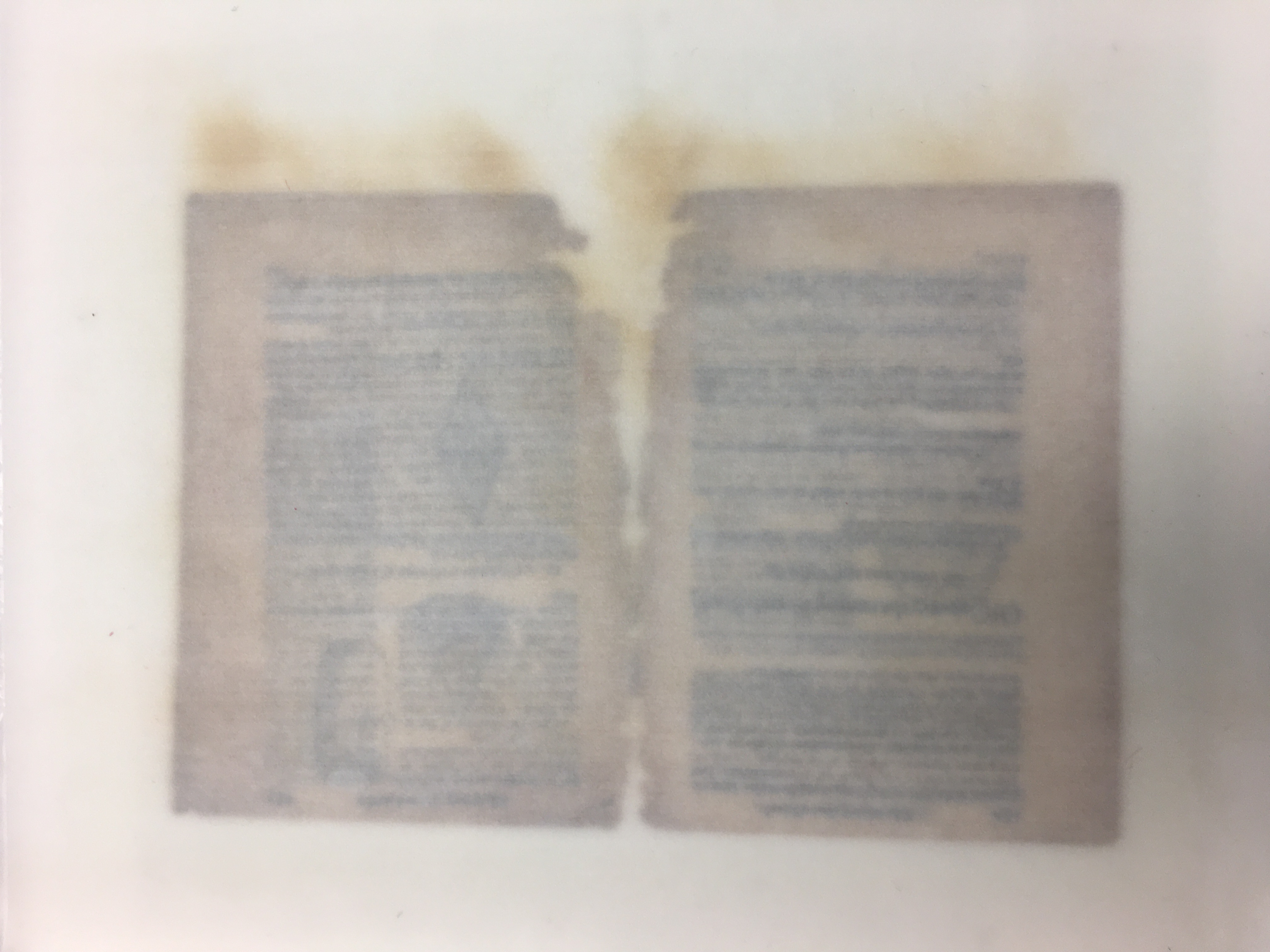 After the washed leaves had dried, they were already stronger, but still too weak to be mended. I interleaved them with nonwoven polyester again, sandwiched the whole stack between sheets of Tek Wipe to prevent the leaves from moving when wet, and immersed everything in a warm solution of dilute photographic gelatin. After re-sizing and drying, the leaves were stronger and more flexible than I would have thought possible, and ready for a long campaign of mending.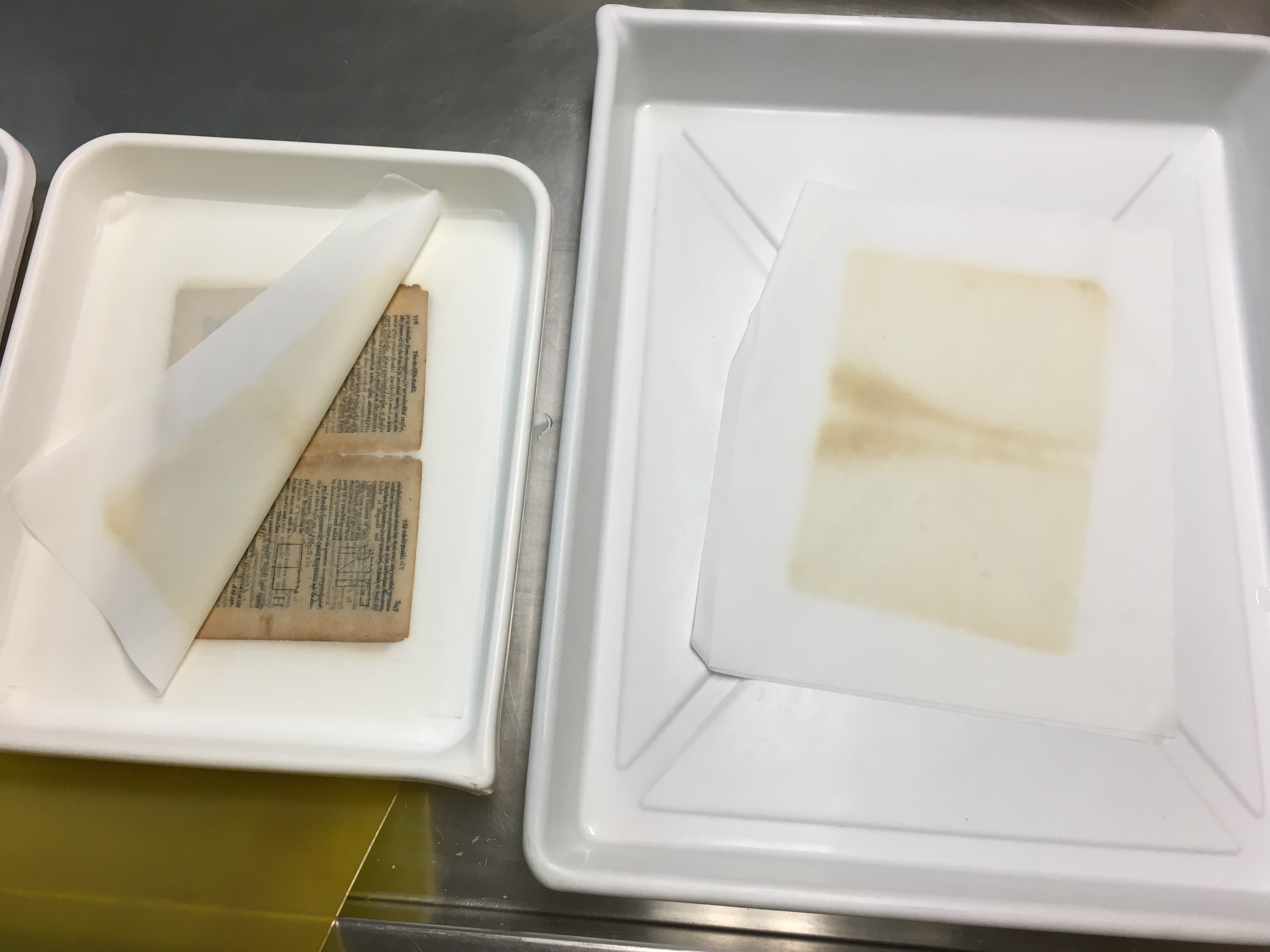 Stay tuned for more details from this treatment, which was funded through the Adopt-a-Book program! Many thanks to Pamela and James Hill for underwriting my work on this beloved book.