The Material History of a Printed Landmark of American Science
David Gary is the Associate Director of Collections and builds, interprets, and protects the Society's collections of books, pamphlets, broadside...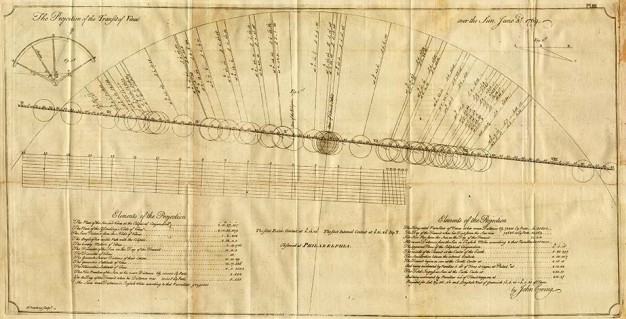 The Transactions of the American Philosophical Society is the nation's oldest scientific periodical, and the publication of its first volume in early March 1771 proved to the world that the British American colonies could make important contributions to the Enlightenment. Not only did the Transactions impart validity for colonial ingenuity, originality, and pride, it provided a basis for an exchange system that essentially jumpstarted the collecting of printed material at the Society. Despite its importance in the Society's history, such basic points as how many copies of the first volume were published and its cost are not readily available. Can the archives of the Society offer an answer?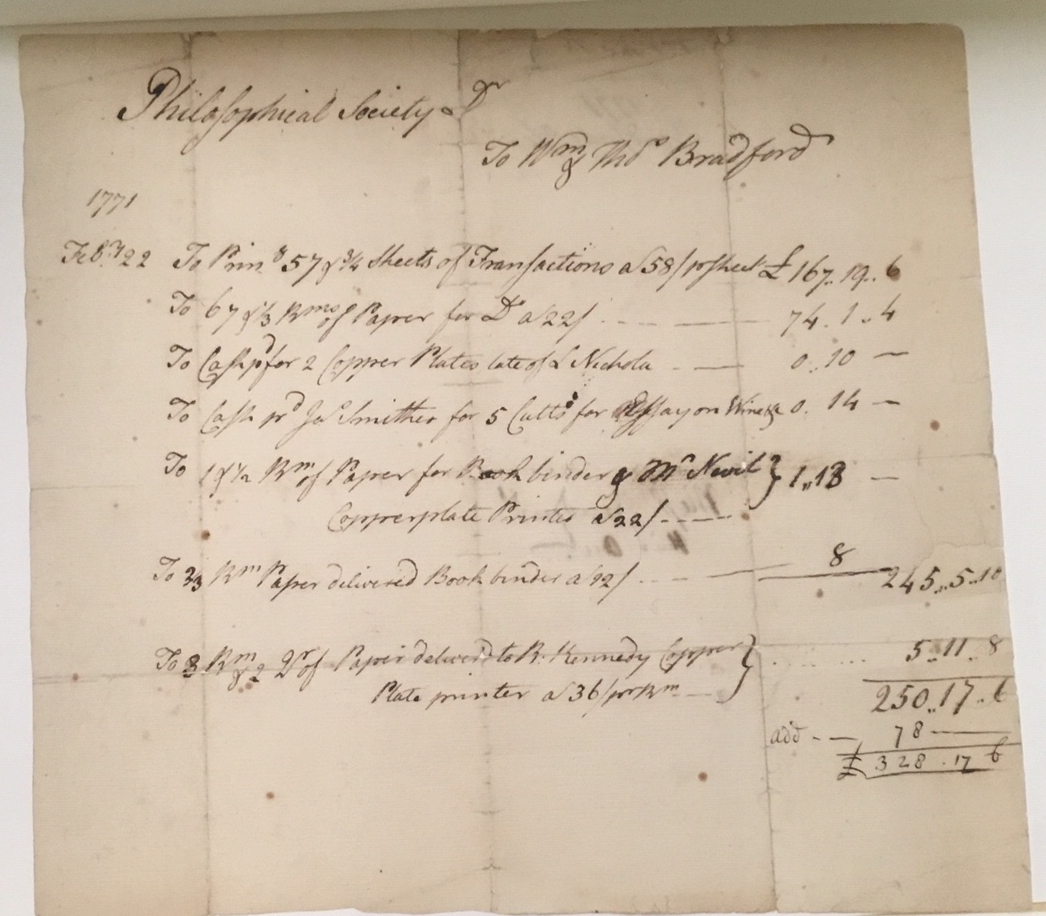 APS records show that the Society made payments to the printers William and Thomas Bradford for their work on the Transactions in February 1771. The Society's publication committee provided 67 1/3 reams of paper, with each ream likely containing 480 sheets. This means the printers had 32,318 sheets to create the journal. The payment records also show that each copy of Volume 1 required the printers to set 57 ¾ sheets. Dividing the number of sheets required by the number of sheets provided gives us around 557 copies. The total cost for this work, including the creation of copper plate engravings and their printing, came to £328.17.6.  These numbers match a bill in the archives that notes folding, sewing, and "covering in blue paper" for 500 copies cost £12.10.0. Those "blue paper" covers could eventually be replaced for more stately binding. It is unclear if 57 additional copies were printed and left in sheets, but some were likely made. Ten bound copies of Volume 1 are now in the APS Library. 

The Society wanted Volume 1 widely distributed to APS Members, friends, and institutions in the colonies and Europe. A memorandum in the APS archives notes that 112 copies were sent to Dr. William Smith, the provost and a professor at the College of Philadelphia, now the University of Pennsylvania. Smith was an editor of Volume 1 and managed the distribution to Members. In 1771, Smith sent 11 copies to Benjamin Franklin in London at the request of the Society and asked they go "to the Royal Society … Royal College of Physicians; Society of Arts &c. British Musaeum" and several individuals.The next year, Smith sent Franklin 27 more copies to distribute to European societies. Click here to read about the copy sent to the University of Glasgow.
The Glasgow copy came from the 1772 batch.