John Wheeler Relativity Notebook #13
Joseph DiLullo, Reference and Digital Services Specialist, has been working at the APS since January of 2015. Prior to the...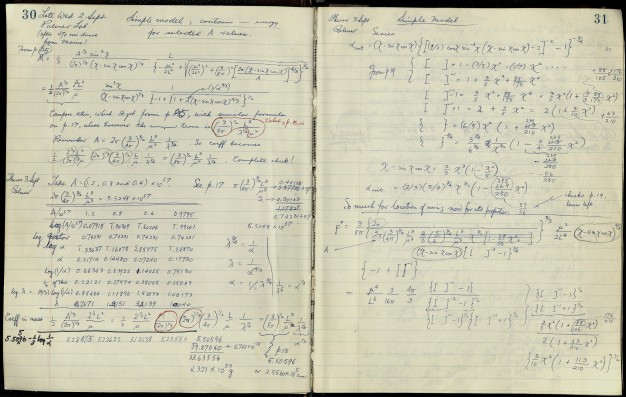 Digitizing material from the Library's collection is a great way to provide access to the unique material held at the APS. However, this can sometimes lead to unexpected challenges. All objects are not the same—they come in all shapes, sizes, and in varying conditions. A recent item that gave us pause was John Wheeler's Relativity Notebook that he kept from 1964-1966.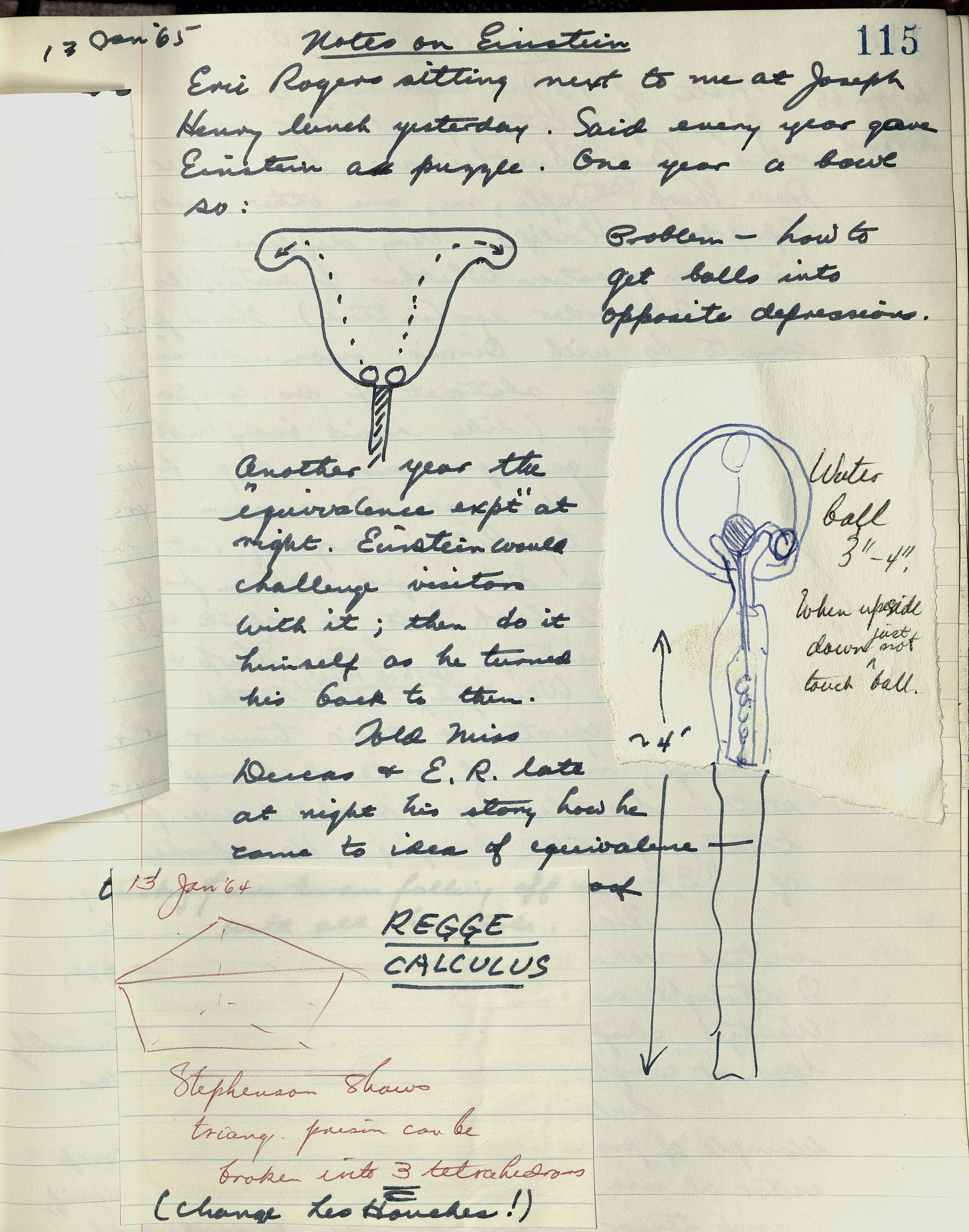 John Archibald Wheeler (1911-2008), a leading theoretical physicist of the twentieth century and a pioneer in the study of black holes, kept meticulous research notebooks. Within the pages of these books, one can find correspondence, detailed notes, mathematical equations, and Wheeler's musings on a variety of topics. He wrote from margin to margin, often returning to the notebooks to paste new thoughts on top of the old ones. These remain a testament to Wheeler's never ending research process. However, while these notebooks allow researchers to dig in and explore Wheeler's detailed process, they are also among the most difficult objects to digitize. Similar to what we learned from a recent post about Cynthia Heider's work on a scrapbook from the First World War, these notebooks posed two main hurdles: 1) how to scan the various tips-ins, fold outs, and pages, and 2) how to represent them in a digital environment.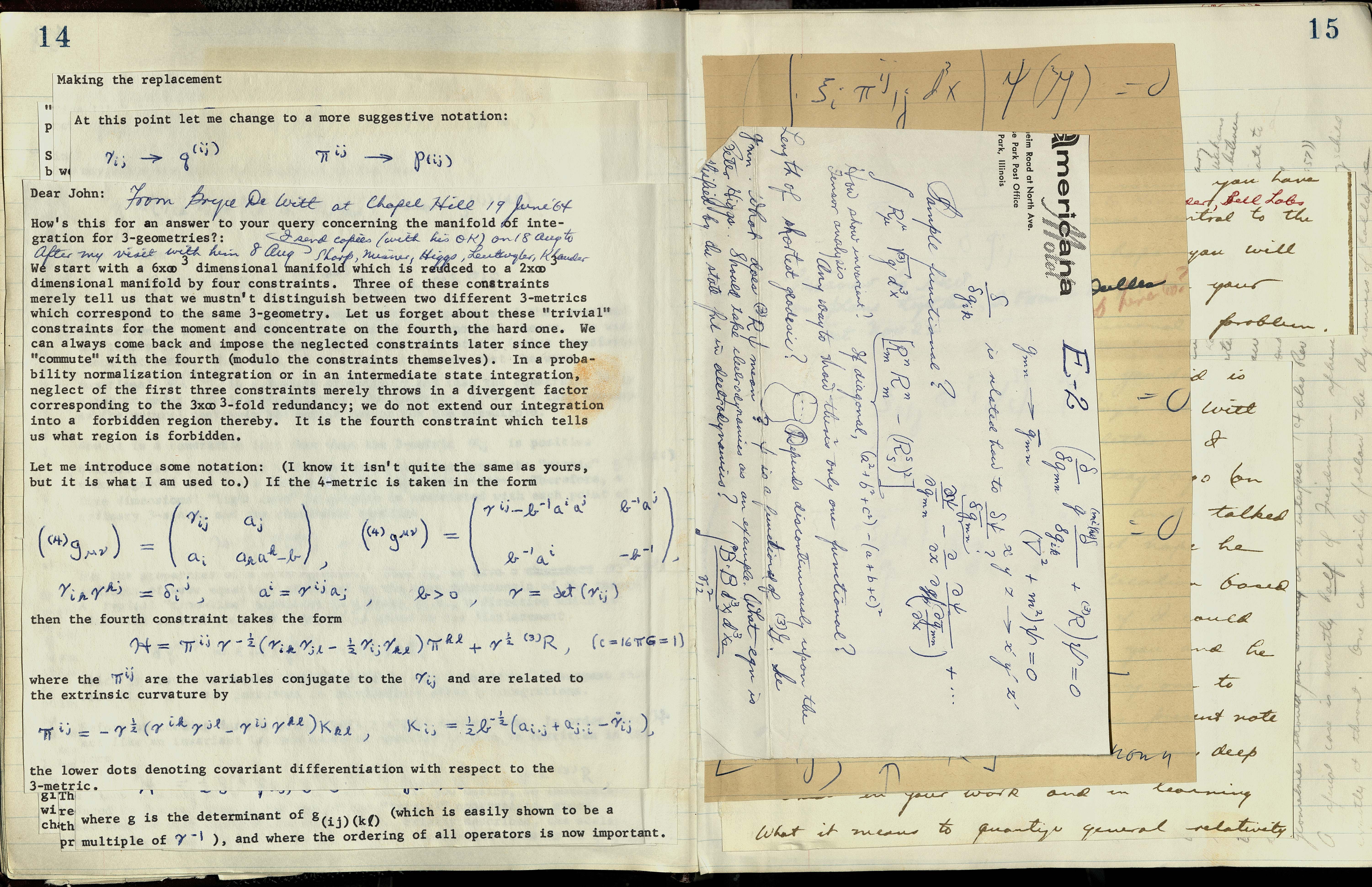 From the easy task of a flat two-page spread, to pages packed with annotations and correspondence layered on top of one another, each page provided a new set of challenges. To address these challenges, we developed a workflow that allowed us to digitize the notebook in a way that we hope will allow remote users the ability to understand the object itself. Just like Wheeler's research process, our quest to find the perfect method for digitizing these unique material types is never ending and will continue to evolve overtime. In the meantime, however, we are excited to offer digital access to resources such as Wheeler's notebook.