Featured Fellow: Ruth Matamoros (2022 Mellon NASI Predoctoral Fellow)
Ruth H. Matamoros Mercado is a Miskitu Indigenous Lawyer, researcher and activist for the right to self-determination of Moskitia. She...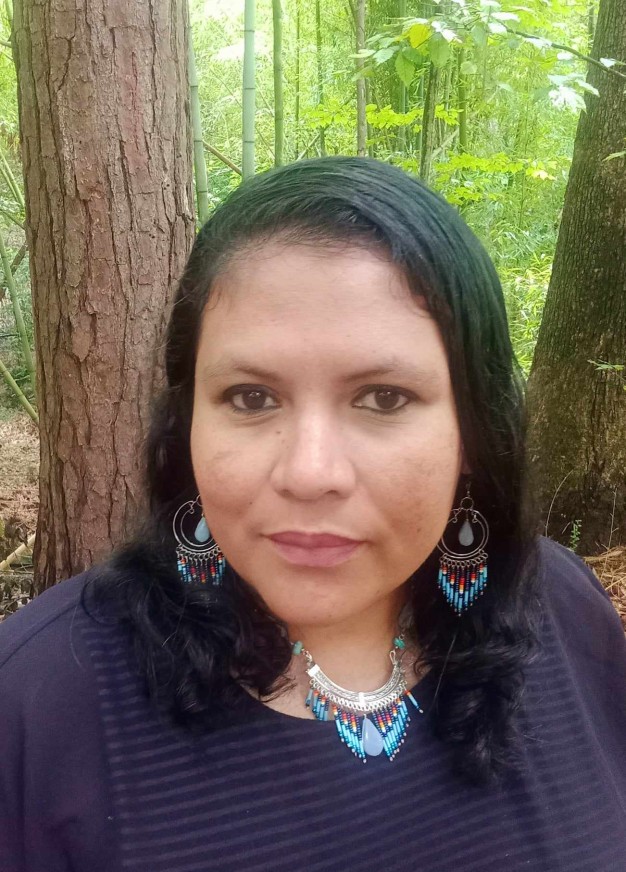 Last year, Ruth H. Matamoros was in residence at APS as a Mellon Foundation Native American Scholars Initiative (NASI) Predoctoral Fellow. Recently, she was interviewed by APS's Mellon NASI Engagement Coordinator Ruth Rouvier about her work and research.
You've recently started a new job! Can you tell me about that?
My journey from the American Philosophical Society to UNC–Chapel Hill has been a transformative one, marked by growth, discovery, and collaboration. I'm deeply grateful for the Mellon/NASI Fellowship at the APS for playing a significant role in bridging my transition from graduate studies to my current role as an Assistant Professor of Indigenous Geographies. The Mellon/NASI fellowship and the APS provided invaluable resources, networks and research opportunities. Additionally the mentorships, interactions with fellow scholars, and exposure to diverse perspectives during my time as a NASI predoctoral fellow truly enriched my academic experience.
Now, within the Geography Department at UNC–Chapel Hill, I stand at the crossroads of traditional knowledge and academic scholarship. This Department offers an exciting confluence of my interdisciplinary interests and training where I can expand the conversations on land politics and the environment, incorporating diverse perspectives and directions. My initial approach to Indigenous peoples' land rights struggles in Nicaragua was rooted in my background as a lawyer. I believed in the power of the legal framework. However, engaging with community members revealed a disconnect between Indigenous perspectives and the legal frameworks meant to protect their rights. This realization prompted a shift in my approach: instead of imposing the legal framework on Indigenous communities, I sought to integrate Indigenous knowledge into this framework. This transition led me to delve into Indigenous views on land and the environment, and in the process, I began to engage with political ecology, geography, and environmental studies.
I see my new role as an excellent opportunity to delve into the intricate relationships between Indigenous communities and their environments. I'm not merely imparting geographical concepts; I'm weaving together narratives of land and identity, sharing the multifaceted landscape of Indigenous histories and perspectives. Through this role, I'm advocating for a deeper understanding of Indigenous geographies, promoting  a holistic approach that bridges academia and Indigenous wisdom. As I reflect on my journey and looking to the future, I'm excited for the forthcoming years. I anticipate deepening my research, fostering collaborations, and advocating for indigenous voices and perspectives.
There seems to be a vibrant scholarly community in Indigenous studies at UNC. What sorts of collaborative opportunities have you found there?
Indeed, UNC–Chapel Hill is home to a dedicated scholarly community deeply committed to Indigenous studies. As a Miskitu Indigenous woman, I recognize a number of collaboration opportunities that resonate with both my Miskitu perspectives and academic pursuits. I'm particularly honored to have accepted an invitation to join the Working Group on Global Indigeneity. One of my primary contributions will be to assist in consolidating the emerging Global Indigeneity and American Indian and Indigenous Studies Curriculum. This collaboration seeks to bring together a comprehensive insight into the diverse narratives and experiences of Indigenous People's tracing the intricate patterns of indigeneity across the globe. The Working Group's dedication to understanding the diverse experiences and histories of Indigenous people, both within and outside the U.S. aligns with my own aspirations. While each Indigenous community has its unique struggles, there are shared experiences of colonization, oppression, and land dispossession. My collaboration with the Working Group will delve into these shared narratives, highlighting the resilience and resistance that have shaped our histories. It also represents an opportunity to integrate Miskitu perspectives into broader academic discourses, ensuring our voice contributes to the evolving landscape of Indigenous studies.
Additionally, the American Indian Center at UNC offers a unique space for Indigenous scholars to come together, fostering a sense of community and creating a nurturing academic environment. Collaborating with the center and other Indigenous scholars on campus will further amplify the importance of Indigenous voices and perspectives in academia.
What's on the horizon for you? 
Moving forward, my primary emphasis is on deepening my contributions through further research and publications. The  research I conducted at the APS played an important role not only in the completion of my dissertation but also in shaping my forthcoming publications. Based on that research, I have contributed to a book chapter for the upcoming volume, Land Back: Indigenous Landscapes of Resurgence and Freedom, published by the Dumbarton Oaks Research Institute. In addition to this, I'm in the final stages of preparing two manuscripts: one intended for submission to Political Geography and the other aimed at the Annals of the American Association of Geographers. These projects reflect the valuable contribution of the APS to my academic journey and its continued impact on shaping my future in the field.