Ben Franklin and the Ravages of Time
Renée Wolcott is Assistant Head of Conservation and Book Conservator. A high school interest survey listed "book restorer" as the...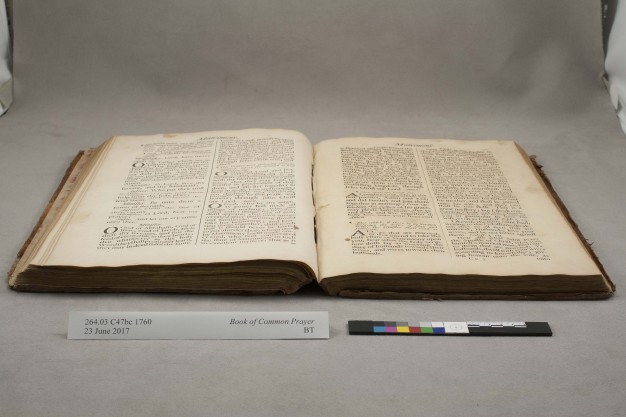 As a young man, Benjamin Franklin famously wrote his own epitaph:
The Body of B. Franklin, Printer,
Like the Cover of an old Book,
Its Contents worn out,
and stript of its Lettering & Gilding,
Lies here Food for the Worms,
yet the Work shall not be lost;
For it will, as he believ'd, appear once more,
in a new & more beautiful Edition,
Corrected & amended by the Author.
By the time he died at 83, Franklin had abandoned his former humor, at least with regards to his own death. His body was laid to rest beneath a sober tombstone in the Christ Church cemetery.
His 1760 Book of Common Prayer, however, survived him, passing down through the family until Mai Duane Harper and James A. Harper presented it to the American Philosophical Society Library in 2016. By that time, the 256-year-old book looked much like the one Franklin described in his early epitaph.
Large areas of its speckled calfskin cover were missing, and the leather that remained was torn, weak, and powdery. The front board was completely detached, and the spine was split vertically down the middle. The book's "gilding"—the gold tooling on its spine and board edges—was worn away in many places. The red embroidered endbands at the head and tail of the spine were missing, and the purple ribbons that held the book shut at the fore edge were worn to short stubs.
Inside the book, many pages were discolored and brown, and the paper felt resinous and gritty. The cover was so worn that the corners of the leaves protruded, becoming worn and bent in their turn. A few leaves were torn or creased. Worst of all, the sewing holding the book together was broken in several places.
My challenge, as the APS book conservator, was to transform the battered prayer book into something whole and accessible to readers, "a new and more beautiful Edition" that still respected the book's age and history of use. Tune in to future blog posts to see how I did.