2020-2021 Library & Museum Fellows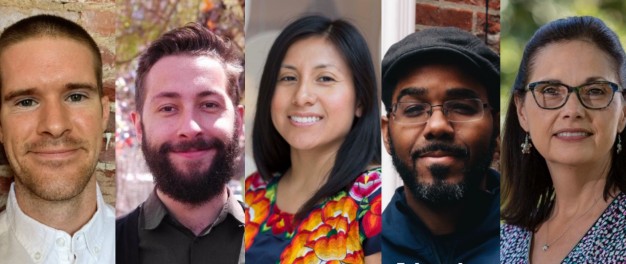 The American Philosophical Society's Library & Museum is excited to announce our 2020-2021 Fellowship recipients! This year, the Society has awarded five long-term fellowships, one digital humanities fellowship, and thirty-six short-term fellowships and internships for scholarly research in the history of science, Native American studies, and early American history. 
Six of these fellowships and three undergraduate internships are underwritten by a grant from The Andrew W. Mellon Foundation to support Native American and Indigenous research. An additional two-year fellowship for a recent Ph.D. graduate interested in gaining curatorial skills is also supported by The Andrew W. Mellon Foundation. 
This is the inaugural year for two additional short-term fellowships. The David Center for the American Revolution Research Fellowship honors the longstanding commitment of the David Library of the American Revolution's support of scholarship, having awarded over 200 fellowships over several decades. You can learn more about the APS's new David Center here. The William S. Willis, Jr. Research Fellowship honors the memory of Dr. Willis, who did important work on Native American, Black, and Settler relations in the American south. The fellowship supports projects exploring race, Native American history, and the history of anthropology. You can learn more about Willis here.
"We are thrilled to welcome a new class of fellows to the Library & Museum" the Society's Librarian Patrick Spero said, "Our fellows conduct cutting edge research in a wide range of fields, and every year they make new discoveries in our collections that change what we know about our past."
Our recipients are equally thrilled. As our Andrew W. Mellon Native American Scholars Initiative (NASI) predoctoral fellow Candy Martinez explained, "I chose to accept an APS fellowship because it will provide me with the ability and space to advance my dissertation and prepare for academic positions. The APS makes up a vibrant community of interdisciplinary scholars that include scholars in Early American History, Curatorial Studies, Bibliography and Biography Studies, and History of Science Technology and Medicine. The APS will surely push me away from my comfort zone of engaging mostly with Latin American and Latina/o Studies scholars. It will be exciting to be in conversation with other people who may not necessarily be in my field."
Learn more about the American Philosophical Society's Fellowships and how to apply on the APS website. Congratulations to all of our recipients!
The Andrew W. Mellon Postdoctoral Curatorial Fellow
D. O. McCullough (2020-2022 Fellow) The University of Wisconsin, "Climate Science"
Long-Term Fellows
Friends of the APS Predoctoral Fellowship in Early American History (to 1840) 
Gustave Lester, Harvard University, "Mineral Lands, Mineral Empire: Mapping the Raw Materials of U.S. Industrial Capitalism, 1780-1880"
John C. Slater Predoctoral Fellow in History of Science, Technology, and Medicine
Andrew Seaton, New York University, "The National Health Service and the Endurances of British Social Democracy, 1948 to the Present"
The Andrew W. Mellon Native American Scholars Initiative (NASI) Fellows and Interns
Postdoctoral Fellow 
Brooke Bauer, University of South Carolina, Lancaster, "Catawba Women and Nation-building, 1540-1840"
Predoctoral Fellow
Candy Martinez, University of California, Santa Cruz, "Rethinking Structural Inequalities and Emotional Illnesses in Oaxacan Communities"
Digital Knowledge Sharing Fellows
Cassandra Smith, University of Illinois, Chicago, "Telling History from the Land"
Robbie Jimerson, Rochester Institute of Technology, "Seneca Language Revitalization"
Dianne Hinkley, Cowichan Tribes Land Research, "Oral Histories with Cowichan Elders" 
Hilary Leathem, University of Chicago, and Pedro Guillermo Ramon Celis, Indiana University, Bloomington, "Este Lugar Tiene Muchas Historias"
Undergraduate Interns
Dynette Chavez, Whittier College
Nancy Mendoza-Ruiz, University of Washington
Tieranny Keahna, Coe College
Indigenous Community Research Fellows
Marianne and Midori Nicolson, "George Hunt Maps"
Tom Child, "Kwakwaka'wakw Songs and Language"
George Greendeer, "Review of Ho-Chunk/Winnebago Materials for Hoocak Waaziija Haci Language Division"
Digital Humanities Fellows
Jason Tercha, Binghamton University, "Mapping the Guano Trade into Antebellum United States"
Short-Term Fellows
David Center for the American Revolution 
Meg Roberts, University of Cambridge, "Domestic Caregiving in the American Revolution"
Robert Wright, Augustana University, "Economic Policy and the American Revolution" 
Benjamin Bankhurst, Shepherd University, "Maryland Loyalism Project"
Christopher Pearl, Lycoming College, "The War Executives: Debating and Creating Executive Power During the American Revolutionary War"
Barra Foundation Fellowship
Diego Pirillo, University of California, Berkeley, "The Atlantic Republic of Letters: Sharing Knowledge in Early America"
Kacey Stewart, University of Delaware, "Sensing Place: Data Representation in Early America"
Leon and Joanne V.C. Knopoff Fellowship
Christopher Phillips, Carnegie Mellon University, "Number Doctors: The Emergence of Biostatistics and the Reformation of Modern Medicine"
Eugene Garfield Fellowship
Sylvan Goldberg, Colorado College, "Generation: Crisis, Continuity, Sentiment, and Science in Nineteenth-Century America"
Caterina Agostini, Rutgers University, "Scientific Thinking and Narrative Discourse in Early Modern Italy"
Isaac Comly Martindale Fund Fellowship
Kévin Cristin, Aix-Marseille Université, "From Engineering to Writing: Technicality, Robert Louis Stevenson, and Fiction in the Nineteenth Century"
Ami Yoon, Columbia University, "Practicing Truth: Poetry, Natural History, and Violence in Nineteenth-Century America"
William T. Golden Fellowship
Daniele Cozzoli, Pompeu Fabra University, "Salvador E. Luria and the Internationalization of Italian Molecular Biology" 
The Andrew W. Mellon Foundation Fellowship
Ryan Cartwright, University of California, Davis, "Care for the Chronic: How Chronic Illness was Rendered an American 'Social Burden'"
Sanders Bernstein, University of Southern California, Los Angeles, "American (Proto) Fascism, 1914-1933"
Charles McCrary, Washington University, "Eugenic Secular"
Anabelle Rodriguez, Rutgers University, "Curating Xunantunich: Archaeological Exploration, Maya Cultural Heritage, and Ecological Conservation at an Open-Air Museum in Cayo District, Belize"
William S. Willis, Jr. Fellowship
Max Flomen, West Virginia University, "War, Slavery, and Alternative Emancipations in the Borderlands, 1650-1850" 
Michael Albani, Michigan State University, "Racializing Indigenous Society: Native Americans, Euro-Americans, and the Struggle for Authority in the Great Lakes Borderlands, 1763-1888"
Friends of the American Philosophical Society Fellowship
Katrina Ponti, University of Rochester, "Agents of Exchange: Public Diplomats of the Early American Republic, 1783-1818"
Emily Clark, Gonzaga University, "Spiritual Matters: American Spiritualism and Material Culture"
Konstantinos Alevizos, Paris-Sorbonne University, "Critical Edition of Multi-Keyboard Compositions of Madame Brillon"
François Regourd, Paris Nanterre University, "Philadelphia, an American Cultural Capital in the Early Modern Atlantic World?"
François André Michaux Fund Fellowship
Shannon Mason, Southern Illinois University, "John Bartram as Merchant of Nature"
Daythal L. Kendall Fellowship
Margaret Pearce, Independent Scholar, "Mississippi Dialogues"
Nancy Halverson Schless Fellowship
Jamie Steele, Rensselaer Polytechnic Institute, "Gender and AI"
Edward C. Carter II Fellowship
David Hancock, The University of Michigan, "An Independent Man: Shelburne's Enlightenment and the Course of Empire"