The Anti-Racist Scholarship of William Shedrick Willis
Brian Carpenter is the Curator of Indigenous Materials at the APS's Library & Museum. An archivist by training, he began...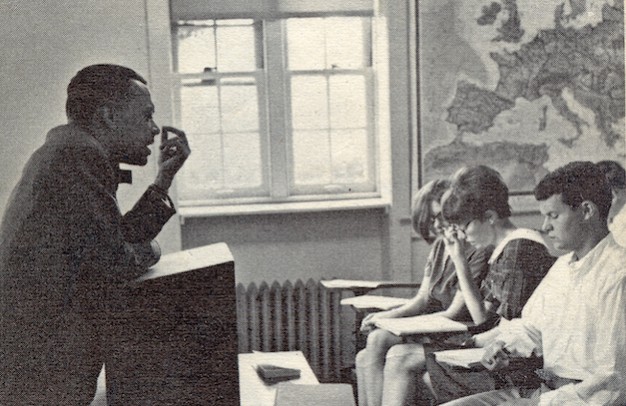 In his 1971 essay, "Skeletons in the Anthropological Closet," William Shedrick Willis, Jr. (1921-1983) laid out a stunning critique of anthropology that continues to have deep relevance to our contemporary national turmoil over ongoing racial injustice in America and the murder of George Floyd and so many other Black Americans. Willis was a key Black intellectual, anthropologist, historian, and anti-racist scholar of the 20th century whose career demonstrates the powerful liberatory thought of a black intellectual and the intransigence of disciplinary communities who refused to give him a seat at the table. Today, Willis's papers are housed at the APS Library & Museum, the only collection of a Black scholar among several hundred manuscript collections.
What follows is a brief glimpse of the range and impact of Willis's thought. For fuller treatment of the full range of Willis' intellectual biography, I highly recommend Peggy Reeves Sanday's essay on the subject, upon which I have depended heavily.
Willis was born in Waco, Texas in 1921, but his family moved to Dallas in 1923, largely because of threats from the Ku Klux Klan against his father, William, Sr., who was a prominent leader in Waco's Black community. As a young man, he attended Howard University, where he studied history. Graduating in 1942, he then put in two years of service in World War II as a volunteer in the Coast Guard.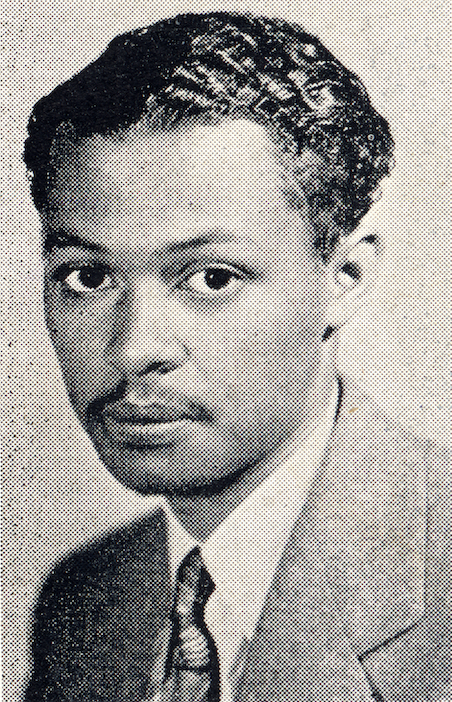 In 1945, he moved to New York and began graduate work at Columbia University, with an intent to further his studies of Black history and culture that he had begun at Howard. It was here that his engagement with anthropology began as well, specifically the Americanist strain of anthropology developed by Franz Boas (1858-1942), who founded Columbia's anthropology department. Reflecting later in life on why he decided to study anthropology as a graduate student, Willis said that he "was led into anthropology by the appeal of the scientific antiracism of the Boasian tradition." Based upon this, he "assumed that this discipline was the vanguard in the attack against racist thought." 
This assumption, however, did not hold true in the way he imagined. Over the course of his career, Willis laid out thorough critiques of anthropology's failures to directly address the contemporary lives and subjugation of people of color, while also maintaining a tenacious hope for its potential as a means of furthering racial justice. He experienced numerous forms of discrimination from the start, including a prominent professor at Columbia advising him not to register with the department or enter the field. More broadly, he was not supported in his desire to focus his anthropological work on direct study of Black history and culture itself, even though, as Willis would contend, Boas had attempted to encourage precisely such a movement within the field.
In the decade after receiving his PhD from Columbia in 1955, Willis could get nothing more than part-time university teaching jobs in New York, including at Columbia, though it was in these years that he developed his proficiency as a meticulous, outspoken, and popular teacher.
His scholarship of this period coalesced around ethnohistorical studies of the American Southeast in the colonial period and the dynamics of Black and Indigenous relations in the period. His premier work from these years is the article "Divide and Rule: Red, White, and Black in the Southeast," published in The Journal of Negro History in 1963 and later republished four times. In it, Willis examines the history of hostilities between Black and Native peoples in the South in the 18th century. Calling out Southern historians for a failure to properly explain what had been passed off by many as a "natural aversion," Willis instead laid out the starkly different thesis that "a frightened and dominant White minority [that] faced two exploited colored majorities" had "willfully helped create the antagonism between Indians and Negroes in order to preserve themselves and their privileges."   
After relocating to Dallas in 1964, Willis was eventually able to secure a position at Southern Methodist University as its first Black faculty member. Despite his hopes for positive social change through this integration, his time there was riddled with persistent discrimination in pay, workload, and thinly veiled hostility from other members of the faculty. (Here again, see Sanday's essay for a detailed treatment of these years.) He eventually resigned in protest in 1972.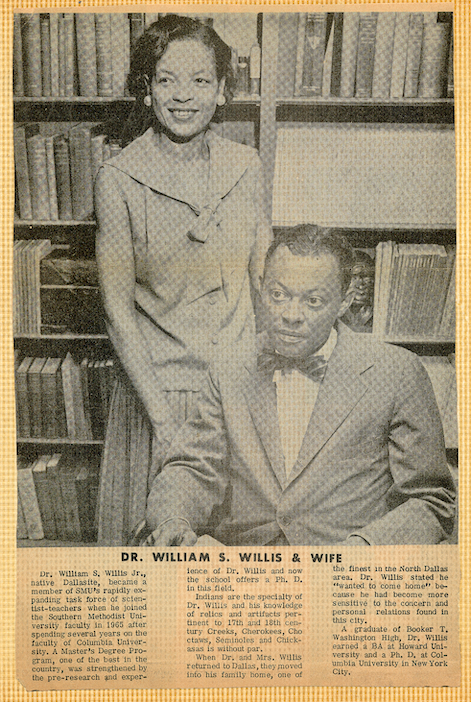 In "Skeletons in the Anthropological Closet," included by Dell Hymes in the 1971 volume, Reinventing Anthropology, Willis declared that anthropology's claim to being a "science of man" was deeply delusional, instead stating that it had largely been "the social science that studies dominated colored peoples--and their ancestors--living outside the boundaries of modern white societies." Moreover, he identified the discipline as being primarily organized around the "projections of the needs of white people," and oblivious to a range of distortions of the lives of subjugated peoples caused by "the racist organization of the modern world." These causes, he argued, have "prevented most--if not all--white anthropologists from seeing contemporary colored people as real human beings." 
Willis did not give up hope for anthropology, but called for fuller accounting for its negligence of people of color. In the "Skeletons" essay, he further pointed towards the need for an "urban ethnography" in which "sociopolitical significance will become the main criterion in selecting research problems. Out of the crucible of the ghetto, a new perspective of black people as real human beings will emerge," one that is also aligned with "a new kind of partisanship...that advances the political demands of the ghetto poor." He stressed that this ethnography would also require "active and creative programs to recruit, train, and employ many young and other colored anthropologists," as well as the rejection of "old standards of professionalism" that keep at arm's length any engagement with the real-life consequences of colonialism and racism in American society. I urge anyone interested in the history of the social sciences, particularly in relation to social justice, to read this.
The problems that Willis identified also apply to many institutions like the APS that have supported the growth of anthropology and expanded their archival collections in collaboration with many of these same practitioners of anthropology and related sciences. The most glaring example of this is the stark and unavoidable fact that the William Shedrick Willis Papers is the only collection of a Black scholar at the APS Library.  
More broadly, where people of color are represented in the APS collections, they overwhelmingly appear as subject matter and objects of study in the work of white researchers in both physical and social sciences. (In an earlier post, I have tried to suggest some ways in which the knowledge and agency of Indigenous individuals can be drawn out of collections such as these.) Fundamentally, people of color must be represented and emphasized in archival collections as primary experts and interlocutors in scholarship not only on their own history and experiences, but on any other domain of human knowledge as well. These inadequacies of curation have accumulated over decades, even centuries in the case of the APS, across most major archival institutions. They are both localized institutional failures as well as broader, systemic failures of representation within academic institutions and cultural organizations overall in America.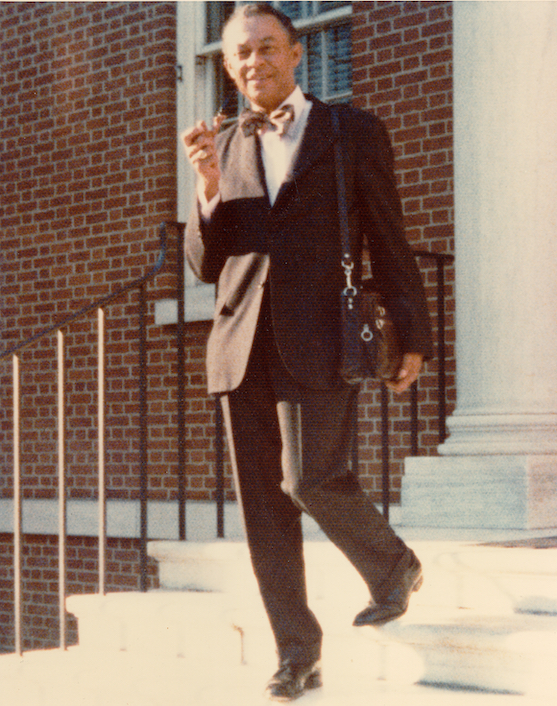 In this same context, the APS Library's collections also played a central role in what would become the final decade of Willis' scholarship. Moving to Philadelphia, the hometown of his wife, Georgine, he focused his research on the Franz Boas Papers and other related collections at the APS Library as part of a large-scale project to examine Boas' relationship to Black anthropology and civil rights. In his work from these years he continued to elaborate his longstanding admiration for the possibilities of "scientific antiracism" in Boas' work, while also further detailing his frustrations with what he saw as Boas' "apolitical mask" that covered "deeper political convictions." 
Sadly, Willis died of sudden heart attack in 1983, while still deep in the midst of this project. Georgine Willis donated her husband's papers to the APS the following year. Happening upon Willis' papers years later, Rosemary Lévy Zumwalt prepared for publication what was apparently meant to be the first of several chapters of his projected work. This publication, Franz Boas and W. E. B. Du Bois at Atlanta University, 1906, was published as a short monograph in the Transactions of the American Philosophical Society in 2008.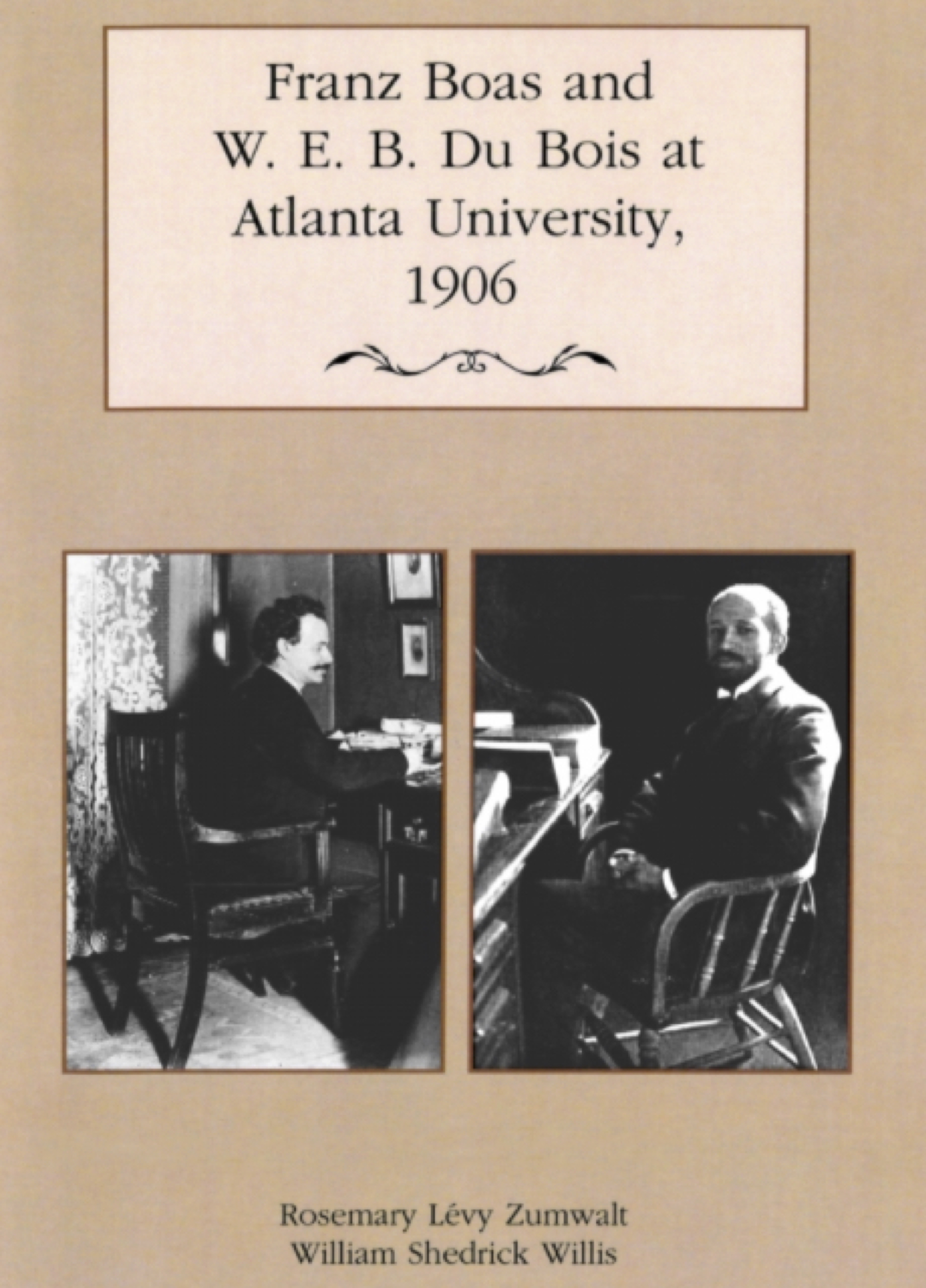 The Willis Papers hold great potential for future research and are an under-utilized collection at the library. They contain extensive documentation of Willis' research throughout his career, correspondence with a broad range of intellectual figures of the mid-20th century, drafts of unfinished articles from later in his career, and much beyond that. His career has received some renewed attention recently in Mark Anderson's 2019 book From Boas to Black Power, but far more work remains to be done to grapple with the full significance of his legacy. Such work is especially needed today.
Georgine Willis established a fund at the APS Library & Museum to foster research and acquisitions that advance scholarship on race relations, the history of anthropology, and Indigenous studies through its collections. It is my hope that this post can play some small part to draw further attention not only to the critically important legacy of this deeply compelling and under-appreciated scholar, but also to honor his legacy and his call for ongoing scholarship in support of antiracism and the end to all forms for violence against Black lives.