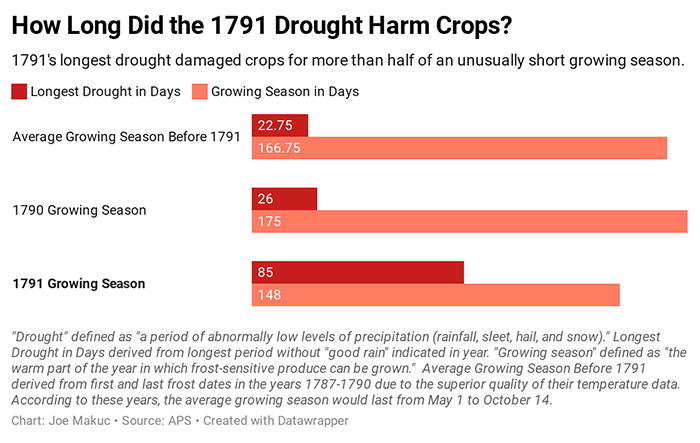 Drought generally means a period with abnormally low rainfall, which is also known as meteorological drought.4 In 1791, this abnormally low rainfall at Montpelier corresponded to the 1790-1794 El Niño, an event from a periodic weather pattern that causes weather extremes like drought and flooding.5 When meteorological drought starts to affect crops, preventing them from getting the moisture they need to grow and thrive, it is known as agricultural drought. Most commonly, agricultural drought6 is a problem during the growing season, the part of the year where temperatures are above freezing and allow cold-sensitive crops to grow.7 At Montpelier in the late 18th century, the average growing season spanned May 1st to October 14th.
The duration of the 1791 drought was unprecedented compared to its growing season. Lasting 85 days of the growing season (and calendar year), the 1791 drought stunted crop growth for more than two months. This damage was compounded by a growing season that started late and ended early, totaling just 148 days (10% shorter than the average growing season). With such a long drought and short season, drought sensitive crops like corn may have lost most of their yield.8 As you can see in the graph below, this damage seemingly came out of nowhere after 1790's plentiful rainfall.
---
---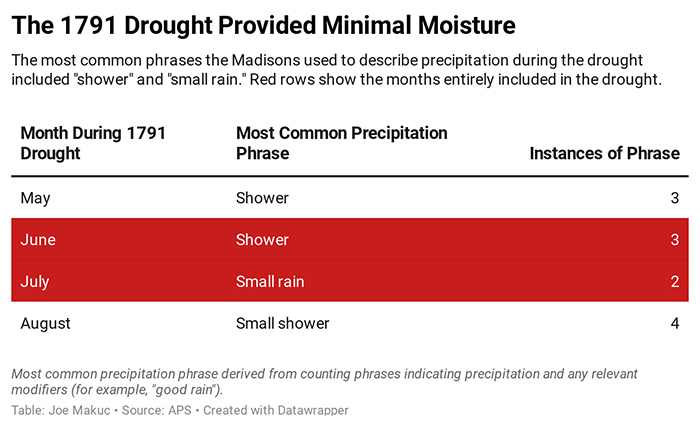 The Madisons recorded only 89 precipitation events in 1791, 25% fewer instances of precipitation compared to 1790's 122 events. If Montpelier's average yearly rainfall was roughly 43 inches, as it is today, the crops in 1791 likely had about 11 inches less rain.9
The 1791 precipitation events also resulted in poor moisture. The Madisons usually described precipitation during the drought as a "shower" or "small rain" (as shown in the table at right). The Madisons also occasionally noted the small depth that this rain trickled into the soil, which gives another hint to the volume of moisture. For example, the Madisons recorded "a shower at 5 o'clock to wet the ground about an inch" on July 14th, 1791. As most crops require enough water to wet the soil to a depth of roughly 5 to 12 inches every week, wetting "the ground about an inch" was insufficient.10 Because the only other precipitation within a week of July 14th was "raining which wet the ground about ½ an inch" on July 16th, the week's weather did not hydrate the crops. As shown by the pages from the journals below, which include some of the corresponding days in June and July across 1790 and 1791, 1791's precipitation events did not result in as much moisture as 1790.