Ms. Joyet is the Assistant Head of Cataloguing. After graduating from Drexel University's iSchool in 2009, Ms. Joyet was hired...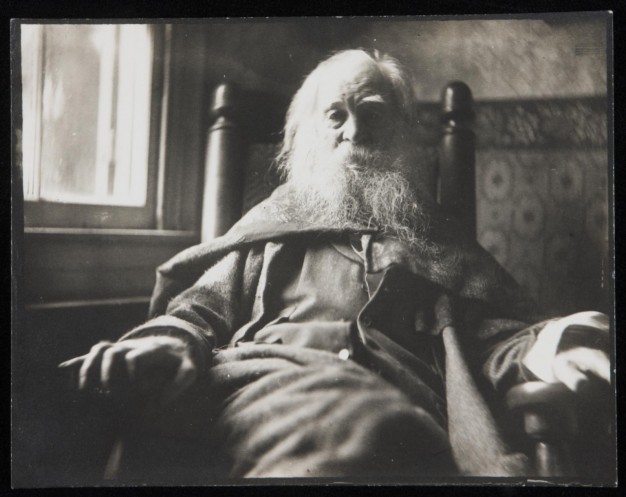 Walt Whitman's most famous work, Leaves of Grass, was not well received by Philadelphia's high society. It was deemed obscene for its overt sensuality for the time. Perhaps that is why America's first poet was never elected a Member of the American Philosophical Society.
Despite this, the APS's Library does hold two Whitman items. The first is a note Whitman wrote to geologist J. P. Lesley (APS 1856). In the note, Whitman lets Lesley know that he will stop by on the 28th of February, instead of the 27th, and that he is looking forward to meeting with a mysterious Kate Willard.
The APS's second Whitman item is a gift given from Whitman to Lesley: Vier Amerikanische Gedichte (or, Four American Poems), which does not include Leaves of Grass. Modern Philadelphians might be surprised to see an American work of poetry printed in Philadelphia in German and given from one English-speaking person to another. However, in 19th-century Philadelphia, there were German language schools, hospitals, and newspapers, meaning it was not uncommon for well educated people to at least be able to read German, if not be conversant in the language. This printed volume compliments the journals of poetry that are kept in the Lesley Papers (Box 28, Short writings, poems, maps, geological notes, etc.).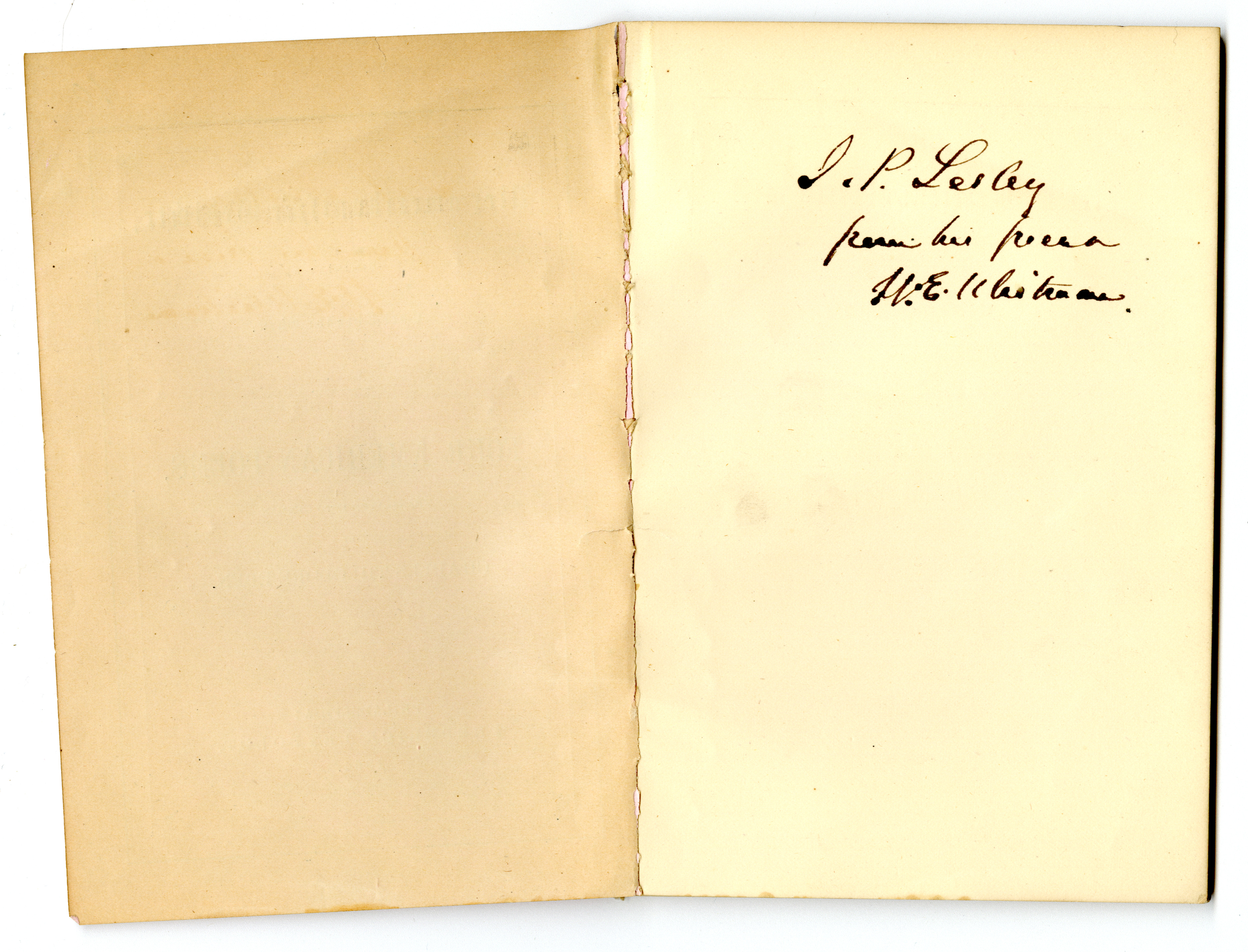 What makes this note particularly surprising is that Lesley wrote to Ralph Waldo Emerson in November of 1855 that he found Leaves of Grass to be "profane & obscene" and that he thought the author was "a pretentious ass without decency."* The book of poetry was printed in 1864 and Whitman inscribed a copy of it with "To J.P. Lesley from his friend W. E. Whitman." Perhaps Lesley kept his true thoughts to himself regarding his friend's poetry or perhaps all was forgiven and forgotten by 1864. 
The correspondence in the Lesley Papers at the APS show that Lesley and his wife, Susan, were part of a progressive and intellectual milieu in Philadelphia at that time. Susan Lesley, in particular, had many friends associated with the Transcendentalist and Unitarian communities in Boston and she corresponded with a number of prominent antislavery figures, including Theodore Dwight Weld, Samuel J. May, Frederick Douglass, and Maria Chapman. It is possible that the Lesleys could have met Whitman years after the publication of Leaves of Grass and struck up a friendship based on their common values and love of poetry.
*Gougeon, Len. "Whitman's 1855 Leaves of Grass: Another Contemporary View." Walt Whitman Quarterly Review 1 (1983), 37-39. https://doi.org/10.13008/2153-3695.1005.
Header image courtesy of Yale Collection of American Literature, Beinecke Rare Book and Manuscript Library, Yale University, New Haven, Connecticut. Via Wikimedia Commons.