Society Welcomes Conservation Intern Joanna Hurd
Renée Wolcott is Assistant Head of Conservation and Book Conservator. A high school interest survey listed "book restorer" as the...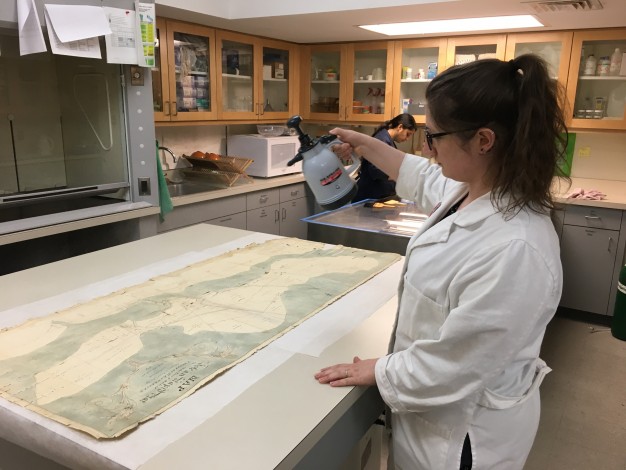 Willman Spawn Conservation Intern Joanna Hurd spent only two weeks at the American Philosophical Society before the novel coronavirus sent everyone home, but in that time she had already accomplished a lot. She examined and documented 13 rolled certificates from the Kane Family Papers, helped Assistant Conservator Anisha Gupta line an oversized map, and began sharing her extensive research on the pH and conductivity of bathing solutions. 
Jumping in with both feet is nothing new for Joanna, who is a third-year student in the Winterthur-University of Delaware Program in Art Conservation (WUDPAC). She has been planning for a career in art conservation since her first meeting with an undergraduate advisor at Boston University. She went on to cram her art history major and visual arts minor into three years of coursework. 
The day after she graduated, Joanna moved to Philadelphia, which her sister had extolled as both affordable and rich in cultural heritage institutions. Within two years she had traded a stable job at a law firm for six concurrent part-time conservation internships. Over a period of four years she worked with paper, textile, object, and painting conservators—including a brief stint at the American Philosophical Society with paper conservator Anne Downey. "It took a while for me to get started in the conservation world, but then it went from zero to sixty really fast," Joanna says.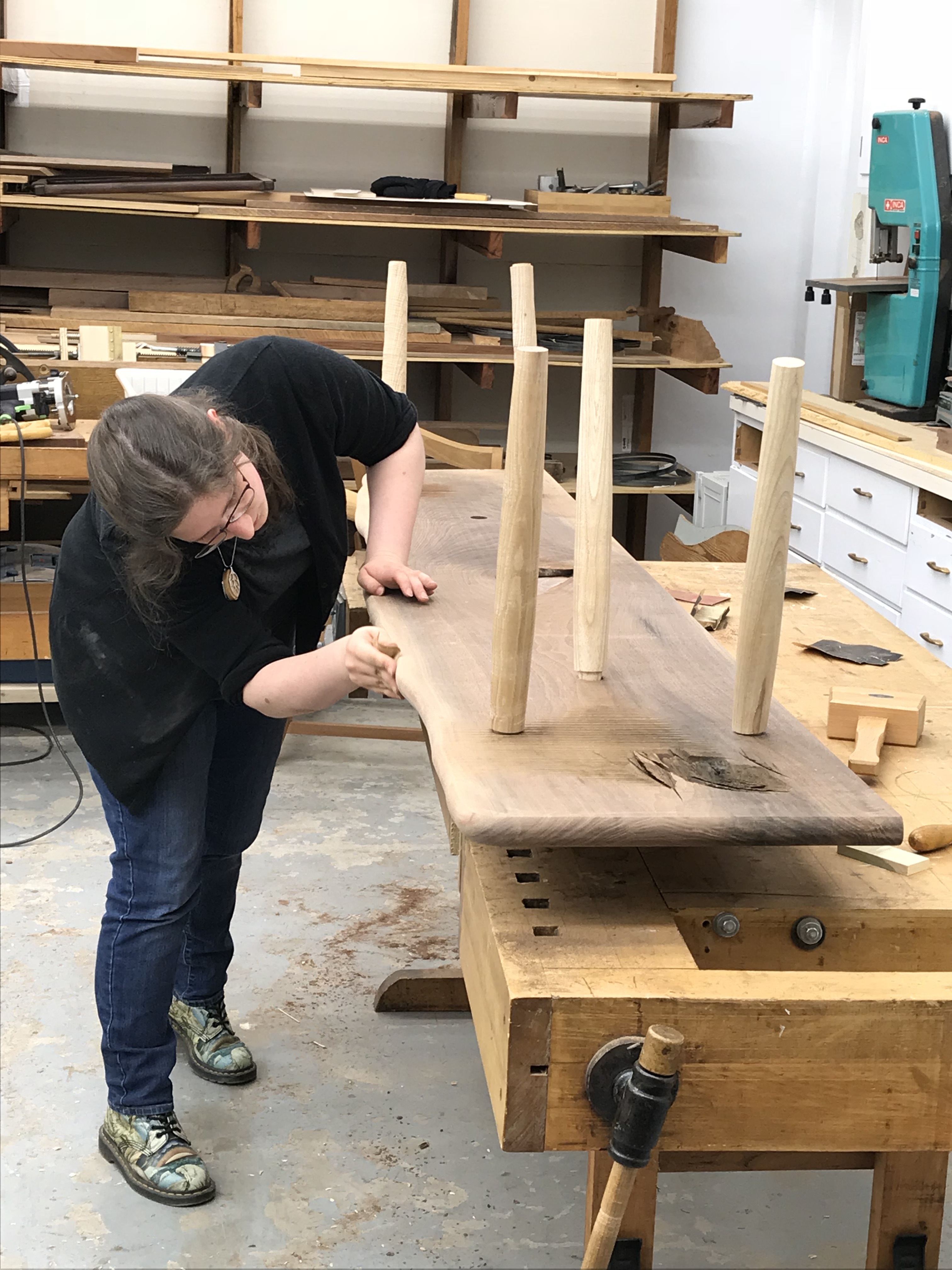 After joining the competitive WUDPAC program in 2017, Joanna made her mark by taking on extracurricular projects. She was the first student to take furniture conservator Mark Anderson up on his offer of a beautiful walnut plank, plus studio time to work it. With her nine classmates, Joanna shaped and sanded the plank, turned six pine legs on the lathe, and created a sturdy bench that now graces the hallway outside the first-year student classroom. (The bench's two groups of three legs are a nod to George Stout's "three-legged stool" metaphor for art conservation, in which the profession's three legs are art history, studio art, and chemistry.) 
Joanna's taste for doing more has continued during her third and final year as a WUDPAC student. Rather than spending her last 15 months in two internship sites, one for the summer and one for the following 12 months, Joanna sought and gained placements at three institutions. "It's my grand tour of Philadelphia paper conservation labs," she says. "The Conservation Center for Art and Historic Artifacts, the Philadelphia Museum of Art, and the APS are a great spread of institution types, from a regional conservation center to an art museum to a library and archive."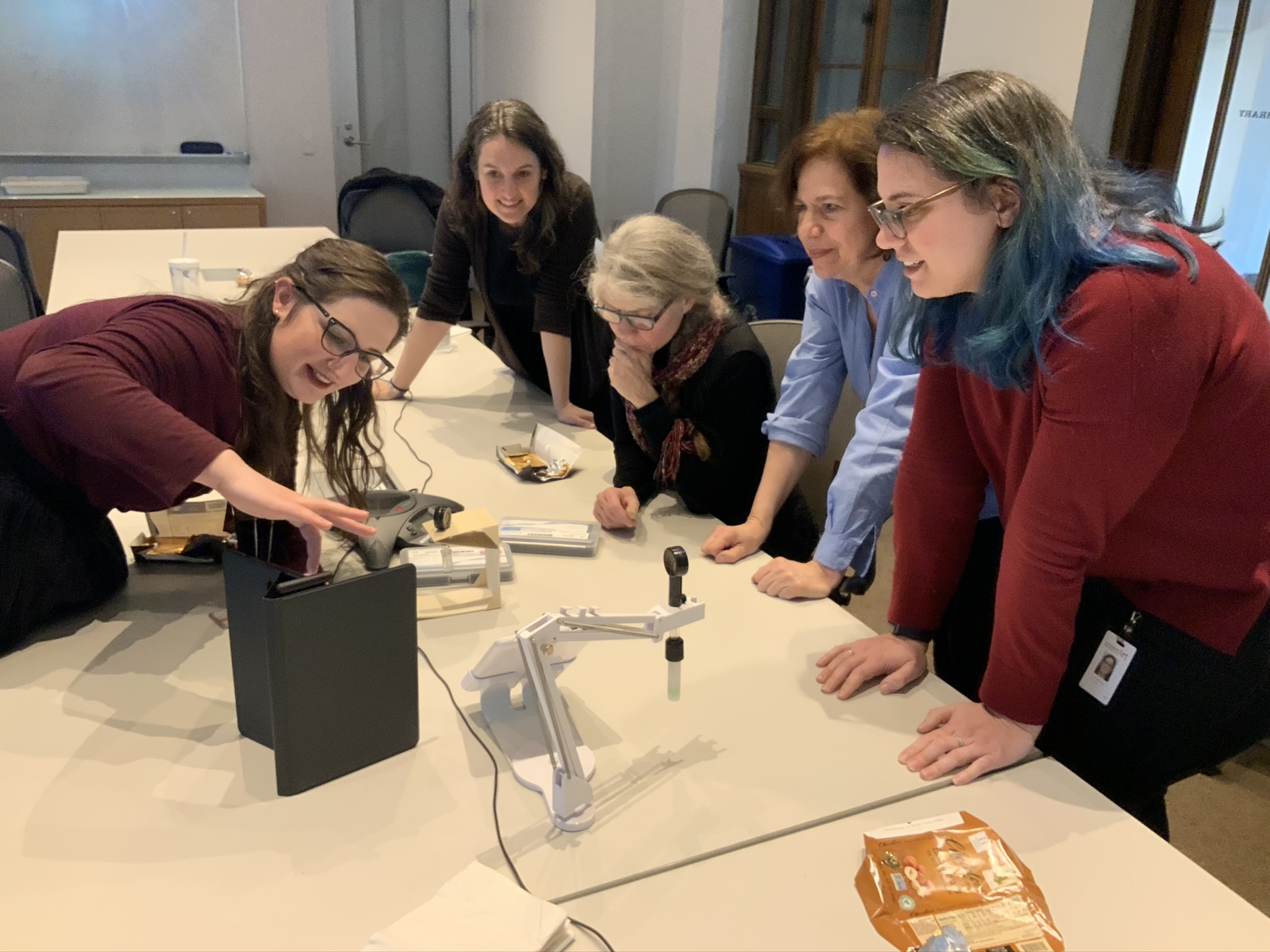 Joanna will be working with Society conservators through July 2020, sharing her specialized knowledge in paper and photograph conservation. We can't wait to see where she takes us, and we're delighted that she's here.