Revolutionary PHL: NEH American Rescue Plan Grant Update
Sabrina Bocanegra holds a B.A. in Anthropology from Temple University and her M.S.L.I.S. from Drexel University. Sabrina got her start...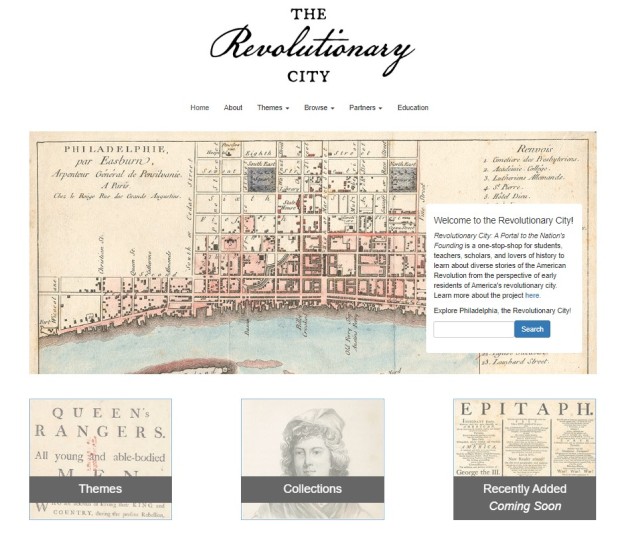 Revolutionary City: A Portal to the Nation's Founding is live and being updated regularly. Accessible at https://therevolutionarycity.org/, the portal has undergone many iterations and updates with the help of our Stakeholder Team from our pilot year. Read more about their experiences and reflections working on the project here.
At the end of 2021, we were fortunate to receive funding from the NEH American Rescue Plan grant. This grant allows us to digitize images and enhance metadata for approximately 36,000 pages of original material from the collections of the American Philosophical Society, Historical Society of Pennsylvania, and Library Company of Philadelphia while continuing to employ contingent early career scholars and permanent staff. Over the last eight months, we've added five new members to the Revolutionary City team who continue populating the portal with material related to Revolutionary Philadelphia. See below for bios of Bethany Farrell, Deanna Johnson, Elisabeth Yang, Jessica Hutchison, and Thomas Johns III.
While our team spent much of the first half of 2022 mass digitizing and creating metadata, we were able to work with some familiar and new faces this summer as well. Two of our Revolutionary City Stakeholders, Benjamin Bankhurst and Kevin Casey, joined the APS as fellows. Benjamin, an APS David Center for the American Revolution Short-Term Fellow, continued his work on "Networks and Personhood in The Maryland Loyalism Project." Kevin, the APS Digital Humanities Fellow, worked with the Revolutionary City Team to create lesson plans and explanatory videos for students and teachers in an effort to make the Revolutionary City portal more accessible.
In early June, the APS welcomed three CV Starr Summer interns: Kamden Richardson, Nicole Skalenko, and Patricia Woodworth. They contributed to the Revolutionary City project by focusing on transcription of the original manuscripts digitized, metadata creation, and biographical research, paying special attention to recovering the voices of women and men marginalized in the collections. 
At our 6-month mark in the grant, 22,229 pages of original manuscript material were digitized at all three institutions. Newly digitized material is being uploaded to the portal regularly (see our Browse By Collections page to view all collections in the portal). We are actively developing the portal, and from time to time items may not be available or may look different.
It is exciting to see the portal develop and grow, with new content added every month, and we appreciate your patience as we continue to refine functionality and workflows.
Stay tuned for blog posts highlighting material from the collections above from the Revolutionary City Interns and Digitization Technicians!
—
Historical Society of Pennsylvania Digitization Technician:
Deanna Johnson has a Bachelor of Applied Arts degree from Central Michigan University, where she majored in Broadcasting with a focus on Cultural Anthropology. In her previous role as APS Museum Manager, she facilitated wide ranging discussions with museum visitors through APS exhibitions and assisted the Museum's Collections department with research and editing on their digital platforms. 
American Philosophical Society Digitization Technicians:
Bethany Farrell is an art historian and digital humanist with a Ph.D. from Temple University. Farrell was the Digital Franklin Fellow at APS's Center for Digital Scholarship and the lead of Phase 2 of the Franklin Ledgers Project. The Franklin Ledgers Project is a multi-year project to digitize and transcribe Benjamin Franklin's postal ledgers and shop accounts.
Thomas Johns III holds a BA in History and a minor in Communication from Drexel University. Recently Johns has worked as an Archival Assistant at the Drexel University Archives and Drexel University's Atwater Kent Collection Evaluation Project.
Library Company of Philadelphia Digitization Technicians:
Elisabeth Yang was the LCP's 2019-20 Albert M. Greenfield Foundation Dissertation Fellow. Yang specializes in cultural studies (particularly childhood studies) and social history, expertise that serves her well as she seeks to identify and surface previously marginalized subjects. Yang received her Ph.D. in Childhood Studies from Rutgers University in 2020. Her dissertation is entitled, "Producing Moral Agents: Infant Personhood in Medical and Educational Discourse, 1811-1920." 
Jessica Hutchison holds a BA in Anthropology from Reed College and an MS in Library and Information Science from Drexel University. Hutchison got her start working in archives as a student assistant at the Drexel University Archives and as a student intern at the Drexel College of Medicine Legacy Center Archives.