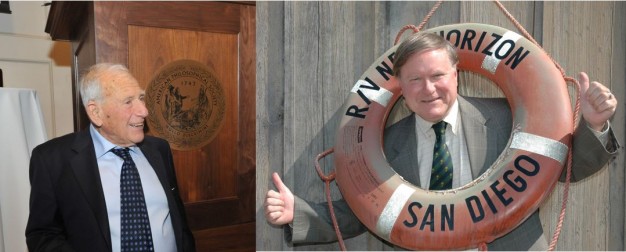 The fifth episode of the APS Podcast Series—Great Talks at the American Philosophical Society—is now available! Tune in for a conversation between Librarian Patrick Spero and two leading scientists, Dr. Walter Munk and Dr. Charles Kennel, on the oceans and climate change. The episode, "A Long History of Climate Science," explores how an interest in climate science grew out of work in oceanography (in Dr. Munk's case going back to WWII) and reflects on the state of the oceans, climate change, and what it all means for policymakers today.
The episode is available on iTunes, Google Play, and streaming directly on the APS website here.
Dr. Walter Munk, described as the "Einstein of the oceans," was professor emeritus of geophysics and held the Secretary of the Navy/Chief of Naval Operations Oceanography Chair at Scripps Institution of Oceanography at the University of California, San Diego.
Dr. Charles Kennel is Distinguished Professor, Vice-Chancellor, and Director emeritus at the Scripps Institution of Oceanography at the University of California, San Diego.
This episode is also a tribute to the amazing life and career of Dr. Munk who passed away at the age of 101 while the episode was in production. An engaged Member of the APS for more than half a century, Dr. Munk often generously hosted APS gatherings with his spouse, Mary Coakley Munk, at the their wonderful seaside home. Dr. Munk was considered one of the greatest oceanographers of his time and, according to co-interviewee Charles Kennel, this episode "may have been the scientific last will and testament of a historically significant scientist."
Please listen until the end of the episode to hear Dr. Munk's friends and colleagues speak about his legacy.
Find more details on the episode here, including links to Dr. Munk's and Dr. Kennel's talks at the APS and material related to climate science in the APS Collections.