Musings on Manuscripts—Strategies on Dating Letters
With a background rich in both the liberal arts and in technology, Michael Miller holds a Bachelor of Arts degree...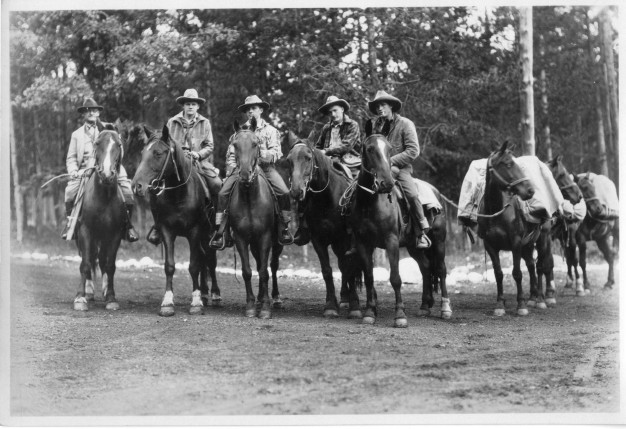 The American Philosophical Society Library is currently processing the Vaux Family Papers (Mss.Ms.Coll.73), a large and expansive collection dating from 1690–1996. The Vauxes were a prominent Philadelphia Quaker family, and the collection contains fascinating insights on the history of the early American republic, Quaker history, and family history.
To date, approximately 10,000 letters, totaling 50.0 linear feet, or 100 boxes of correspondence, has been processed. It has taken some meticulous work in getting to this point. The correspondence is being processed at the item level; each letter is placed in its own folder, with correspondent name, recipient name, and month, date, and year of the letter recorded. The letters are being organized chronologically, so it is important to provide a date for each letter. However, correspondents don't always include a date on the letters they write, making the dating of letters a challenge.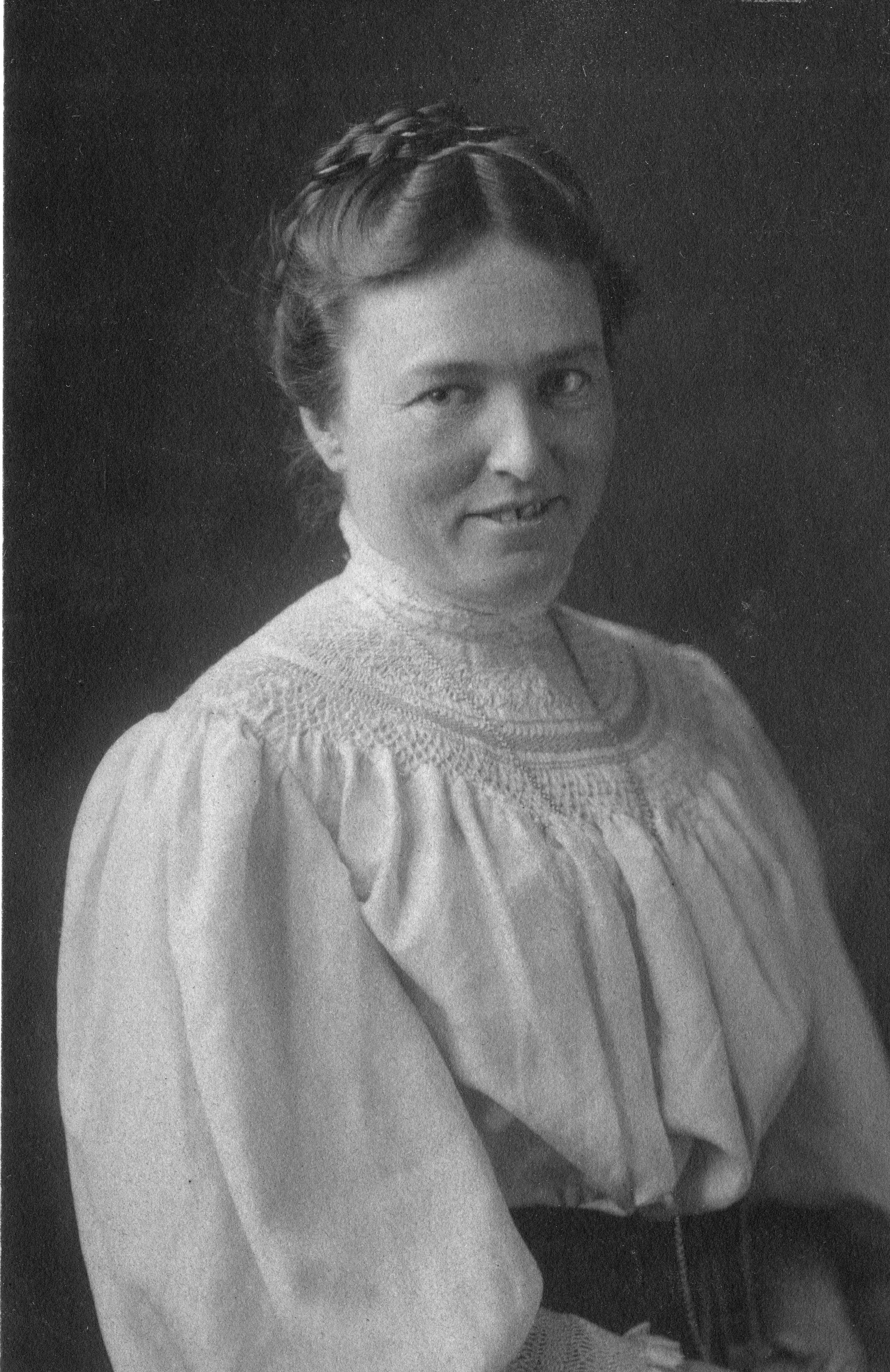 A box of letters from George Vaux X (1908–1996) and Henry James Vaux (1912–2000) to their mother, Mary James Vaux (1875–1956), serves as an example of this. Written in the 1930s–1950s, the letters were crammed in to an old letter file box. Both sons were not consistent in recording the dates on their letters, and a variety of strategies were used to supply dates for undated letters. These strategies included:
Context and relation to other letters. George Vaux X wrote eight letters to Mary James Vaux in a six-week span while in England and France in the spring of 1933. Three of the letters were undated. After reading all eight letters, it was possible to place the undated letters in sequence with the dated letters.
Historical calendar.

Timeanddate.com

is a helpful tool, offering historical calendars which can help finalize a date for a letter that contains incomplete information. References to timing and days of the week in George's letters allowed me to pin down the exact dates of the undated letters thanks to Timeanddate.com.
Location information. Letterhead address, return address, or where the letter is written from can offer a clue from when a letter is written. For example, Henry James Vaux moved a few times early in his career before settling in at the University of California, Berkeley. Knowledge of when he moved helped me to date some undated letters.  
Family milestones. References to important events in a family's history–births, graduations, marriages, illnesses, deaths—are invaluable in dating a letter. Henry referred to the Cub Scout graduation of one of his sons, which enabled me to date a letter.
Historical context. Outside events—historical events, cultural movements, political races, artistic performances, sporting events, etc.—provide other clues.
In a letter to his mother dated October 28, with no year given, Henry James Vaux commented on politics in California:
The local election is beginning to heat up a little. It looks as though Warren should beat Roosevelt fairly easily, but the senate situation is something else again, and it's possible Mrs. Douglas may win. In this case, neither side presents a wholly attractive choice.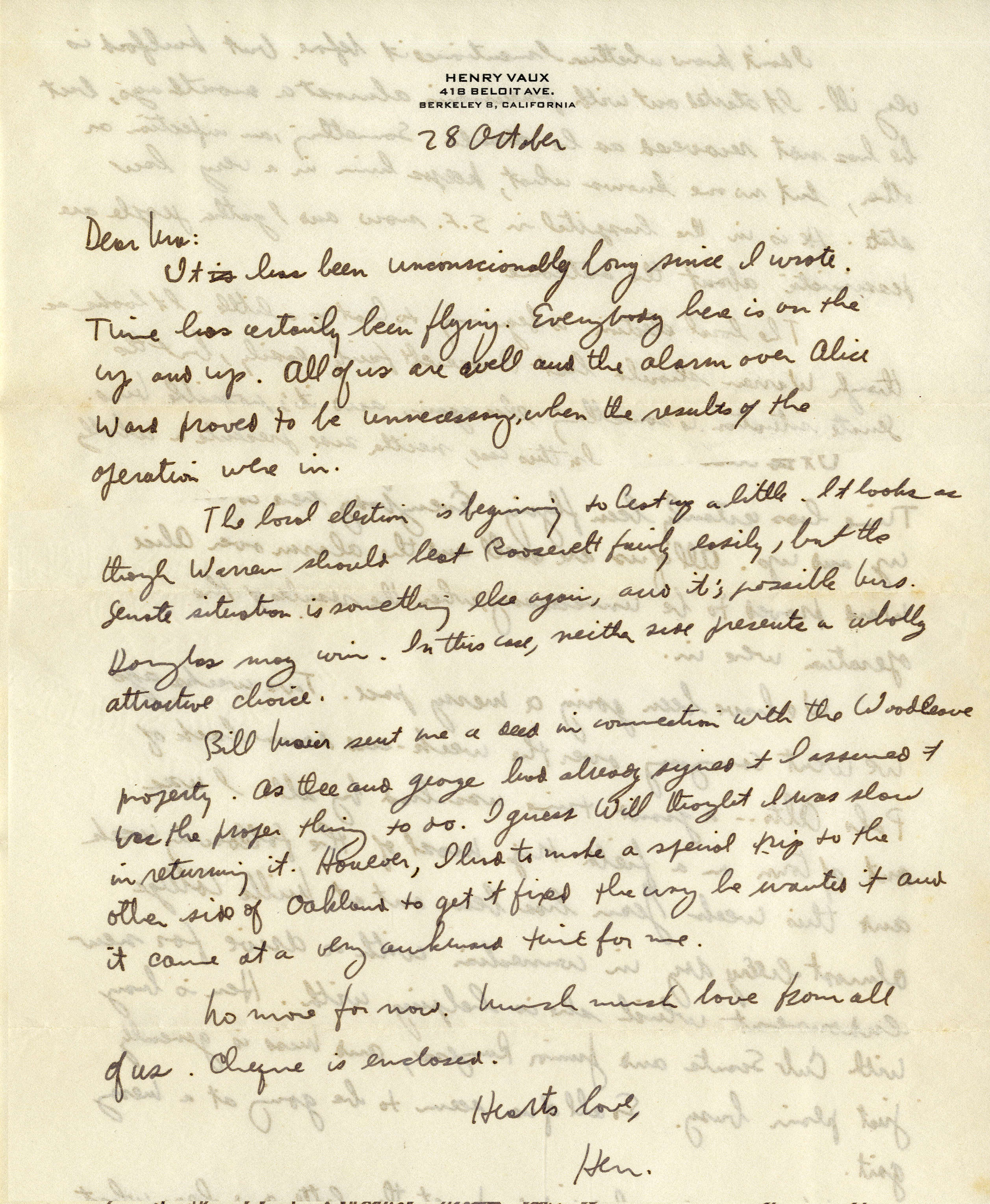 A quick Internet search led me to discover that Vaux was referring to the 1950 elections in California, where Earl Warren defeated James Roosevelt for governor, and Mrs. Helen Douglas lost in a bid for the U.S. Senate to a young, up-and-coming congressman, Richard Milhous Nixon. "A wholly attractive choice" or not, the letter was clearly written on October 28, 1950.
To learn more about the Vaux Family Papers, please see the finding aid.