Musings on Manuscripts - Constantine of Byzantium
With a background rich in both the liberal arts and in technology, Michael Miller holds a Bachelor of Arts degree...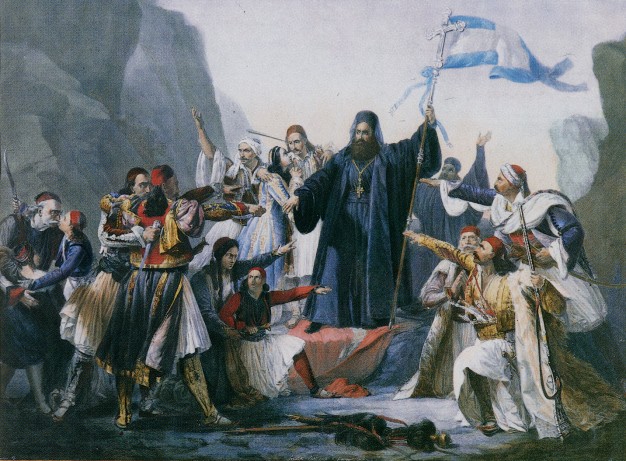 Header Image: Ludovico Lipparini. Archbishop Germanos III of Old Patras raising the flag of the Revolution in Kalavryta. 1838. Hand-painted lithograph. Courtesy of the National Historical Museum, Athens, Greece.
2021 marks the 200th anniversary of the beginning of the Greek War of Independence. On March 25, 1821, as legend holds, Bishop Germanos of Patras raised the banner of rebellion at the Agia Lavra Monastery, signaling the start of the struggle. From 1821-1830, Greeks rebelled against the Ottoman Empire, seeking political and religious freedom. The fight for independence was supported by numerous philhellenes in western academia. One of these supporters was Constantine Rafinesque, an eccentric self-taught naturalist working at Transylvania University in Lexington, Kentucky.
Constantine Rafinesque (1783-1840) described himself in his autobiography A Life of Travels and Researches in North America and South Europe as "a traveler from the cradle, I'll be one to the grave." Rafinesque was born on October 22, 1783 in Constantinople, the former capital of the Greek Byzantine Empire, which, at that time, was the most prestigious city of the Turkish Ottoman Empire. His father was a French merchant who worked in the city. His mother was a German who was born and raised in the city.
Rafinesque was a naturalist explorer who described the plants and animals he encountered while exploring the American west, from the Allegheny Mountains to the Mississippi River. He is best known for proposing 2700 new generic names in botany (of which only 30 were accepted), and for cataloging fish and mammals along the Ohio River Valley. He was criticized by his contemporaries for classifying the most minor variations in a subject as a new species, and for not presenting proposed changes to nomenclature in a traditional fashion.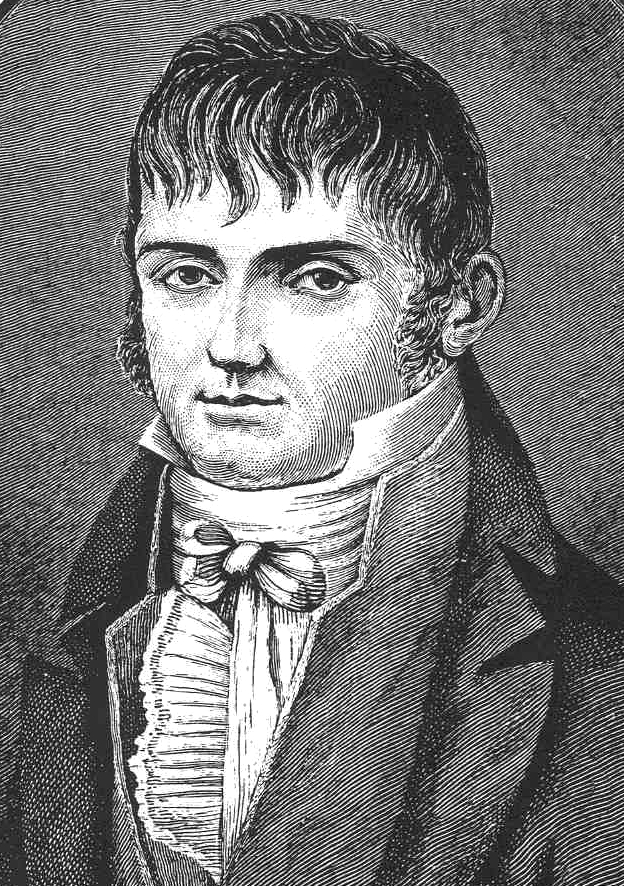 Rafinesque did not restrict himself to merely studying nature. In addition to writing on zoology and botany, he wrote on ornithology, entomology, paleontology, geology, geography, agriculture, medicine, chemistry, metaphysics, education, ethics, etc.
Rafinesque also dabbled in comparative philology, albeit with mixed results. A study of his representation of the  Lenape language , which he purportedly translated from a missing text referred to as the Walam Olum, has led modern scholars to accuse him of, at best, the naive recipient of a hoax, or of at worst, fabrication.
Botanist Elmer Merrill (APS 1932) described Rafinesque as "versatile, positive, in a sense aggressive, with a phenomenal memory, an unusually wide knowledge of languages, uncontrolled and uncontrollable."
As a native born Constantinoplean, Rafinesque took a personal interest in the Greek struggle for independence. As Professor of Natural History, Botany, Teacher of Modern Languages, Librarian, Keeper of the Cabinet of Materials, and Secretary of the Academical Faculty at Transylvania University, he was well-placed in leading a fund-raising effort for Greek aid held in Lexington on January 8, 1824.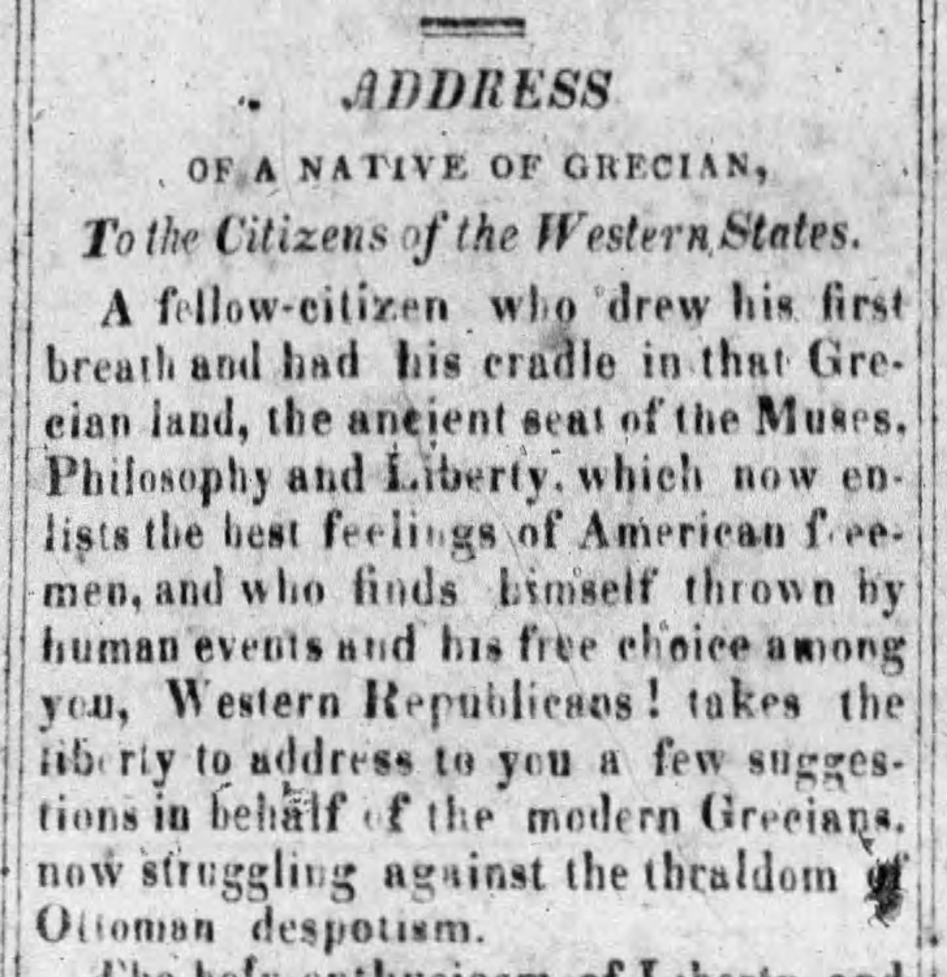 Rafinesque delivered an address at a gathering in the college's chapel, excerpts of which were published four days later in a newspaper, the Kentucky Reporter. Entitled, "Address of a Native of Grecian, To the Citizens of the Western States," the talk was given under the pseudonym of Constantine of Byzantium.
In the address, Rafinesque appealed to the generosity of Kentuckians and westerners, likening the Greek cause to that of the Americans in the War for Independence. He began in stirring fashion:
A fellow-citizen who drew his first breath and had his cradle in that Grecian land, the ancient seat of the Muses, Philosophy, and Liberty...takes the liberty to address to you...in behalf of the modern Grecians, now struggling against the thraldom of Ottoman despotism. The holy enthusiasm of Liberty and Independence, kindled by America in 1776, is reviving again throughout this continent, in favour of our fellow sufferers in the cause of freedom.
He exhorted his listeners to give not only money to the worthy Greek cause, but also "articles of superfluous produce" such as timber, gunpowder, lead, rope, hemp cloth, cotton, foodstuffs, tobacco, and whiskey.
Rafinesque concluded his remarks by stating, "The joyful thanks of the Grecian heroes, widows, and orphans await you and will be your reward at the reception of your gifts. Despots may frown, but heaven will smile and register the deed."
While there is no record of the funds or material raised after the 1824 Lexington gathering, similar fund-raising events in the region raised $1400 for the Greek cause. Philhellenes like Rafinesque were successful in raising awareness and material support. With military support from Great Britain, France, and Russia, and philhellenic support from Europe and America, the modern Greek state won its independence from the Ottoman Empire in 1830.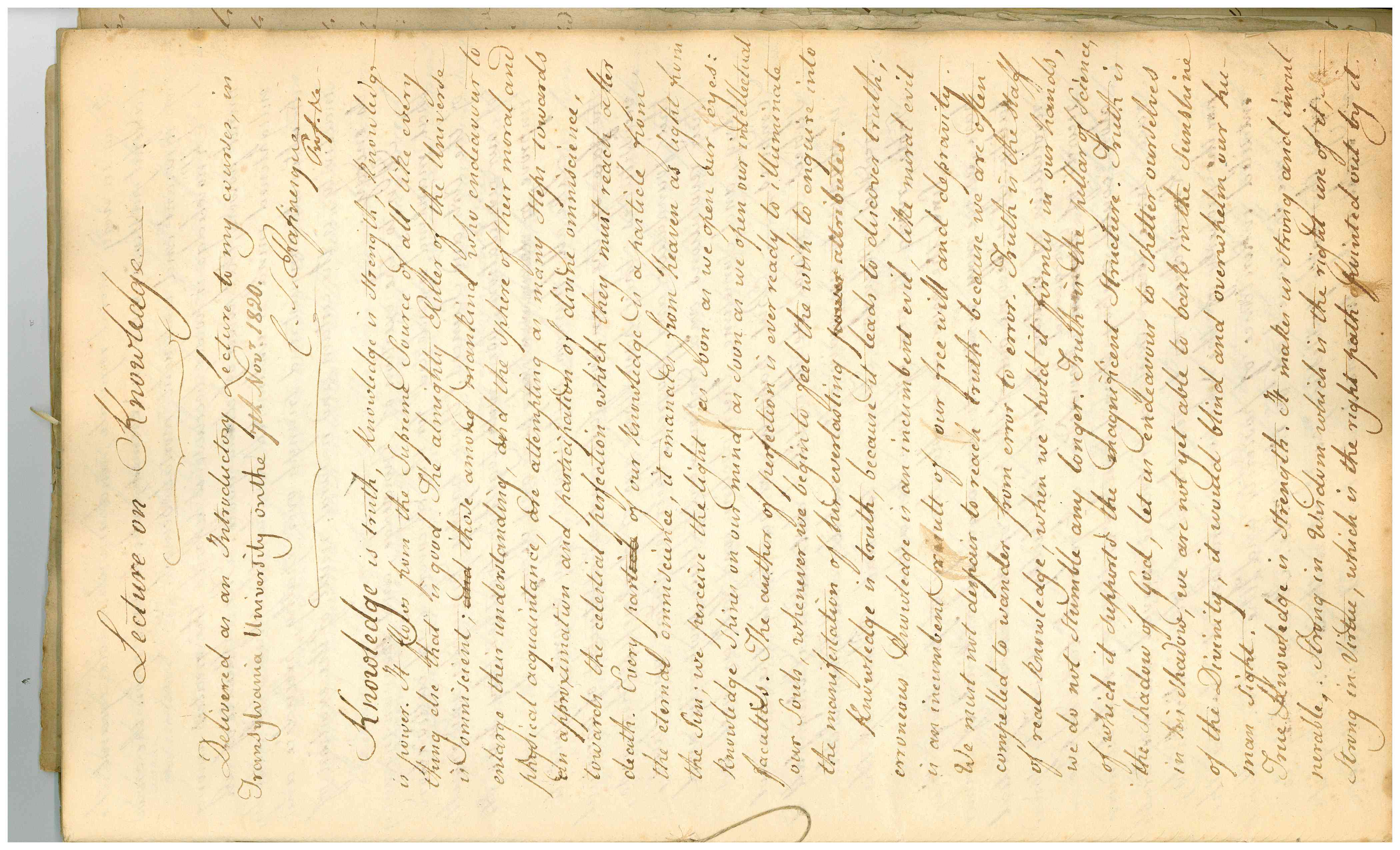 The APS's Library & Museum possesses a collection of Constantine Rafinesque's Papers. It contains correspondence, principally with Zaccheus Collins (1810-1840), L.A. Tarascon, Lewis C. Beck, John Torrey, and Charles W. Short (1817-1835). Also, it includes writings chiefly on botanical topics, with notes and essays on Native Americans, Blacks, grapes and wine-making, banking, and speculation. For more information, please see the C. S. (Constantine Samuel) Rafinesque Papers, 1808-1840 [Mss.B.R124].
Works Consulted:
Boewe, Charles, ed. Profiles of Rafinesque. Knoxville: University of Tennessee Press, 2003. APS Call number: B R124b.
Dupre, Huntley. Rafinesque in Lexington, 1819-1826. Lexington: Bur Press, 1945. APS Call number: B R124d.
Warren, Leonard. Constantine Samuel Rafinesque: A Voice in the American Wilderness. Lexington: University of Kentucky Press, 2004. APS Call number: B R124wa.