Introducing Franklin's Philadelphia Post Office Ledgers
Bayard L. Miller is the Associate Director of Research, Engagement, and Technology at the American Philosophical Society. He has worked...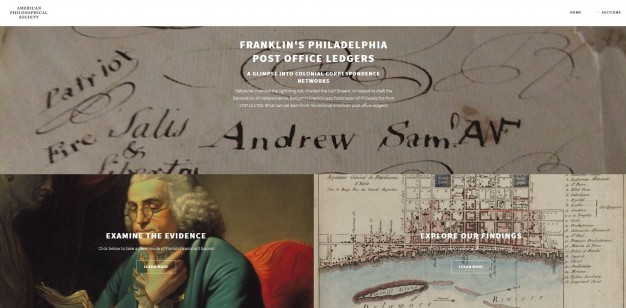 The Center for Digital Scholarship (CDS) is excited to announce the launch of Franklin's Philadelphia Post Office Ledgers: A Glimpse Into Colonial Correspondence Networks. This project, part of the CDS Open Data Initiative, highlights a lesser known aspect of Benjamin Franklin's life – his work as Postmaster. Franklin first became Postmaster of Philadelphia in 1737, then of the British North American Colonies from 1753-1774, and was appointed Postmaster General under the Continental Congress in 1775. Here at the APS, in addition to holding a majority of his letters, notes, and account books, we also hold the ledgers he kept during his tenure as Postmaster. 
Until now, these records have been underutilized and often overlooked by scholars. A quick glance at the postal ledgers reveals a complicated system consisting of hundreds of pages of names and numbers. The seemingly unusable nature of these records was clear in 1961 to the editors of the Papers of Benjamin Franklin when they described them as "individually of no historical importance and are not reproduced here; rather, each book is described in sufficient detail to make clear its nature and to suggest the light it may shed on Franklin's operations as postmaster at Philadelphia" (1).
At first glance, it's hard to disagree. After all, poring over thousands of rows of records that are both difficult to read and analyze is no easy task. Luckily for all of us, advances in computing technology have made it possible for researchers to interact with materials, reveal new insights, and share their findings in unprecedented ways.
In 2019, we demonstrate the individual ledger entries are and can be "of historical importance" (2). Like other contemporary primary sources such as tax rolls, census lists, property deeds, and vital records, the postal records give us a lot of information about life and individuals in colonial British North America prior to the American Revolution. These documents also reveal a wealth of information about trade patterns, information exchange, and accounting practices of the 18th century.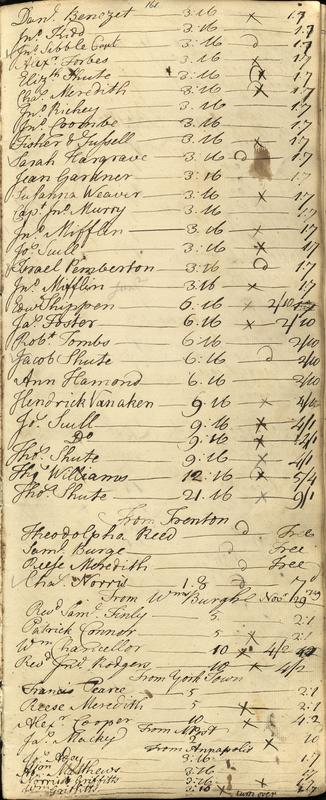 Over the past two years Digital Projects Specialist Cynthia Heider has been hard at work digitizing, transcribing, and analyzing Franklin's postal ledgers. The culmination of her work was the construction of a digital gallery that offers unprecedented access to these overlooked records. Now, for the first time, they are available to the public as digital objects and as tabular datasets, completely free and open for all to evaluate, share, reuse, and remix as they wish under a Creative Commons Attribution 4.0 License. 
Franklin's Philadelphia Post Office Ledgers offers users a one-stop shop for all things Franklin Postal. In addition to aggregating all of Franklin's ledgers together with the corresponding datasets, the site includes a guide to reading postal ledgers, and also a series of visualizations and data stories that allow for user interaction with the data. The postal data is a rich resource that is ripe for analysis and we hope this site will encourage users to dive in and see what they can find.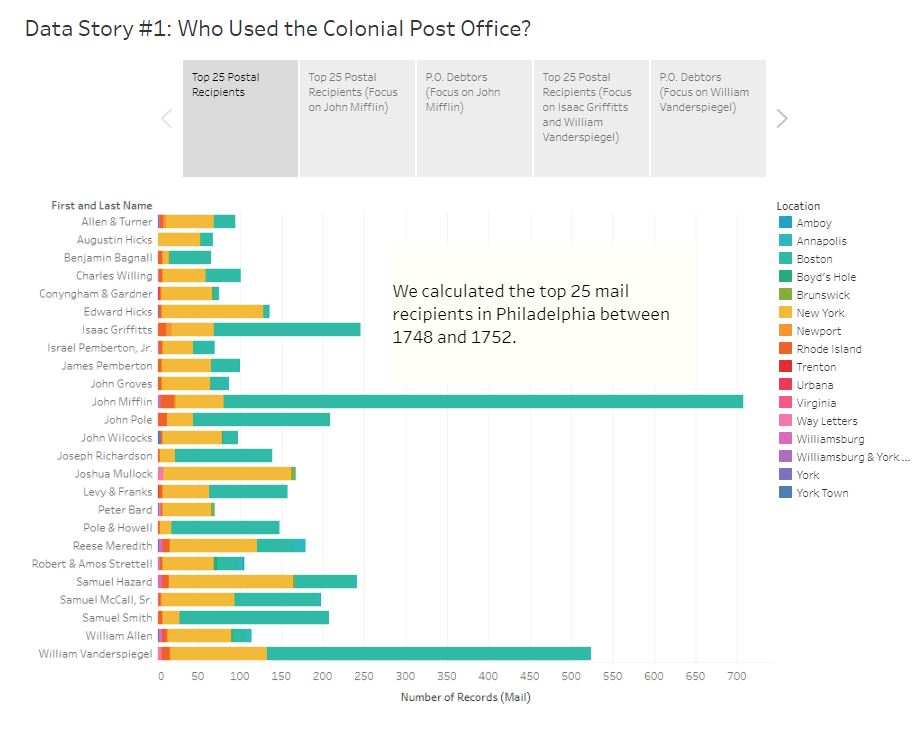 This project will continue to grow over the coming year as we add to the corpus of datasets and move our focus to Franklin's non-postal account books. All of our projects at the Center for Digital Scholarship are collaborative and couldn't be done without the dedicated work of many individuals. A special thank you goes out to C.V. Starr Intern Molly Shannon and Digital Franklin Fellow Bethany Farrell for helping us transcribe and clean this messy data. 
Notes:
1. "Philadelphia Post Office Record Books, 1737–53," Founders Online, National Archives, accessed December 6, 2019, https://founders.archives.gov/documents/Franklin/01-02-02-0030.
2. Cynthia Heider from Franklin's Philadelphia Post Office Ledgers: A Glimpse Into Colonial Correspondence Networks.