How to Apply for Library & Museum Fellowships at the American Philosophical Society
Adrianna Link is the Head of Scholarly Programs at the American Philosophical Society. She received her Ph.D. from the Department...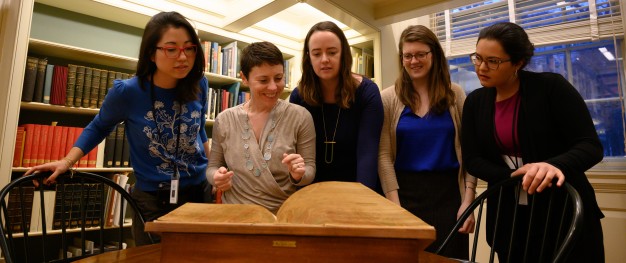 With collections pertaining to over 650 Indigenous cultures from across the Americas; manuscripts and other materials spanning the history of science, technology, and medicine from Newton to NASA; and foundational documents detailing the history of the American Revolution and early republic, the Library & Museum at the APS is a premier research destination for scholars working in numerous fields. To facilitate use of these collections, the Library & Museum awards more than fifty fellowships each year to researchers. 
Below we answer some of the most frequently asked questions we receive about our fellowship opportunities as well as a step-by-step guide on how to apply. Can't find the answer you're looking for? Email Adrianna Link, Head of Scholarly Programs, at alink@amphilsoc.org.
Q. What types of fellowships do you offer?
The Library & Museum of the American Philosophical Society offers both short- and long-term fellowships open to scholars at all career stages. 
Long-term pre- and postdoctoral fellowships provide 12 to 24 months of work in residence at the Library & Museum. These fellowships are designed to support advanced Ph.D. candidates, recent Ph.D. graduates, and faculty seeking sabbatical support who are working on projects relevant to the APS's collection strengths. 
Short-term resident research fellowships provide funding support from 1 to 3 months of research in the APS's collections. Other short-term opportunities support projects in the digital humanities, help facilitate research by members of Indigenous communities as well as connect Indigenous communities to archival holdings at the APS and elsewhere, and provide an 8-week summer internship for undergraduate students interested in Native American and Indigenous Studies. The APS also funds several external grants and fellowships that support research in sciences and humanities beyond the Library & Museum. A list of our current fellowship offerings may be found on the grants and fellowships website. 
Q. Am I eligible? 
Fellowships are open to scholars in all fields, though each fellowship has different criteria for eligibility. Many of our fellowships are intended for Ph.D. students who have reached candidacy or who have completed the Ph.D., while others like our Indigenous Community Research Fellowship, do not require specific academic qualifications. Make sure to read the position description carefully to confirm your eligibility before you apply. U.S. citizens or foreign nationals are welcome to apply, but the APS does not participate in visa exchange programs. Still not sure if you're eligible? Email us!
Q. How do I apply for a fellowship?
Applications for all fellowships are submitted online via Interfolio. Applicants will be instructed to create an account in Interfolio where they can then upload their materials. For some positions, applicants will also be asked to submit contact information for individuals who can provide references; these individuals will receive an automatic notification from Interfolio. Be sure to hit the submit button when you are ready to send your application materials! 
Q. What materials do I need to prepare?
While each fellowship is different, most require at least two of the following materials:
A cover letter stating your interest in the position and why your project is a good fit for the fellowship;
A research proposal of no more than 4 pages (12-point font, double spaced) explaining your project, its contribution to scholarship, and what specific items or collections you plan to consult during the fellowship term. The proposal should offer further details beyond what is mentioned in your cover letter on the nature of the research project and your plan for completing that work;
A current Curriculum Vitae (CV);
Letters of reference in support from an advisor, committee members, or others who can speak to the quality of your work and the caliber of your research project. Applicants working in collaboration with an Indigenous community are strongly encouraged to include a letter of support from that community;
A writing sample of no more than 25 pages, double spaced;
Some fellowships, such as the Indigenous Community Research Fellowship, also ask for a proposed budget to demonstrate the costs of travel and housing expenses requested for the fellowship amount. Have questions about how to compile a budget?

Email us

.
Be sure to read the fellowship description carefully to determine what materials you will need to submit!
Q. What are the elements of a competitive application? 
Each fellowship has slightly different evaluation criteria, however, most are evaluated based on the following three factors:
Caliber of the project. How original is the proposed topic? Will it make a strong contribution to scholarship? Does it use the APS's materials in an innovative way?
Ability for the project to be completed in a timely manner. Does the application clearly demonstrate that the applicant has made significant progress on writing their project during the fellowship term? Is the research proposed feasible in the allotted time? We are interested to see that funding invested in the project will have a clear outcome—be that a finished dissertation, an article, a book, or something else. 
A demonstrated need to use collections housed at the Library & Museum of the APS and/or other Philadelphia-area institutions. This is perhaps the most important criterion; how does your project benefit from a residency at the APS? What specific collections do you hope to use? What resources or opportunities do you hope to utilize in the Philadelphia community? We want to know what makes you and your project a good fit for the institution so make sure you provide detailed information in your application. 
A few other factors to keep in mind: The most successful fellowship applications are written clearly, concisely, and may be understood by readers without specialized knowledge of the applicant's field of study. They will include a strong thesis or argument for the proposed project and articulate why it matters. Finally, a strong application demonstrates how the proposed work will benefit your career or personal goals or benefit your community. 
Q. Who reviews the applications?
The selection committee for each long-term fellowship is made up of leading scholars in the respective field, many of whom are either Members of the APS or past fellows. Short-term fellowship selection committees often have external reviewers, but also include APS curators and staff, many of whom are accomplished scholars.
Q. Can I apply for more than one fellowship?
Yes, you may apply for more than one fellowship—however, you must submit a different application for each position (unless otherwise noted). Successful applicants who apply for more than one fellowship will only receive one fellowship award.
Q. How do I search your collections?
The Library & Museum offers a number of online guides and navigation portals to search collections; you can access these navigation tools here. The Library & Museum also has a selection of images and documents from our manuscripts, printed materials, and graphics available through its Digital Library, which may be accessed here. Researchers interested in a specific Indigenous culture or language are encouraged to use CNAIR's Indigenous Subject Guide as another way to access materials. Not finding what you're looking for? Contact our reference staff at reference@amphilsoc.org. Our staff are very happy to help you find the materials you need for your project!
Q. If I don't receive a fellowship, can I still use the Library?
Of course! Under ordinary circumstances, the Library is open to all researchers who demonstrate a need to use the unique resources under its care. Upon arrival, prospective readers will be asked to complete registration, providing their name, current address, institutional affiliation (if any), and two forms of identification, at least one with a photograph. Researchers may also complete registration for an AEON account before they arrive onsite. We ask that prospective researchers get in touch with us by phone or e-mail (reference@amphilsoc.org) at least 24 hours in advance to arrange an appointment. 
The Reading Room is typically open 9 AM to 4:30 PM, Monday-Friday, except holidays and occasional staff events. Unfortunately, due to the coronavirus pandemic, the Library's Reading Room is currently closed. 
Learn more about how to use the Library & Museum here.