Featured Fellow: Candy Martínez, 2020-2021 The Andrew W. Mellon Foundation Native American Scholars Initiative Predoctoral Fellow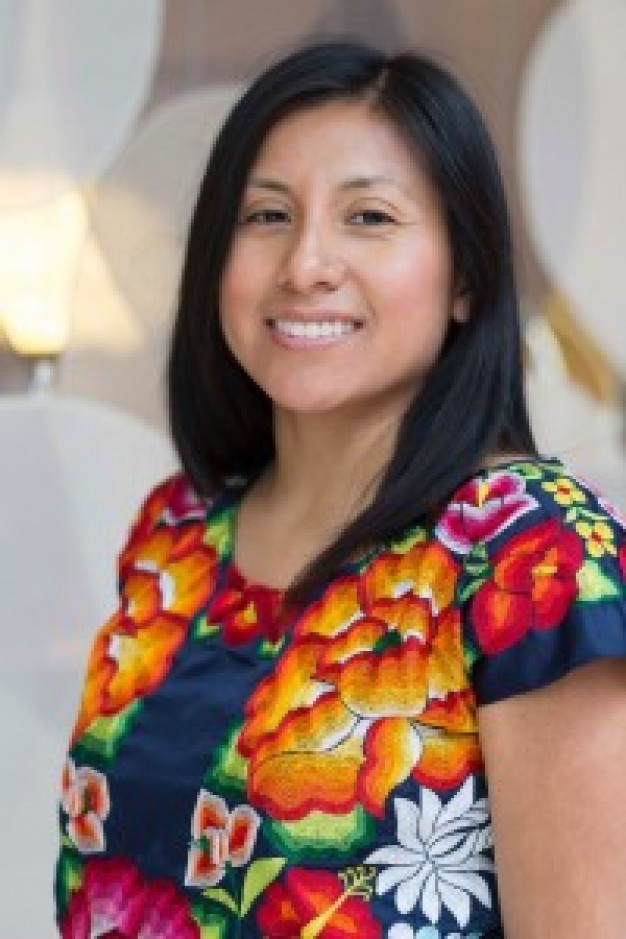 Each year, the Library & Museum at the American Philosophical Society hosts a rich intellectual community of scholars working on a wide-range of projects in fields including early American history, history of science and technology, and Native American and Indigenous Studies, among others. Read on to learn more about our fellows and their work at the APS. Additional information about our fellowship programming and other funding opportunities can be found here.
Research Project: "Rethinking Structural Inequalities and Emotional Illnesses in Oaxacan Communities"
Briefly describe your research project. 
Through archival research, ethnographic interviews, and participant observation of healing practices in Oaxaca, Mexico, my dissertation, "Rethinking Structural Inequalities and Emotional Injuries in Oaxacan communities," critically examines the creative ways Zapotec and Mixtec communities understand and actively respond to trauma, profound sadness, susto (fright), and healing practices related to large-scale social, economic, and other global changes (such as migration, extraction of natural resources, and gender violence). 
What collections did you use while working at the APS?
One of the collections I looked at included the Paul Radin Papers, particularly Series V: Zapotec, Subseries I: Lexicon, and Series V: Zapotec, Subseries II: Dictionary. These included wordlists from 1912-1959 organized by the linguist Harvey Rosenbaum. Such word lists had Zapotec words, a Spanish translation of their meanings, and the names of Zapotec communities where these words were derived. It made sense to look through these wordlists, given that Radin was a cultural Anthropologist who studied North American and Latin American Indigenous languages (Wappo, Hocąk, Zapotec, Huave). He was interested in learning the religious observations, cultural customs, and stories of Indigenous people. I wanted to analyze whether or not he documented susto (fright) or profound sadness rituals or understandings of these and other cultural Zapotec syndromes. 
What's the most interesting or most exciting thing you found in the collections?
It was exciting to see that the Paul Radin papers (along with several Zapotec-Spanish dictionaries that I looked through at the APS) confirmed my research findings on the intercultural connections between the Central Valley and Northern Sierra communities in regards to naming susto, profound sadness, worry, and thought. Such findings suggest that susto includes the derivative bh or bi (air, wind, force). Sadness in Zapotec includes the derivative laz (essence or heart). Thought also includes the derivative laz. 
My favorite APS collection finding was learning that the Zapotec word to remember includes the root "laz" in Zapotec communities. In the Isthmus of Tehuantepec, located in the tropical southeast region of Oaxaca, Radin's Zapotec translation of the word "remember" is "roaming heart" (andar el corazon). 
Do you have any tips or suggestions for future fellows or researchers?
My time at the APS began with attending the conference "Relationships, Reciprocity, and Responsibilities: Indigenous Studies in Archives and Beyond." During the conference's opening plenary, keynote speaker Lisa Brooks encouraged scholars to question materials found at archives by thinking about the voices that might be excluded in these documents. I approached archival material at the APS by thinking about the question, "what is not included in the archive?" The conference helped me reflect on the following questions, "Who did Radin talk to? Why didn't he give credit to Zapotec speakers for providing valuable information? In what context did Radin find emotionally charged words?" These thought-provoking questions may be difficult to answer now. Still, they encourage me to think about how I have engaged with community members in Oaxaca after conducting research. It also leads me to think about how I can be more transparent about my methodology. Like Brooks, I encourage a similar responsible engagement with the archives we are coming across and further questioning what can be gained by speaking directly to living archives and making sense of the information that is lost or incomplete (sometimes because of the academic procedures and norms we follow). 
Any suggestions for must-see places or things to do in Philadelphia? 
I love the skyline at Bok-bar, people watching at Washington Square Park, eating fresh bagels in Queen Village, getting fresh tortillas and sopes at Italian Market, going to the sauna at the Wellness Refinery, and just randomly chatting with people in public spaces. 
Candy Martínez (she/her) is a doctoral candidate in Latin American and Latina/o Studies at the University of California, Santa Cruz. Her dissertation, currently titled "Rethinking Structural Inequalities and Emotional Illnesses in Oaxacan Communities" addresses the multi-layered interpretations of Zapotec and Mixtec communities' own words, embodiments, and processes for discussing trauma, profound sadness, susto (fright), and healing processes as it relates to social, economic, and global changes.
Candy lived in Oaxaca, Mexico for a year and a half where she re-acquainted herself with her Zapotec roots and conducted field research including interviews and participant-observation of multiple healing rituals such as temazcal (steam-baths) and limpias (spiritual cleanses) throughout Oaxaca. She is excited to look through and examine two collections at the APS: Paul Radin papers and information from Morris Swadesh' vocabularies.