Announcement: Indigenous Community Research Fellowships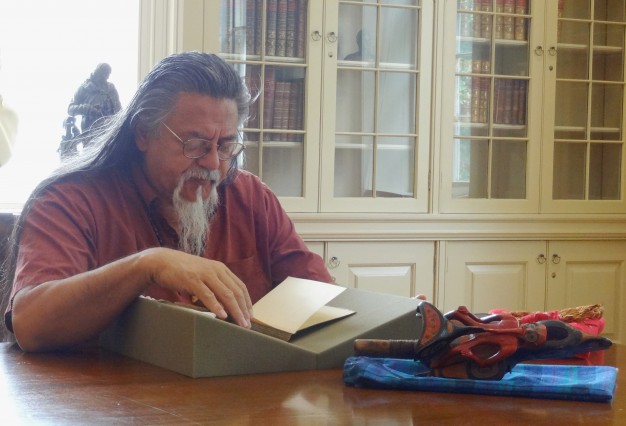 The American Philosophical Society (APS) Library & Museum is pleased to announce its 2020 Indigenous Community Research Fellowships. Made possible by generous donors and the National Endowment for the Humanities (NEH), these fellowships support research by Indigenous community members, elders, teachers, knowledge keepers, tribal officials, traditional leaders, museum and archive professionals, scholars, and others, regardless of academic background, seeking to examine materials at the APS Library & Museum in support of Indigenous community-based priorities.
The fellowships are open to individuals or may be used to enable a group of researchers to visit the APS in Philadelphia. Any community whose cultural heritage is represented in the APS Library & Museum's collections is encouraged to apply. University-based scholars and independent researchers working on projects in collaboration with Native communities are also eligible to apply.  Archivists at the APS's Center for Native American and Indigenous Research (CNAIR) will assist fellowship recipients with research support before and during the research visit.
The Indigenous Community Research Fellowships were first announced at the 3rd annual Native American Scholars Initiative (NASI) Digital Knowledge Sharing Workshop Keynote event, funded by a grant from The Andrew W. Mellon Foundation, which featured a conversation between Eric Hemenway, Director of Archives and Records, Little Traverse Bay Band of Odawa Indians, and Brian Carpenter, Curator of Native American Materials at the APS. The event also celebrated the APS's successful completion of the matching requirements for a Challenge Grant from the NEH to endow the Center for Native American and Indigenous Research. A recording of the keynote event is available online here.
For additional information about the Indigenous Community Research Fellowships and for instructions for how to apply, please visit: https://www.amphilsoc.org/grants/indigenous-community-research-fellowships.
Questions and contact regarding these opportunities may be directed to Adrianna Link, Head of Scholarly Programs at alink@amphilsoc.org or at 215-440-3415.
About The Center for Native American and Indigenous Research
The Center for Native American and Indigenous Research (CNAIR) works with Indigenous communities throughout North America and with scholars in many disciplines. The goal of CNAIR is to assist people in discovering and utilizing the American Philosophical Society Library & Museum's extensive collections in innovative ways that honor Indigenous knowledge, cultivate scholarship, and strengthen languages and cultural traditions. The APS Library & Museum contains over 1,900 linear feet of unique manuscripts, photographs, and audio recordings relating to over 650 different Indigenous cultures of the Americas, predominantly from the United States, Canada, and Mexico.