Indigenous Community Research Fellowships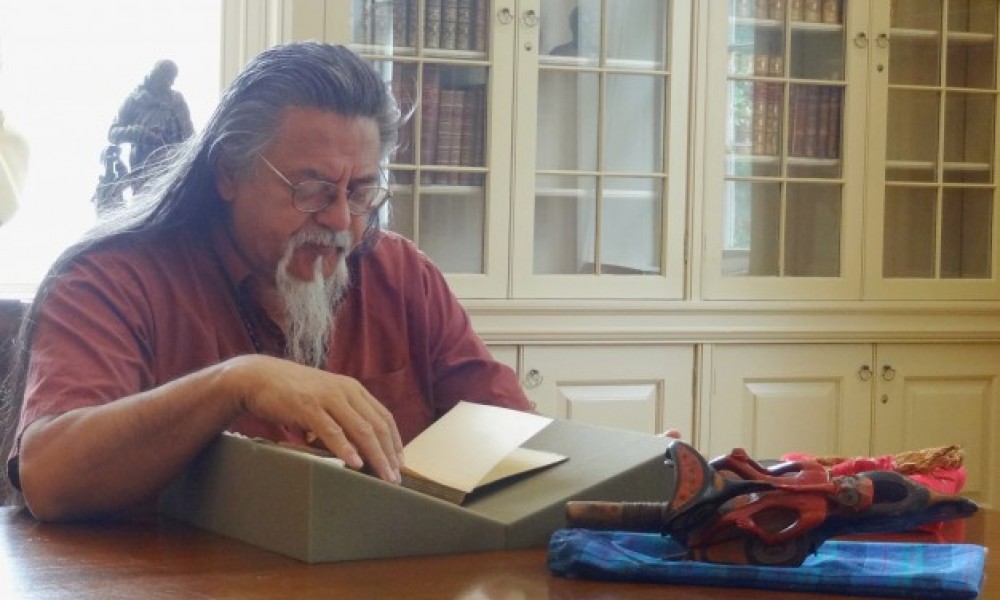 The American Philosophical Society's Library & Museum in Philadelphia invites applications for the Indigenous Community Research Fellowship to support an individual or a group of researchers seeking to examine materials at the APS to further Indigenous community-based priorities. Fellows will work with the Library & Museum's Center for Native American and Indigenous Research (CNAIR), which aims to promote greater collaboration between scholars, archives, and Indigenous communities throughout the Americas. 
This fellowship program is designed especially for Indigenous community members, elders, teachers, knowledge keepers, tribal officials, traditional leaders, museum and archive professionals, and independent scholars. Applicants do not need to have a specific academic background or an academic affiliation to apply, Any Indigenous community whose cultural heritage is represented in the APS's Library & Museum collections is encouraged to apply. University-based scholars and independent researchers working on projects in collaboration with Indigenous communities are also eligible to apply. Such applicants are expected to provide letters of support from relevant community members. Indigenous community members are not required to go through or work with third parties to access APS collections. The fellowship provides $5,000 for travel costs to visit the APS in Philadelphia.
Archivists at the APS's Center for Native American and Indigenous Research (CNAIR) will assist fellowship recipients with research support before and during the research visit. CNAIR focuses on helping Indigenous communities and scholars to discover and utilize the APS collection in innovative ways. The vast collections include manuscript materials, audio recordings, and images related to over 650 Indigenous cultures, predominantly from North and Central America. Detailed information on the collections is available through the Indigenous Subject Guide.
Funding is limited and competitive. Applications will be evaluated based upon the applicant's demonstrated need to use APS's Library & Museum resources to advance the project.  Funds must be used within one year of receipt of the award.
Note: Indigenous community-based researchers are not required to hold a fellowship in order to access the APS collections in person or through online requests. CNAIR archivists can be contacted at any time for reference assistance. CNAIR digitizes materials at no cost for research requests from Indigenous communities.
Terms
$5,000 for travel and lodging expenses
Eligibility
This fellowship is open to applicants from anywhere in the world, including those who are not US citizens or residents, but it does not provide visa sponsorship.
Application Instructions 
Applicants should submit the following materials via the Application Form (https://forms.gle/jz1AvSp4QroN1Yjy9)
PLEASE NOTE: you must be signed in to a Google Account to access this application form
Project Proposal (2-4 pages double-spaced; no more than 1000 words). Please include the following: 

An outline of the purpose of the project, goals for the visit to the APS's Library & Museum, and envisioned outcomes and uses of the research after the fellowship; 
Identify some likely materials of interest for the fellowship research. For information on APS collections, visit the Indigenous Subject Guide and contact CNAIR at [email protected]; 
Names of participant(s) who would visit the Library & Museum 

Resume/CV for primary applicant
Two Letters of Support

Letters should come from people with knowledge of the project but who are not directly involved in it. 
Applicants are encouraged to provide letters that indicate community support from people such as members of the community who are active in cultural or linguistic revitalization, tribal government or authorities, or other relevant leaders or entities.
The deadline for applications is March 15, 2024. Proposals submitted by March 15 will be reviewed for projects proposing a visit to the APS's Library & Museum collections between June 1, 2024 and May 31, 2025. Award notifications will be sent by May 2024.
For questions, or if you have any problems accessing the Application Form or would prefer to submit your application by mail, please contact Ruth Rouvier at [email protected] 
Current and Past Recipients
Etta Anderson, Colorado River Indian Tribes, "Mohave Elders Committee: Mohave Language Revitalization"
Ensley Guffey, Catawba Indian Nation, "Catawba Indian Nation archivist: Making Catawba holdings available remotely through digital objects."
Ian McCallum, Munsee-Delaware Nation, University of Toronto, "Asiiskusiipuw: Language revitaliation and learning as it pertains to the Munsee Language"
Robert Jimerson, Rochester Institute of Technology
Heather George, Deskaheh and 1924 Community Research Group
Pueblo of Isleta, Pueblo of Isleta Department of Cultural and Historic Preservation
Angelina Jumper and Bo Taylor (Timothy B. Powell Indigenous Community Research Fellowship), Eastern Band of Cherokee Indians - Junaluska Memorial Site and Museum
Gertrude Smith and Reba Franco, "Yavapai-Apache Nation Language Revitalization" (Timothy B. Powell Indigenous Community Research Fellowship)
Abelardo de la Cruz de la Cruz, "Nahuatl Voices in Nahua Communities in the Huasteca Region of Mexico"
Marianne Nicolson and Midori Nicolson, "George Hunt Maps" (Timothy B. Powell Indigenous Community Research Fellowship)
Tom Child, "Kwakwaka'wakw Songs and Language"
George Greendeer, "Review of Ho-Chunk/Winnebago Materials for Hoocąk Waaziija Haci Language Division"