2020-2021 John C. Slater Predoctoral Fellow in the History of Science, Technology, and Medicine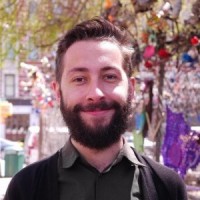 Andrew Seaton (he/him) is a Ph.D. candidate in history at New York University. His dissertation explores the relationship between politics, society, and universal health care through a transnational history of the British National Health Service (NHS). Andrew argues that this pivotal postwar institution demonstrates overlooked endurances to social democratic structures and political cultures. This interpretation challenges historical narratives that map the rising hegemony of late twentieth-century neoliberalism. His research scales from the everyday work that embedded communitarian ideals in hospital wards and health centers across Britain, to the NHS's wider significance in trans-Atlantic discussions about health reform, processes of decolonization, and the movement of medical professionals across borders. Andrew has published articles in Twentieth Century British History and the Bulletin of the History of Medicine.
Research Project: "The National Health Service and the Endurances of British Social Democracy, 1948 to the Present"