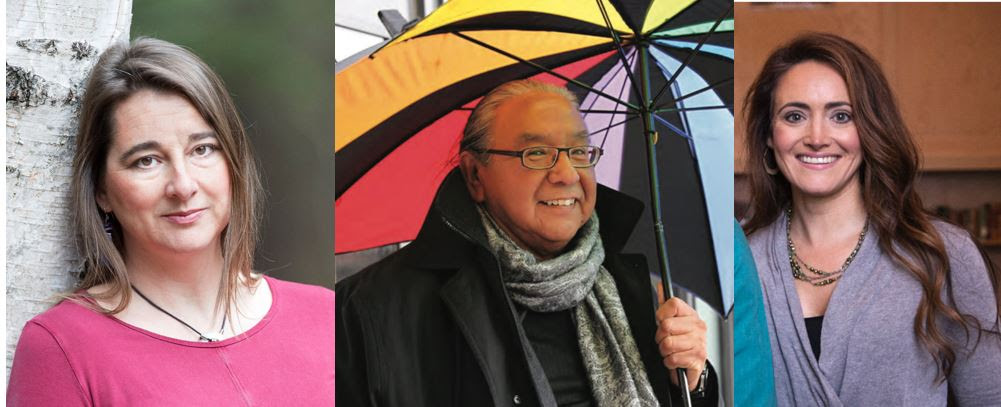 The conference's opening plenary, "Strengthening Indigenous Scholarship, Archives, and Education," was held on September 21st at 1PM ET. The plenary featured a discussion with Lisa Brooks, Amos Key, Jr. [unable to attend], and Jennifer O'Neal.
This plenary event featured a conversation touching upon a range of themes central to the conference, such as Indigenous communities' and Indigenous scholars' current and long-standing efforts to strengthen and build capacity in the furtherance of Indigenous knowledge systems through such initiatives as language programs, establishment of archives, collaborations with non-Native institutions, and the cultivation of new generations of Indigenous scholars in many fields of higher education.
Lisa Brooks is an Abenaki writer and scholar who lives and works in the Kwinitekw (Connecticut River) Valley. She is Professor of English and American Studies at Amherst College and a faculty advisor in the Five College Native American and Indigenous Studies Program. Her first book, The Common Pot: The Recovery of Native Space in the Northeast received the Media Ecology Association's Dorothy Lee Award for Outstanding Scholarship in the Ecology of Culture in 2011. Her second book, Our Beloved Kin: A New History of King Philip's War received numerous awards, including the Bancroft Prize for American History and Diplomacy in 2019. Currently a Guggenheim Fellow, she is working on a new book focused on her side project, "Tracking Molsemsis: An Indigenous and Environmental History of Eastern Coyote."
Tae ho węhs, a.k.a. Amos Key Jr., was born into the Onkwehonweh Civilization, and is a member of Mohawk Nation, gifted into the Turtle Clan of his Mother and conferred to the Sacred Circle of Faith Keepers of the Longhouse, at Six Nations of Grand River Territory. He is founder of  the Gawęni:yo Bilingual Immersion School System at Six Nations of Grand River (1985-present). He served for 35 years as the First Nations Language Director at the Woodland Cultural Centre in Brantford, Ontario, where he established the "Save the Evidence" campaign to honour the legacy of innocence and grace of the 15,000 students who attended the Mohawk Institute Indian Residential School for 150 years, and where he also established the world's largest archive of Onkwehoweh Civilization's Orations, Music, and Ceremonies of the Longhouse. He now serves as the inaugural Vice-Provost, Indigenous Engagement, at Brock University in Ontario. 
Jennifer R. O'Neal is Assistant Professor in the Department of Indigenous, Race, and Ethnic Studies at the University of Oregon, and affiliated faculty with the History Department and Robert D. Clark Honors College. Over the past fifteen years she has led the implementation of best practices, frameworks, and protocols for Native American archival materials in non-tribal repositories in the United States through the development of the Protocols for Native American Archival Materials. She is an enrolled member of The Confederated Tribes of Grand Ronde in Oregon.