What's in The Museum Education Coordinator's Office?
Alexandra Rospond is the Museum Education Coordinator at the APS. She has also worked as an educator at the Independence...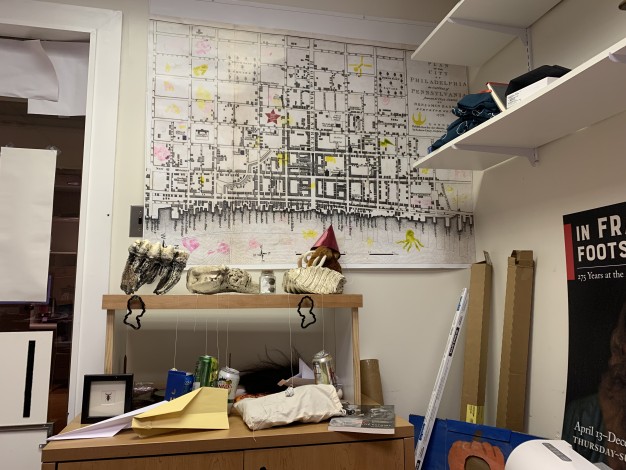 If you were to stop by my office, you might compare it to a cabinet of curiosity. As the Museum Education Coordinator, I've slowly amassed various educational tools for facilitating programs. While several objects get used throughout our programs every year, others are still waiting for their moment to shine (...some might call this hoarding). Today, I'll take you through a couple of the objects you can find in my office and their connection to the American Philosophical Society's exhibitions throughout my time here.
Our first stop is the mold of a mastodon molar.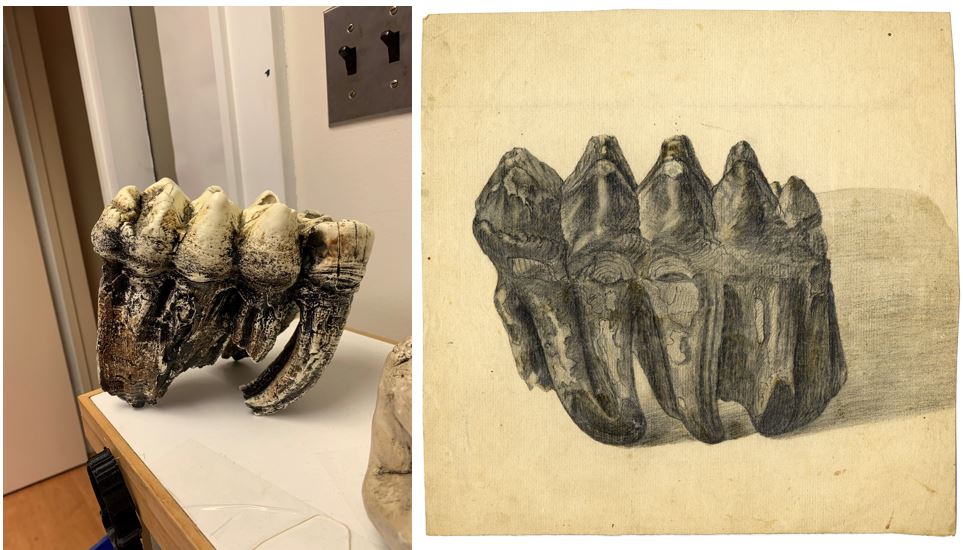 This fossil mold was part of a touch collection in our 2015 exhibition, Jefferson, Science, and Exploration. Visitors were challenged to identify the fossil by comparing it to drawings in the exhibition. After that, Museum Guides facilitated a discussion on whether the tooth belonged to a carnivore, omnivore, or herbivore. Below is a photo of the mastodon molar in action during the 2015 exhibition. Today, it resides in my office and is brought out regularly to ask visitors, "whose bones are those?"
The Museum Education team uses fossil molds, like the one in my office, in programming throughout the year. How do we know it's a mastodon molar? Well, by its knobby or cone shape top (the tooth surface). However, if you don't know this, where can you look for help? Well you could compare it to drawings in the APS archives! Above is a sketch of one of these molars from Benjamin Smith Barton, looks kind of similar right?
In APS's 2021 exhibition Dr. Franklin, Citizen Scientist, we talked to guests about how  people documented specimens before the invention of photography. When Naturalists traveled and documented specimens, they relied on their artistic skills (or the skills of an artist brought along) in order to record what they observed.
Naturalists like James Petiver recorded specimens like this water scorpion and published it in his book, Petiver's Works. Books like Petiver's helped others identify species they encountered in the wild. The label that went with the water scorpion above and another object (also in my office now) asked visitors to find the drawing of that physical specimen in the exhibition and bring back the name of its artist. Below is one of those pages, can you find the water scorpion?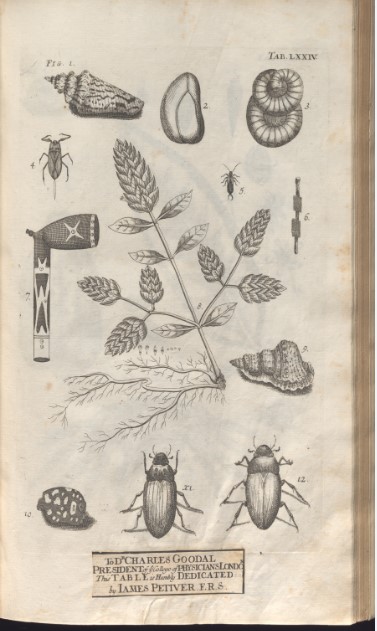 Our last stop is the pollination cornhole board. This was used in programming during our 2022 exhibition Becoming Weatherwise: A History of Climate Science in America. While using this board we talked about the importance of bees as pollinators, the impact the changing climate has on bees, and what bees pollinate. Visitors would dip their "bee-an bag" in some pollen (yellow chalk dust), and then attempt to pollinate the fruits and flowers on the board.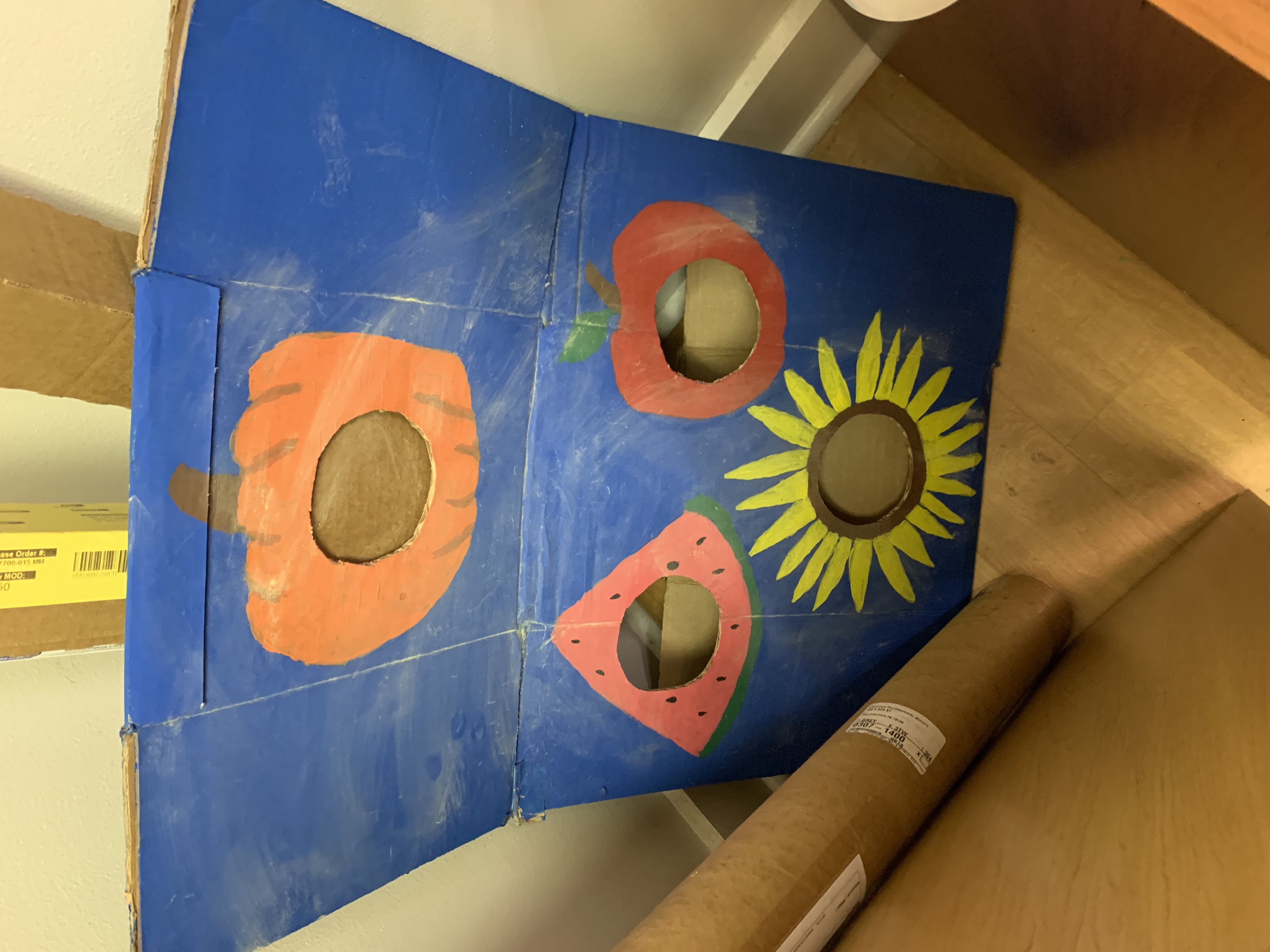 You can tell by the leftover chalk dust that our bees were very busy that day. We also used images from Samuel Bagster's book, The Management of Bees to talk to visitors about different kinds of bees.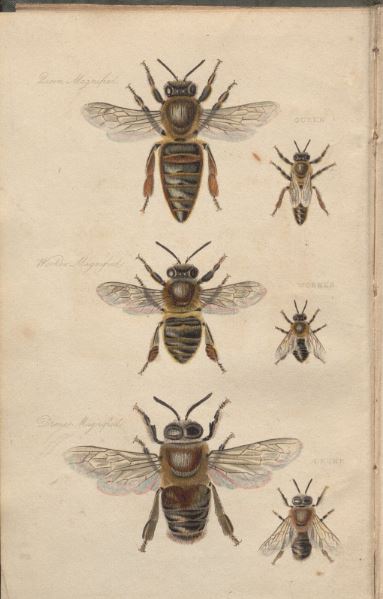 Other than being in my office, what brings all of these items together? They all show the Education Department's philosophy for creating programming and in-exhibition moments that are both fun and educational. This is only just the beginning, so stay tuned until next time to see what else I have in my office!