Pursuit & Persistence: 300 Years of Women in Science Opens at APS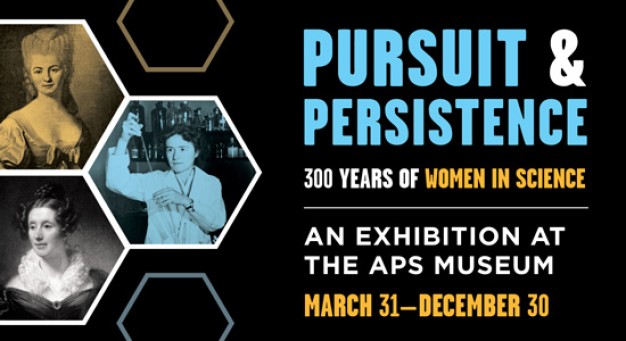 The American Philosophical Society will cap off Women's History Month with a new exhibition celebrating path-breaking work by women in science. Opening March 31, Pursuit & Persistence: 300 Years of Women in Science shows how women scientists have pursued their curiosity about the natural world from the 1700s through today. The exhibition draws on APS collections as well as the current work of the Society's Members and scholars it supports through grants and fellowships. Documents, publications, and historical artifacts—most never exhibited before—illuminate the scientists' groundbreaking research and demonstrate their persistence in breaking down systemic barriers in employment, support for families, and lagging recognition for their work.  Throughout the exhibition, contemporary artworks by Rebecca Kamen interpret the women's discoveries in visual form and celebrate their achievements. The exhibition runs through December 30, 2023 and admission is free.
Pursuit & Persistence focuses on nine featured women whose boundless curiosity impelled them to investigate the mysteries of the universe, from the stars glittering overhead in the night sky down to the inner workings of cells in our bodies and the structures of the atoms that make up all matter. Visitors will encounter figures like Maria Sybilla Merian, who traveled to Suriname in 1699 to research local flora and fauna, and whose dazzling illustrations were collected for the British Museum and Peter the Great. They will also find the mathematical work of Émile du Châtelet, who translated Isaac Newton's Principia Mathematica from Latin to French and was an intellectual and romantic partner to Voltaire. Major 20th century scientists include Barbara McClintock, whose genetic research on maize was ahead of its time, but eventually earned her the Nobel Prize in 1983 at age 81.
Objects on Display Include:
●    Seven [7] artworks by artist Rebecca Kamen, created to bring scientific discoveries and concepts to life. 
●    Geneticist Barbara McClintock's handwritten Nobel Prize acceptance speech notes
●    Original watercolors by natural history illustrator Lucy Say
●    A NASA flight suit belonging to Teacher-in-Space program participant Jeannine Duane
The women featured in the exhibition faced considerable hurdles in their work, including unequal access to education, employment, and recognition by their peers. Even with those challenges, the successes they did have made them exceptional figures in their time. Throughout the exhibition, visitors are asked to consider the women who are not represented in the historical record, often due to their economic, racial, or ethnic status.
Women scientists in the 19th and 20th centuries were often the sole (or one of very few) women in their lab or department, but many found support through national and international networks of peers. To illustrate these connections, the Center for Digital Scholarship at the APS has launched Visualizing Women in Science, an interactive digital project that shows the links between women scientists represented in APS collections. Visitors to Pursuit & Persistence will see a sampling of those connections through multimedia installations. 

About the American Philosophical Society
The American Philosophical Society, established in 1743 by Benjamin Franklin for the purpose of "promoting useful knowledge," is the nation's oldest learned society. An intellectual bedrock of the early United States, the APS counts nearly all of the nation's founders as Members of the Society. Election to Membership honors those who have made exceptionally significant contributions to science, the arts and humanities, and public life. The Society promotes scholarly research through its Library, including 40 fellowships each year, and through its research grant program. The Society sustains an informed citizenry through twice-yearly meetings and topical conferences and symposia. Public programs and museum exhibitions are inspired by The Society's Library & Museum collections, which include 14 million pages of manuscripts, 275,000 books, and approximately 3,000 artifacts and fine art objects. The collection is strongest in early American history, Native American history and culture, and the history of science. APS publications are dedicated to publishing research that reflects a broad range of useful knowledge and is the oldest continuously operating scholarly press in the country.