My Summer at the APS: Newspaper Conservation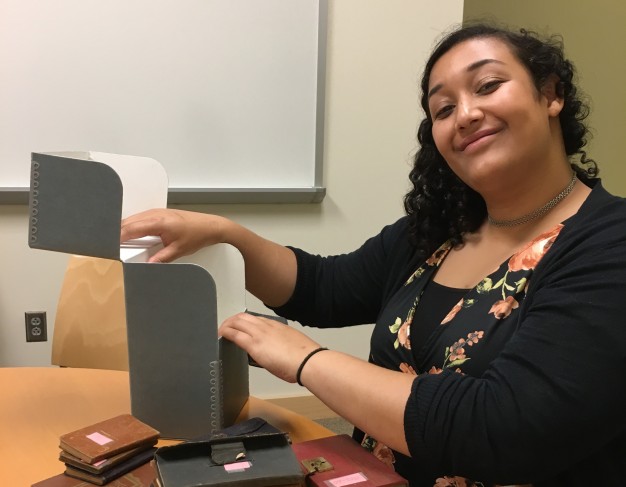 by Layla Huff
I attend Morgan State University, where I am a rising sophomore, a member of the Honors College, and a history major. I spent my summer working at the American Philosophical Society's conservation lab as the HBCU Library Alliance Intern. As a history major, I was unsure of my place in a conservation lab. I realized I had never given much thought to the people who maintained and monitored the state of a library's materials. Once I began training, I was surprised to find that the work intrigued me on several levels and that I found it challenging and enjoyable. One of the big projects I worked on while in the conservation lab was the treatment of several newspapers. The treatment plan involved surface cleaning, flattening, and mending newspapers.
David Gary, Curator of Printed Materials, discovered five folders of 19th-century newspapers in the papers of a former APS librarian. As we began the process of treating the newspapers, we noticed that there were many observable differences in type and quality of paper depending on the time period (they were mostly from 1816-1840). Many were in extreme disrepair and absolutely covered in soot. Poulson's Daily Advertiser was one of the papers we consistently encountered. It was full of advertisements regarding the sale of homes, horses, and the like. There were also other papers that included articles and news stories, all of which were printed in Philadelphia.
The first phase of treating the newspapers was surface cleaning. The goal was to pick up soot and dirt so the newspaper could be handled by a researcher in the future. Too much dirt and soot can obscure words and images on the pages while also dirtying the hands of whoever touches it, endangering other library materials. I experimented with a variety of cleaning techniques and eventually came up with a system that utilized several methods. First Iused a white polyurethane cosmetic sponge and vinyl latex-free eraser crumbs to address the extra dark and sooty places on the newspaper, then I went over the entire surface using a nonwoven polyester cloth to pick up any other less dirty spots.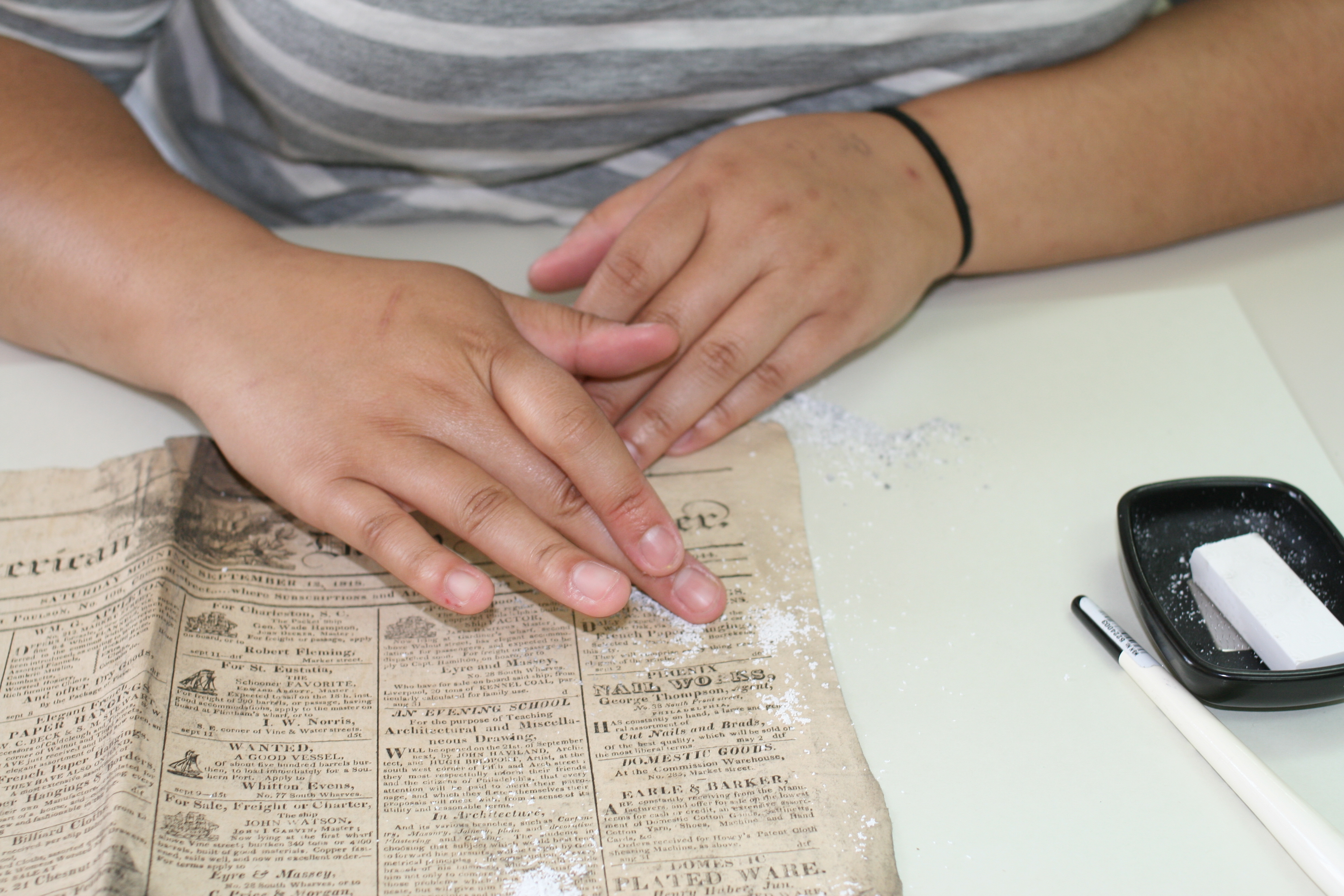 The second treatment phase was flattening. This step involved making the newspaper easier to read by pressing out the creases. To complete this phase, I lightly sprayed the newspaper's creases with deionized water and used weights to flatten it.
The third and final stage of the treatment was mending. To mend a torn newspaper, I laid it on a fiber-optic light sheet so I could address small holes and tears, then I applied tissue precoated with adhesive to torn areas. I dried each mend with a stack made of nonwoven polyester, cotton blotter, a glass plate, and a scuba weight.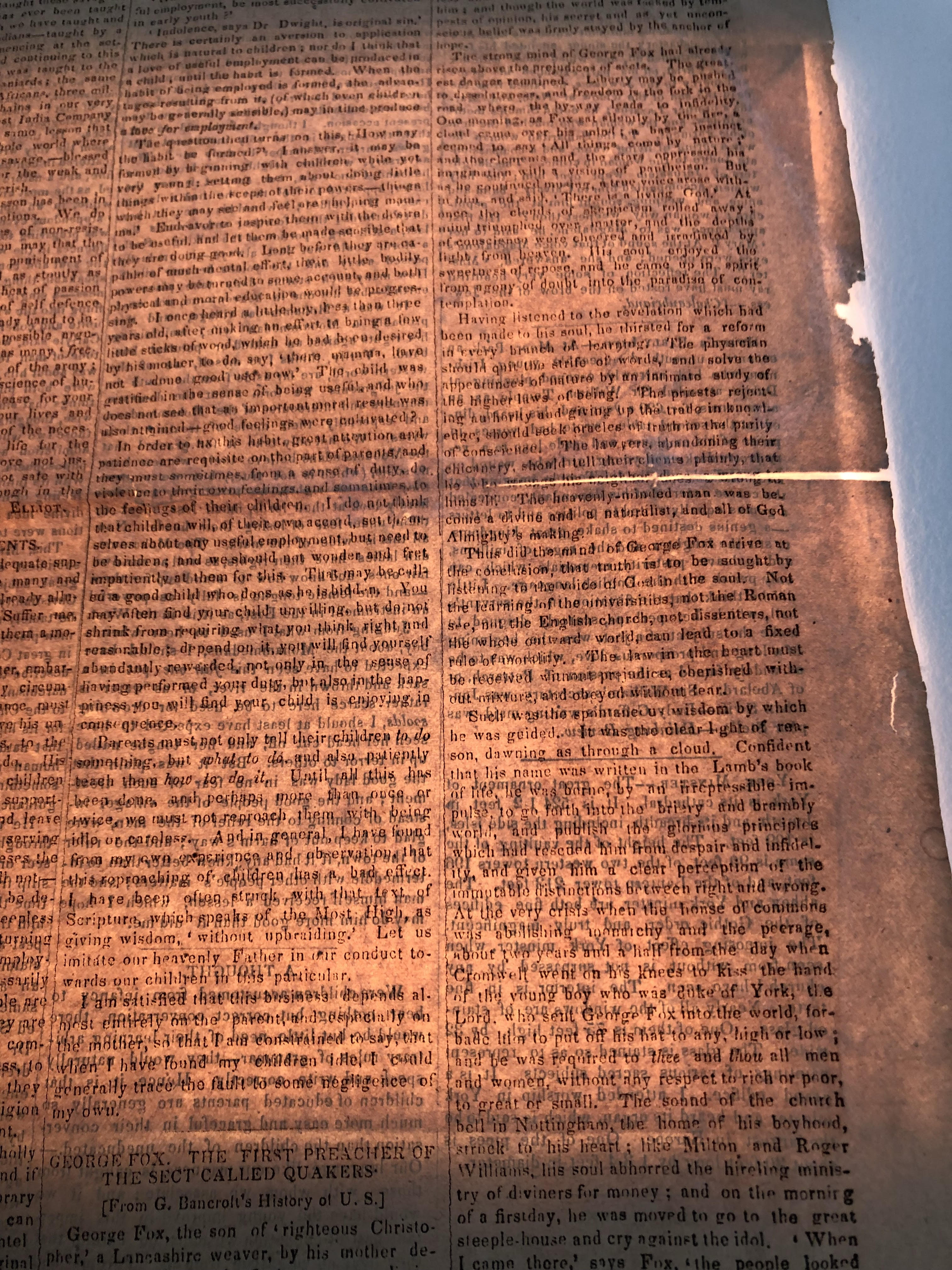 As a result of the treatment, the newspapers are clean, flat, and mended, and they are now safe for researchers to handle. They are easy to read, and no longer in danger of tearing or ripping.
| | |
| --- | --- |
| Newspaper before treatment.  | Newspaper after treatment. |