The Megalonyx in the Garden
Michael Madeja is the Head of Education Programs at the APS Library & Museum. Prior to joining the Museum team...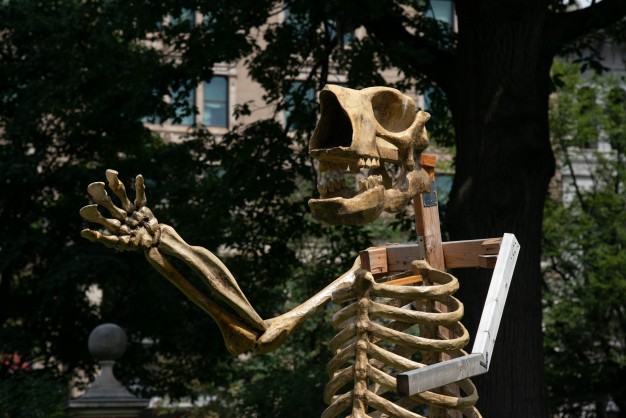 Curious Old City visitors might be pondering what that skeleton in the American Philosophical Society's Jefferson Garden is. Its tall, wooden frame leaves much to the imagination. In what has been a series of these garden installations, the APS asks passersby to contemplate how natural history museums would go about displaying incomplete skeletons. In fact, Thomas Jefferson was initially given only a few claws and finger bones on his first encounter with this same creature—eventually named the Megalonyx jeffersonii. Though the creature may seem terrifying, the megalonyx was actually a giant ground sloth.  We understand that all visitors might not be trained in natural philosophy or comparative anatomy. So, we provided some cheat sheets by way of interpretive panels on the fence and by directing them to more information (and real fossils!) in our current exhibition.
Our giant ground sloth is artist Ben Neiditz's rendition of the extinct animal. The work was installed in stages, and is now complete.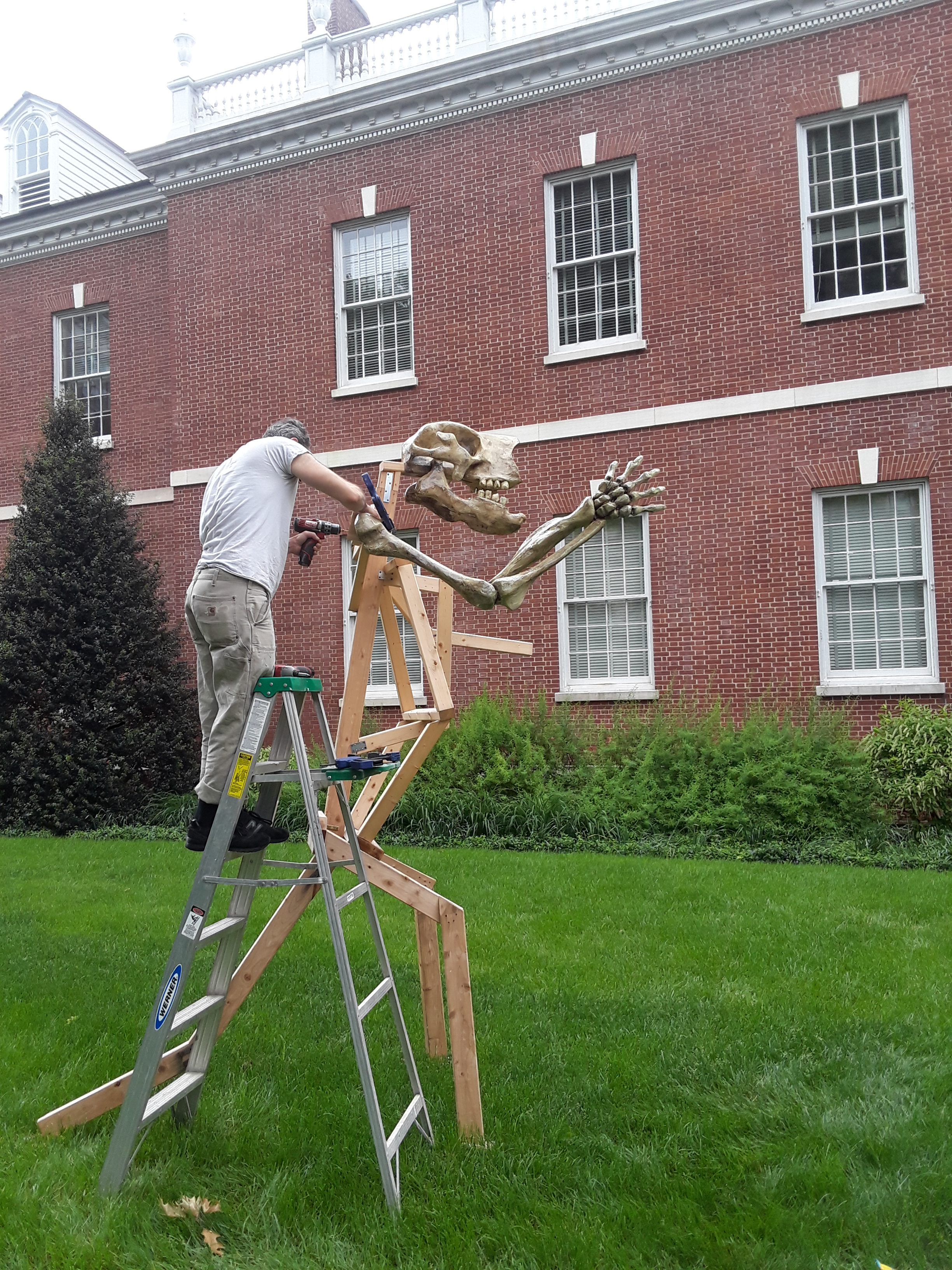 During the final bit of install, I had a chance to chat a bit more with Ben. These are his thoughts on some questions I posed:
Why are these installations important?
These installations are important to me because I love making them and I love to see so many people peering at them curiously as they pass by. They are important to the APS because they attract potential visitors to the museum and bring the exhibition content to life in a way that is hard to do with mere signage.
What's your process?
I begin by assembling as many images of a skeleton that I can find. If there is a real skeleton on display I will go look at it in person. I choose a particularly clear photo to scale off of. I pick an overall dimension, usually height, and then calculate the sizes of all the bones based on that dimension. And bingo bango, a skeleton! 
What's your favorite part of these sculptures?
Because they are outside in a location with such a large volume of pedestrian traffic the sculptures usually come as a surprise to those people who notice them. That brief moment of awe, that small jolt that people have when they first see these startlingly large skeleton-esque objects is definitely my favorite part of these projects.   
What's an unexpected thing you learned?
This sloth is the third life-sized-extinct-mammal-skeleton that I have made for the APS. Over the course of these projects I have learned quite a bit about how different materials stand up to the elements—sun, rain, snow and wind. I have been surprised by what deteriorates and what lasts and this has significantly informed my fabrication techniques.
If you'd like to learn more about the Megalonyx jeffersonii, read this recent blog post by Museum Education Coordinator, Ali Rospond or visit the In Franklin's Footsteps exhibition. More information on artist Ben Neiditz can be found here.
To see the creature in person, swing by the garden or join us for our Annual Garden Party on Sunday, October 7!
Header photograph by Johanna Austin.