Letter to Mrs. Morrisson (A Letter to You, Dear Reader, and Mrs. Morrisson): Part 1
Karissa Muratore was the Willman Spawn Conservation Intern in the summer of 2017. She now attends the Winterthur/University of Delaware...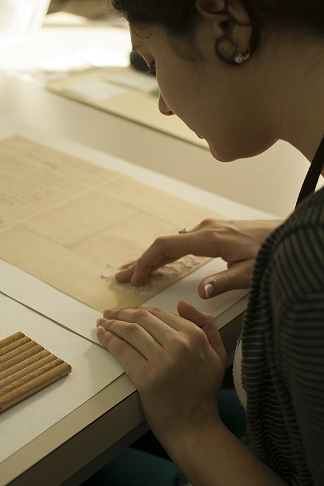 The path to becoming a conservator is not easy, but it can be fun. As with most things, the best way to learn is by doing, so experiencing hands-on internships, which are both exciting and edifying, are invaluable to conservators in training. My name is Karissa Muratore, and I am honored to have been accepted to the American Philosophical Society's William Spawn Internship, which is a position that allows me to work and learn under Anne Downey, Head of Conservation, and Renée Wolcott, Assistant Conservator for Library and Archival Materials.
As you may suspect, my first few weeks were filled with orientation, learning daily tasks, meeting the staff, and practicing hand skills, but soon I was off on my first real treatment, under the supervision of Anne Downey. The object was chosen specifically for me because I was in the process of applying to graduate school, and Anne felt it provided me the opportunity to try a range of tests and treatments that would be good for my application portfolio. The document/object is a solicitation letter, from Rubens Peale to Mrs. Morrisson of Tennessee. It is primarily letterpress printed, with additional writing in iron gall ink and graphite pencil. It also prominently displays a hand-painted wood engraving of an allegorical nature vignette. In addition to light surface grime, there were old mends. Where the old mends were placed, the age-related color change of the paper had been inhibited. This resulted in a striping effect, which was visually distracting. However, it was scheduled to be part of the 2017 APS exhibition, Curious Revolutionaries: The Peales of Philadelphia, so it required stabilization and a little aesthetic treatment.
The Peale family was highly influential in early Philadelphia and is often thought of as a family of artists. Rubens Peale, specifically, was instrumental as a museum director for his father's Philadelphia Museum, the Baltimore Museum, and his own museum in New York. The document seems to be a general solicitation, by Rubens Peale to Mrs. Morrisson, for interesting items that could be added to the Philadelphia Museum's collection. The return address of the letter is Belfield Farms, Pennsylvania, which was the home of Charles Willson Peale from 1810 to 1826 and declared a National Historic Landmark in 1965.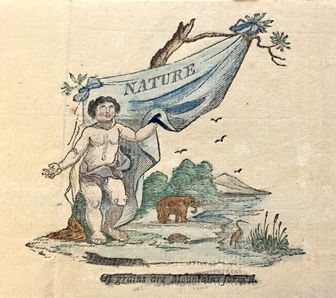 It is interesting to note a few things concerning this piece. One being that by the date of this document, 1815, Rubens had already become director of the Philadelphia Museum, and the second being that C. W. Peale's daughter, Elizabeth Peale, being about 13 years old at the time, is likely the painter of the vignette, which invokes the "Book of Nature." This, in combination with other elements of the object, suggests that this document was one of many that were produced en masse to be used as needed for museum business, which was a family affair. Indeed, it has been suggested that C. W. Peale designed this formal gift acknowledgment when the Museum was expanding into the State House in 1802, and that it prefigured his later self-portrait, Artist in His Museum, painted in 1822.
To say the least, I was ecstatic to be able to hold an object such as this, let alone be the one who cared for it, so I made sure to do my homework. That meant really getting to know the object not just historically but physically before I could make any kind of treatment proposal.