Introducing the 2022 Museum Guides
Michael Madeja is the Head of Education Programs at the APS Library & Museum. Prior to joining the Museum team...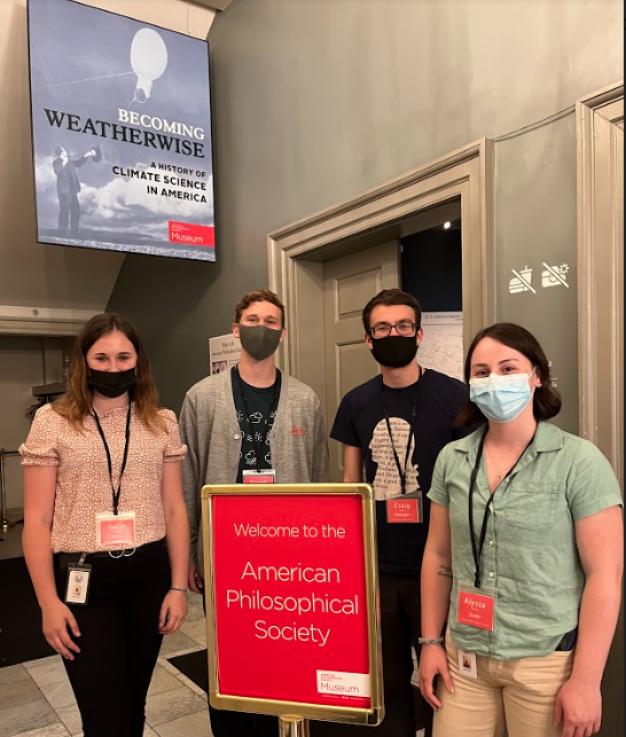 If you have not yet visited the 2022 exhibition Becoming Weatherwise, our new team of Museum Guides and Managers is just one additional reason to reserve a ticket!
Museum Managers
Craig Fox
I am excited to be returning to the APS for my third year, this time as a Manager. I am graduating this year from Temple University with a degree in Data Science. In my free time, I love hiking, rock climbing, and visiting the museums of Philadelphia and the surrounding cities.
Aaya Kingsbury
Aaya Kingsbury is a lifelong Philadelphia resident and currently one of the weekend managers for the newest exhibition at APS. She also works at the Museum of the American Revolution as a Visitor Engagement Associate. She graduated from the University of Delaware in May with a degree in Latin American History and Cold War Studies. 
Museum Guides
Alyssa Brophy
My name is Alyssa and I am a Philly native. I received a BA in History, MA in History, and a MLIS in Archive Management and wrote my thesis about immigration legislation and race science in regards to the Philly Italian immigrant population. Fun fact, my very first special collection experience was at the David Library of the American Revolution as an intern in 2016 - full circle! 
Josh Lewis
Joshua Lewis is a historic preservation professional pursuing a career in public history and interpretation focused on the built environment and its intersections with justice and culture. He obtained his Bachelor's Degree from Clark University in History and Philosophy in 2017. In 2021, he obtained an MS in Historic Preservation from the University of Pennsylvania.
Linda Lo
Hi, everyone! I'm Linda and I am currently a second year at Temple University studying Criminal Justice and History. As well as the APS, I also work for PennMuseum and have been interested in museum work since high school. I enjoy reading, hiking, and watching tiktoks (sorry) to unwind.
Kim Tursi
Kim is a junior at Temple University pursuing a major in global studies and a minor in finance. Her interest in history and desire to get more involved in the Philadelphia community drove her to apply to the APS, where she looks forward to learning more about the history of the APS and getting involved in its public programs. Some of Kim's interests include economics, public policy, ice cream, classical music, and K-dramas.
Sarah Snyder
I recently moved to Devon, Pennsylvania from upstate New York after enrolling in Villanova's History Master's Program and Non-Profit Certificate Program. I have a New York State teaching certification, and am currently a substitute teacher at Drexel Hill Middle School. I am so excited to be a guide for the APS and to participate in educational workshops to further my goal of becoming a history teacher or museum educator.
Stuart Whisnant
Stuart Whisnant is one of our Museum Guides, originally from Roanoke, Virginia, he's been in the City of Brotherly Love for seven years now. A Temple University graduate in Communications, Stuart's passion for history is what brought him to the APS. In his free time, he is an avid wildlife photographer.
Andrew Wert
Andrew has been a long-time Guide at the APS. He's been with the Museum since the Guide position was a volunteer one! Andrew has a background in technology and resides in Bucks County.