APS Announces 2019 Class of New Members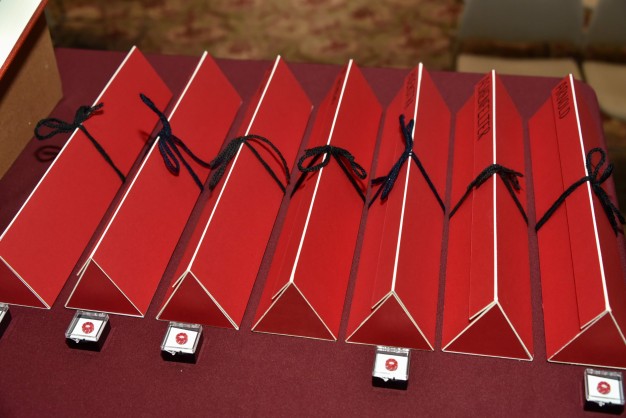 The American Philosophical Society is pleased to announce the election of new Members at its Spring 2019 Meeting. Today the Society has 1,013 elected members, 845 resident members and 168 international members from more than two dozen foreign countries. Only 5,676 members have been elected since 1743.  Since 1900, more than 260 members have received the Nobel Prize. 
CLASS 1:  MATHEMATICAL AND PHYSICAL SCIENCES
David L. Donoho 
Professor of Statistics, Anne T. and Robert M. Bass Professor in the Humanities and Sciences, Stanford University
Kerry Emanuel 
Cecil & Ida Green Professor of Atmospheric Science, Co-Founder, Co-Director, The Lorenz Center, Massachusetts Institute of Technology
Fernando Pereira 
Vice President and Engineering Fellow, Google, Inc.
David A. Tirrell 
Provost, Carl and Shirley Larson Provostial Chair, Ross McCollum-William H. Corcoran Professor of Chemistry and Chemical Engineering, California Institute of Technology
Xiaowei Zhuang 
David B. Arnold Professor of Science, Director, Center for Advanced Imaging, Harvard University; Investigator, Howard Hughes Medical Institute
International:
Fabiola Gianotti 
Director-General, CERN
Adi Shamir 
Paul and Marlene Borman Professorial Chair of Applied Mathematics, Department of Applied Mathematics, The Weizmann Institute of Science
CLASS 2:  BIOLOGICAL SCIENCES
Catherine Dulac 
Investigator, Howard Hughes Medical Institute; Higgins Professor of Molecular and Cellular Biology, Lee and Ezpeleta Professor of Arts and Sciences, Harvard University
Laurie H. Glimcher 
President, Chief Executive Officer, Dana-Farber Cancer Institute; Richard and Susan Smith Professor of Medicine, Harvard Medical School
Erin K. O'Shea 
Investigator, President, Howard Hughes Medical Institute; Paul C. Mangelsdorf Professor of Molecular and Cellular Biology and Chemistry and Chemical Biology, Harvard University
Gary Ruvkun 
Professor of Genetics, Harvard Medical School; Hans-Hermann Schoene Distinguished Investigator, Department of Molecular Biology, Massachusetts General Hospital
Clifford J. Tabin 
George Jacob and Jacqueline Hazel Leder Professor of Genetics, Chair, Department of Genetics, Harvard Medical School; Adjunct Professor of Health Sciences & Technology, Massachusetts Institute of Technology
International:
Kamaljit S. Bawa 
Founder, President, Ashoka Trust for Research in Ecology and the Environment, India; Distinguished Professor of Biology, University of Massachusetts, Boston
Chris Stringer 
Research Leader in Human Origins, Natural History Museum, London
CLASS 3: SOCIAL SCIENCES
Larry M. Bartels 
Professor of Political Science, May Werthan Shayne Chair of Public Policy and Social Science, Vanderbilt University
Annette Gordon-Reed 
Charles Warren Professor of American Legal History, Harvard Law School; Professor of History, Harvard University
Martin Jay 
Sidney Hellman Ehrman Professor of History Emeritus, University of California, Berkeley
Roger B. Myerson 
Professor of Economics, David L. Pearson Distinguished Service Professor of Global Conflict Studies, Harris School of Public Policy, University of Chicago
Philip Tetlock 
Annenberg University Professor, Professor of Psychology, School of Arts and Sciences, and Professor of Management, Wharton School, University of Pennsylvania
CLASS 4: HUMANITIES
Kathy Eden 
Chavkin Family Professor of English, Professor of Classics, Professor of English and Comparative Literature, Columbia University
Brian Daniel Joseph 
Distinguished University Professor, Kenneth E. Naylor Professor of Slavic Languages and Linguistics, Professor of Linguistics, Ohio State University
Jonathan Lear 
John U. Nef Distinguished Service Professor, Committee on Social Thought and Department of Philosophy, University of Chicago
Naomi Oreskes 
Professor of the History of Science, Affiliated Professor of Earth and Planetary Science, Harvard University
Judith Jarvis Thomson 
Professor of Philosophy Emeritus, Massachusetts Institute of Technology
International:
Karine Chemla 
Directrice de recherche classe exceptionnelle, Centre National de Recherche Scientifique
Jean-Louis Ferrary 
Directeur d'études emeritus, École Pratique des Hautes Études, Paris
Romila Thapar 
Professor of History Emeritus, Jawaharlal Nehru University, New Delhi
CLASS 5: THE ARTS, PROFESSIONS, LEADERS IN PUBLIC AND PRIVATE AFFAIRS
S. James Anaya 
Dean, University Distinguished Professor, University of Colorado Law School
William Drayton 
Founder, Chairman and Chief Executive Officer, Ashoka: Innovators for the Public
Jennifer Higdon 
Composer; Milton L. Rock Chair in Composition Studies, The Curtis Institute of Music
John Lithgow 
Actor
Nancy Weiss Malkiel 
Professor of History Emeritus, Princeton University
David M. Rubenstein 
Co-Founder, Executive Chairman, The Carlyle Group
Patrick Spero 
Librarian, Director, Library of the American Philosophical Society
Patricia Williams 
James L. Dohr Professor of Law, Columbia University; Columnist, The Nation
International:
David Cannadine 
President,  British Academy;  Dodge Professor of History, Princeton University; Visiting Professor of History, Oxford University