The American Philosophical Society Welcomes New Members for 2020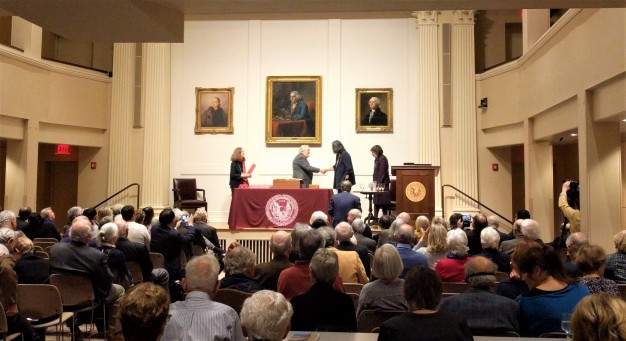 The American Philosophical Society is pleased to welcome new Members elected to the Society in 2020. Election to the American Philosophical Society honors extraordinary accomplishments in all fields. The APS is unusual among learned societies because its Membership is comprised of top scholars from a wide variety of academic disciplines.
Class 1:  Mathematical and Physical Sciences
Ernest J. Moniz, Cecil and Ida Green Professor of Physics and Engineering Systems Emeritus, Special Advisor to the President, Massachusetts Institute of Technology; CEO, Energy Futures Initiative; Co-Chair and CEO, Nuclear Threat Initiative; Former U.S. Secretary of Energy
James M. Moran, Senior Scientist, Smithsonian Astrophysical Observatory; Donald H. Menzel Professor of Astrophysics Emeritus, Harvard University
Sidney Nagel, Stein-Freiler Distinguished Service Professor, James Franck Institute, Enrico Fermi Institute, and Department of Physics, University of Chicago
Monica Olvera de la Cruz, Lawyer Taylor Professor of Materials Science and Engineering, Professor of Chemistry, Professor of Chemical and Biological Engineering, Professor of Physics and Astronomy, Director of the Center for Computation and Theory of Soft Materials; and deputy-director of the Center for Bio-Inspired Energy Science, Northwestern University
Eva Tardos, Jacob Gould Schurman Professor of Computer Science, Cornell University
International
Lia Addadi, Professor, Department of Structural Biology, Dorothy and Patrick Gorman Professorial Chair, Weizmann Institute of Science  
Ewine van Dishoeck, Professor of Molecular Astrophysics, Leiden Observatory, University of Leiden; External Scientific Member, Max Planck Institute Extraterrestrial Physics; Scientific Director, NOVA
Class 2:  Biological Sciences
Jeanne Altmann, Eugene Higgins Professor of Ecology and Evolutionary Biology Emerita, Princeton University
Scott Vernon Edwards,  Alexander Agassiz Professor of Organismic and Evolutionary Biology, Curator of Ornithology, Museum of Comparative Zoology, Harvard University
David Ginsburg, Investigator, Howard Hughes Medical Institute; James V. Neel Distinguished University Professor, Departments of Internal Medicine, Human Genetics, and Pediatrics, Life Sciences Institute, University of Michigan
Carl H. June, Richard W. Vague Professor in Immunotherapy, Department of Pathology and Laboratory Medicine, Director, Center for Cellular Immunotherapies, Director, Parker Institute for Cancer Immunotherapy, Perelman School of Medicine, University of Pennsylvania
Venki Ramakrishnan, Group Leader, MRC Laboratory of Molecular Biology; Fellow, Trinity College, Cambridge; President, The Royal Society, London
International
John James Skehel, Emeritus Scientist, UK National Institute for Medical Research (NIMR); Emeritus Scientist, Francis Crick Institute
Class 3:  Social Sciences
Mahzarin R. Banaji, Richard Clarke Cabot Professor of Social Ethics, Department of Psychology, Senior Advisor to Dean, Faculty of Arts and Sciences, Harvard University; External Faculty, Santa Fe Institute
Joyce Chaplin, James Duncan Phillips Professor of Early American History, Harvard University
Alondra Nelson, President, Social Science Research Council; Harold F. Linder Chair, School of Social Science, Institute for Advanced Study
James C. Scott, Sterling Professor of Political Science, Professor of Anthropology, Professor of Forestry & Environmental Studies, Yale University
Alan Taylor, Thomas Jefferson Foundation Chair in American History, University of Virginia
Class 4:  Humanities
Caroline Astrid Bruzelius, Anne Murnick Cogan Professor Emerita of Art and Art History, Duke University
Angela N. H. Creager, Thomas M. Siebel Professor in the History of Science, Princeton University
Catherine Gallagher, Ida May and William J Eggers, Jr. Professor Emerita, University of California, Berkeley
David Tracy, Andrew Thomas Greeley and Grace McNichols Greeley Distinguished Service Professor Emeritus of Catholic Studies, and Professor Emeritus of Theology and the Philosophy of Religions, University of Chicago Divinity School and the John U. Nef Committee on Social Thought
David Wellbery, Director, Center for Interdisciplinary Research on German Literature and Culture, Leroy T. and Margaret Deffenbaugh Carlson University Professor, Germanic Studies, John U. Nef Committee on Social Thought, University of Chicago
International
Maribel Fierro, Research Professor, Institute of Languages and Cultures of the Mediterranean (ILC), CSIC (Consejo Superior de Investigaciones Científicas)
Eva Schlotheuber, Professor of Medieval History, Heinrich Heine University Düsseldorf, President of the German Historical Association
Class 5:  The Arts, Professions, Leaders in Public & Private Affairs
Elizabeth Alexander, Essayist, Poet; President, The Andrew W. Mellon Foundation
Marin Alsop, Music Director, Baltimore Symphony Orchestra; Chief Conductor, Vienna Radio Orchestra, Ravinia Festival; Director, Graduate Conducting Studies, Peabody Institute, John Hopkins University; Conductor of Honor, São Paulo Symphony
Louise Henry Bryson, Chair Emerita, Founder, Getty Conservation Council, J. Paul Getty Trust
Lonnie Bunch III, Secretary, Smithsonian Institution
Carla Hayden, Librarian, Library of Congress
Goodwin Liu, Associate Justice, California Supreme Court
David W. Oxtoby, President, American Academy of Arts and Sciences; President Emeritus, Pomona College
André Watts, Pianist; Jack I. and Dora B. Hamlin Endowed Chair in Music, Distinguished Professor of Music, Indiana University
International
Robert Tony Watson, Former Professor and Director, Tyndall Center for Climate Change Research, University of East Anglia
About the American Philosophical Society
The American Philosophical Society, the oldest learned society in the United States, was founded in 1743 by Benjamin Franklin for the purpose of "promoting useful knowledge." The Society sustains its mission in four principal ways. It honors and engages distinguished scientists, humanists, social scientists, and leaders in civic and cultural affairs through elected membership and opportunities for interdisciplinary, intellectual fellowship, particularly in the semi-annual Meetings in Philadelphia. It supports research and discovery through grants and fellowships, lectures, publications, prizes, exhibitions, and public education. It serves scholars through a research library of some 13 million manuscripts and other collections internationally recognized for their enduring scholarly value. The American Philosophical Society's current activities reflect the founder's spirit of inquiry, provide a forum for the free exchange of ideas, and convey the conviction of its members that intellectual inquiry and critical thought are inherently in the public interest.
Early Members included George Washington, John Adams, Thomas Jefferson, James Madison, Alexander Hamilton, and John Marshall.  In the nineteenth century, John James Audubon, Robert Fulton, Charles Darwin, Thomas Edison, and Louis Pasteur were among those elected.  Albert Einstein, Robert Frost, and George Marshall hint at the scientific, humanistic, and public accomplishments of 20th-century Members.  The first woman was elected in 1789 - the Russian Princess Dashkova, president of the Imperial Academy of Sciences of St. Petersburg. 
Today the Society has 1,051 elected Members, 852 resident Members and 169 international Members from more than two dozen foreign countries. Only 5,715 Members have been elected since 1743. Since 1900, more than 260 Members have received the Nobel Prize.