2022-2023 Mellon Foundation Native American Scholars Initiative Predoctoral Fellow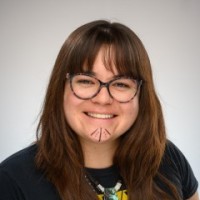 Maura Sullivan (Mellon Foundation Native American Scholars Initiative Predoctoral Fellowship) is a Chumash linguist working on her PhD at Tulane University. Her linguistic interests include using archives in language revitalization as well as audio and video techniques for language use. She is active in the language revitalization and preservation movement working on Chumash languages since 2010 and networking with other Indigenous language workers. She has a certificate in Community Engaged scholarship through the Mellon Fellowship and Center for Public Service at Tulane. She is currently a Peter S. Buck predoctoral fellow with the Smithsonian National Museum of Natural History analyzing Chumash linguistic archives. 
She will be joining the APS as an Andrew W. Mellon Native American Scholars Initiative CNAIR scholar in January 2023 focusing on writing her dissertation "Redefining our record: Chumash inquiry in Smithsonian archives". For many years the presentation of Chumash language and culture was done through a predominantly settler colonial lens and this research is focusing on Chumash approaches and understandings of the archival data.  She is excited to work alongside other scholars at APS looking at issues of intellectual property and how tribal communities can use archives in digital and online platforms in ways that fit their social and cultural needs. 
She currently holds an MA in linguistics from Tulane as well as a two BAs in Native American Studies and History of Art from UC Berkeley. She is active in her community as a song keeper, fisherman and also works on forest defense and education. 
Research Project: "Redefining our Record: Chumash Inquiry in the Smithsonian Archives"