Hidden History Scavenger Hunt
(Only one person from the team needs to register.)
Jefferson Garden
105 S. 5th Street
Philadelphia, PA 19106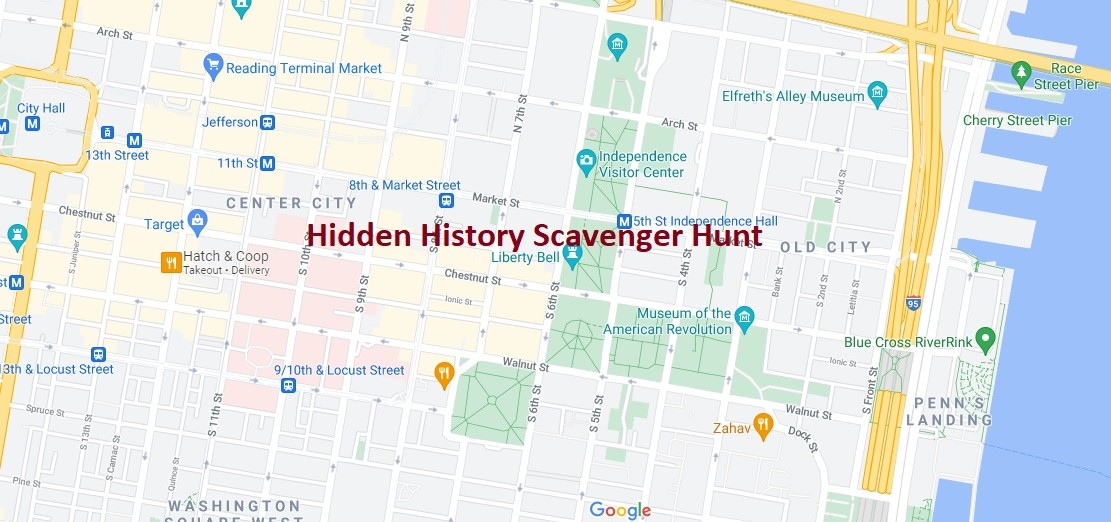 Sunday, September 19 
Gather a group of friends to explore Philadelphia's history hidden in plain sight! 
On Sunday, September 19 from 12 p.m. to 5 p.m. the American Philosophical Society is hosting a scavenger hunt for all ages. But this isn't your average scavenger hunt. History buffs and tourists alike will learn something new on their adventure to find key locations around Old City.
Each team can have 1-4 participants but only one person on the team needs to register to secure your spot. On Sunday, September 19 come to the Jefferson Garden, next to the APS Library at 105 S. 5th St. between 12 and 1 o'clock to pick up your scavenger hunt and check in with our staff. Make sure to give yourself 90 minutes to two hours to complete the hunt and be back by 5 p.m. to get your work checked. Once you register, our staff will share more details and information. 
Gain points with every location you spot and record it on paper or with photos using your phone. The team with the highest score will be awarded exclusive APS prizes! We have space for up to 10 teams, so come ready to compete!
Prepare for extensive walking if signing up for this activity. We are not able to provide refreshments or restroom accommodations, but are happy to recommend local restaurants and other facilities in the area. The hunt takes place entirely outside, but masks are required indoors in Philadelphia, so be sure to bring one with you for any restaurant or restroom breaks along the way.
Register today to secure your team's spot! 
Have questions? Please email us at MuseumEducation@AmPhilSoc.Org.