David Center Lecture: "Feeding Washington's Army: Surviving the Valley Forge Winter of 1778" with Ricardo Herrera
Washington Crossing Historic Park Visitor Center
1112 River Road
Washington Crossing, PA 18977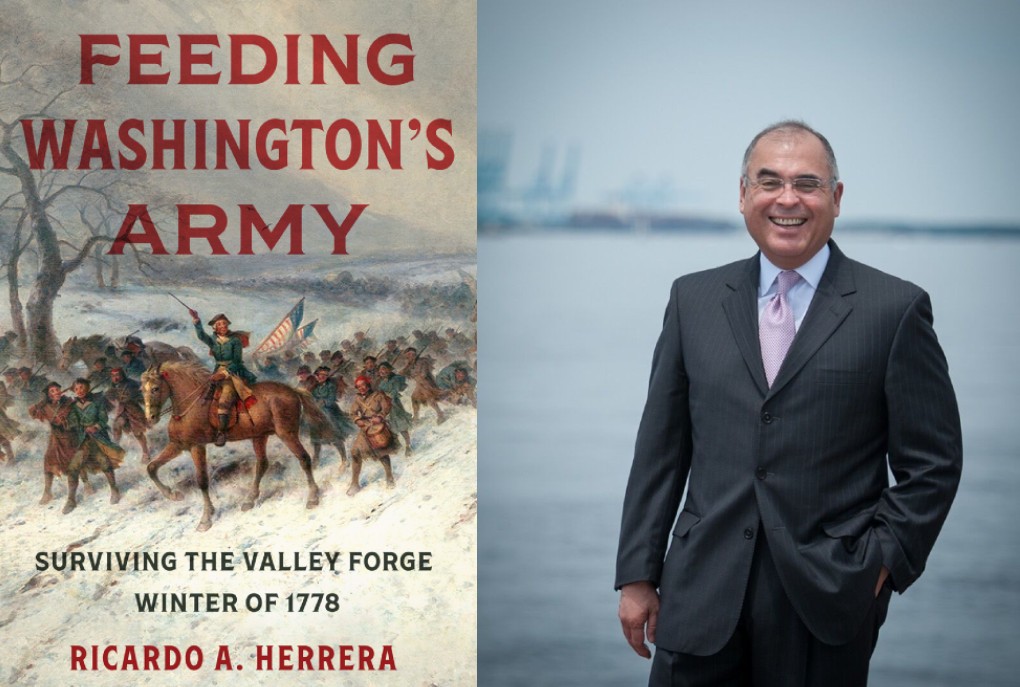 In this major new history of the Continental Army's Grand Forage of 1778, award-winning military historian Ricardo A. Herrera uncovers what daily life was like for soldiers during the darkest and coldest days of the American Revolution: the Valley Forge winter. Here, the army launched its largest and riskiest operation—not a bloody battle against British forces but a campaign to feed itself and prevent starvation or dispersal during the long encampment. Herrera brings to light the army's herculean efforts to feed itself, support local and Continental governments, and challenge the British Army.
Highlighting the missteps and triumphs of both General George Washington and his officers as well as ordinary soldiers, sailors, and militiamen, Feeding Washington's Army moves far beyond oft-told, heroic, and mythical tales of Valley Forge and digs deeply into its daily reality, revealing how close the Continental Army came to succumbing to starvation and how strong and resourceful its soldiers and leaders actually were.
Herrera will discuss his new book, Feeding Washington's Army: Surviving the Valley Forge Winter of 1778 (Chapel Hill, University of North Carolina Press, 2022). The talk will be held in-person at Washington Crossing Historic Park and will also be livestreamed. Books will be available for purchase and a book signing with the author will be held after the talk.
The event is free to attend but registration is required. Please register here to attend in-person and to receive the Zoom link.
This event is hosted by the David Center for the American Revolution at the American Philosophical Society. This event will take place on Thursday, June 1, 2023 at 7:00 p.m. ET at the Visitor Center in Washington Crossing. 
Can't make it? Join us instead on Wednesday, May 31 at 12:00 p.m. ET for Lunch at the Library! Details here.
---
Dr. Ricardo A. Herrera is Visiting Professor, Department of National Security and Strategy, US Army War College, and an award-winning author. Herrera is the author of Feeding Washington's Army: Surviving the Valley Forge Winter of 1778 (Chapel Hill, University of North Carolina Press, 2022); For Liberty and the Republic: The American Citizen as Soldier, 1775-1861 (New York: New York University Press, 2015); and of numerous articles and chapters on US military history. He is now completing the tentatively-titled A Most Uncommon Soldier: The Life, Letters, and Journal of Edward Ashley Bowen Phelps, 1814-1893, an edited collection, to be published by the University Press of Kansas. Herrera's next project will examine the 1778 and 1779 campaigns for Savannah during the American War for Independence. Before joining the Army War College, Rick Herrera was Professor of Military History at the School of Advanced Military Studies, US Army Command and General Staff College. A graduate of Marquette University (PhD, 1998) and the University of California, Los Angeles (1984), Herrera was previously a historian on the Staff Ride Team, US Army Combined Arms Center, and taught at Mount Union College and Texas Lutheran University. He has also served as an armor and cavalry officer in the US Army.