Earthworks: Selected Poems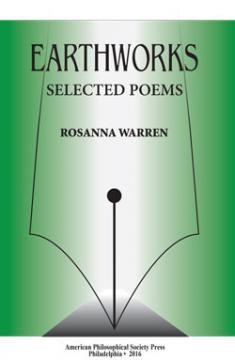 106 pages (12 FM; 94 text)
In this inspiring volume, Rosanna Warren chronologically arranges poems selected from her four published collections of poetry. She places the poetry "under the protection of two poetry saints: William Blake and Hart Crane," and convincingly reminds us that "poems have work to do: to bear witness, to cry out, to lament, to praise"—poems should be "psalms for their time."
Rosanna Warren is the Hanna Holborn Gray Distinguished Service Professor in the Committee on Social Thought at the University of Chicago. She has received awards from the Academy of American Poets, the American Academy of Arts and Letters, the Lila Wallace Foundation, the Guggenheim Foundation, and the New England Poetry Club, among others. She served as Chancellor of the Academy of American Poets from 1999–2005 and is a member of the American Academy of Arts and Letters and the American Academy of Arts and Sciences. She was elected a Member of the American Philosophical Society in 2015.
Errata:
The last line on page 21 should be "to us from its lair of smoke" (not "for").
The third line from the bottom on page 53 should be "from the gash, the core" (not "froze the gash").
In the last line on page 59, the "i" in "its" should be lowercased.
In the first line on page 77, there should be no comma after "clench."