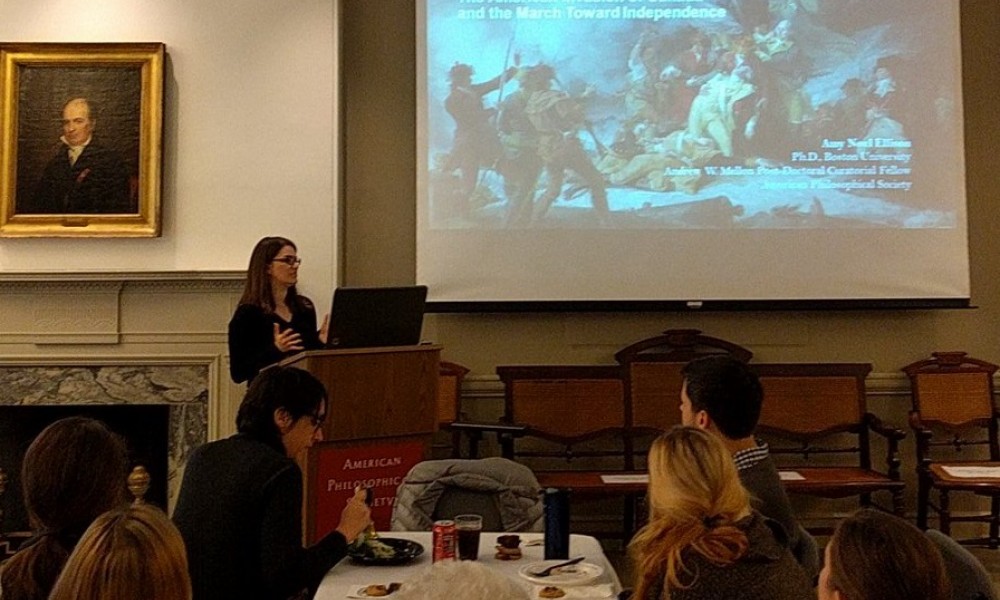 Each month, the American Philosophical Society hosts a lunch presentation focused on new research and emerging topics given by APS staff or scholars from Philadelphia institutions and beyond. From the U.S. Constitution to 18th-century French mathematicians, the topics are as varied as the research interests and collections at the APS.
Lunch and the program are from 12:00 to 1:00 p.m. in Philosophical Hall (104 South Fifth Street, Philadelphia). All are welcome to attend although we ask you to RSVP to Adrianna Link at alink@amphilsoc.org.
Spring 2019 Calendar
January 16: Madalina Veres, 2017-2018 APS Postdoctoral Fellow in Digital History on the APS 275th Anniversary Digital Timeline
---
February 14: William Butler, The John Edward Fowler Distinguished Professor of Law, Dickinson Law, Pennsylvania State University, and Emeritus Professor of Comparative Law in the University of London, on "Peter Du Ponceau: Legal Bibliophile"
---
May 9: Robin Wolfe Scheffler, Assistant Professor of Science, Technology, and Society (STS) at the Massachusetts Institute of Technology and a 2012-2013 APS Library Research Fellow on his book, A Contagious Cause: The American Hunt for Cancer Viruses and the Rise of Molecular Medicine (University of Chicago Press, 2019)
---
Check back soon for more!