Weatherwise: Primary Sources for Studying the Climate in APS Collections--A Virtual Discussion with David Gary, D.O. McCullough, Bayard L. Miller, and Molly Nebiolo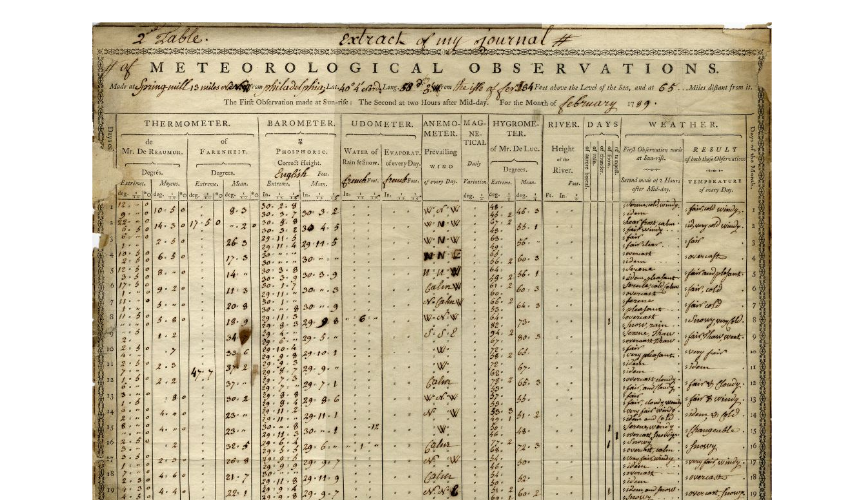 In honor of Archives Month and the launch of the APS Community Science Weather Project, learn more about primary sources documenting weather and the climate collected by the American Philosophical Society. APS founder Benjamin Franklin was well known in his day for his interest in weather phenomena and pithy expressions ("some are weatherwise; some are otherwise"). His interest has inspired many others over the centuries. New materials documenting historic weather continue to be collected by the APS. In the twenty-first century, scholars are looking anew at these materials as they seek to understand climate change.
Join Associate Director of Collections David Gary; The Andrew W. Mellon Foundation Postdoctoral Curatorial Fellow D.O. McCullough; Head of Digital Scholarship and Technology Bayard L. Miller;  and Friends of the APS Predoctoral Fellow in Early American History Molly Nebiolo to learn more about historic sources in the collection and contemporary uses to which they are being put.
The event will take place on Thursday, October 28 at 1:00pm EDT via Zoom. The event is free of charge, but registration is required to attend.
---
David Gary is the Associate Director of Collections and builds, interprets, and protects the Society's collections of books, pamphlets, broadside, maps, and ephemera.
David Oliver (D. O.) McCullough is curating the 2022 APS Museum exhibition on Climate Science. His research explores the history of educators and educational programs in American science museums, focusing on their respective influence on the development of science museums as institutions.
Bayard L. Miller is the Head of Digital Scholarship & Technology. He spends his days running the Center for Digital Scholarship and making sure that Library patrons can access the diverse array of collections held at the APS.
Molly Nebiolo is a Ph.D. candidate at Northeastern University and a Friends of the APS Predoctoral fellow for 2021-2022. Her dissertation project, "Constructing Health: Concepts of Well-Being in the Early Atlantic World", looks at practices and definitions of public health in seventeenth- and eighteenth-century early American city-spaces (Philadelphia, Charleston, and Savannah).