A Tale of Two Viruses: Parallels in the Research Trajectories of Tumor and Bacterial Viruses--A Virtual Discussion with Neeraja Sankaran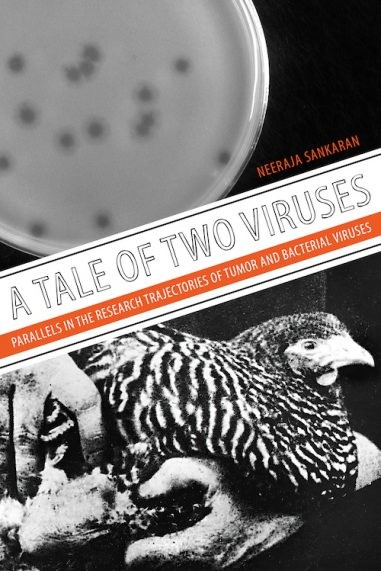 Dickens and the APS may not seem the most natural of pairings, but according to Neeraja Sankaran they both played key roles in the shaping of A Tale of Two Viruses (University of Pittsburgh Press, 2021). The APS is home to records that inform a significant part of the book—including those of Nobel Prize-winning pathologist Peyton Rous. The obvious homage to the title of Dickens's famous book aside, one of the two titular viruses of this Tale is the bacteriophage, which not only rhymes with Madame Defarge, the arch-villainess in Dickens's A Tale of Two Cities, but shares one of her most villainous traits as well. (Attend the talk or read the book to find out more!)
A Tale of Two Viruses is the first study of medical virology to compare the history of two groups of medically important viruses—the aforementioned bacteriophages, which infect bacteria, and sarcoma agents, which induce tumors in chicken. Although these two groups of viruses may at first glance appear to have little in common, they share uniquely parallel histories, marked by contentious debates over their natures in the years immediately following their discoveries. The linchpin that brought the parallels to convergence was resolution of a phenomenon called lysogeny, one of the two types of viral life cycles, which was also key to our modern understanding of what a virus is. By following the research trajectories of the two virus groups, this book takes a novel approach to the history of the development of the field of medical virology, considering both the flux in scientific concepts over time and the broader scientific landscapes or styles that shaped those ideas and practices.
Join us for a virtual conversation with Neeraja Sankaran as we discuss this particular episode in the history of virology and how it shapes debates about viruses today. 
The event will take place on Wednesday, September 15 at 1:00pm EDT via Zoom. The event is free of charge, but registration is required to attend.
---
Neeraja Sankaran is a historian of science and medicine with a primary focus in the recent and near-contemporary history of biomedical sciences. Her recent books include Leeuwenhoek's Legatees and Beijerinck's Beneficiaries, and A Tale of Two Viruses. She holds a PhD in History of Science from Yale University, a Certificate in Science Writing from the University of California, Santa Cruz, and a Master of Science in Microbiology from the University of Alberta. An independent scholar, she has held positions at universities in different parts of the world, including the United States, Egypt, South Korea, India, the United Kingdom, and the Netherlands. She is currently a visiting scholar at Utrecht University.