Second Saturday: Fun with Fossils
APS Museum
104 S. 5th Street
Philadelphia, PA 19106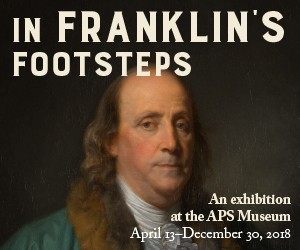 Visit the American Philosophical Society Museum on the second Saturday of the month this summer for free, hands-on activities geared towards families!
How are fossils formed? What can fossils teach us about organisms that lived millions, even billions of years ago?
Join us on Saturday, July 14th as we explore all that fossils can teach us about the past! From 12 p.m. to 3 p.m., you can make your own fossils and learn why Paleontologists ruthlessly competed to get their hands on as many fossils as possible.
Every second Saturday of the month, June through September, the APS Museum will have free educational activities for families, individuals, and all visitors to enjoy.