Pursuit & Persistence After Hours Tours
APS Museum- Philosophical Hall
104 South Fifth Street
Philadelphia, PA 19106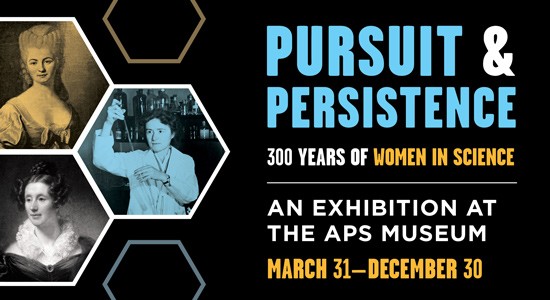 Friday, October 13 from 5:30 p.m.-8:30 p.m. ET
Registration Required.
Join the APS on Friday, October 13th for the Pursuit & Persistence After Hours Tours!
Are you the type of museum-goer who craves a tour instead of a self-guided experience?
If so, join the APS Museum for Pursuit & Persistence After Hours Tours! Hang out on our second floor of Philosophical Hall with activities, snacks, and drinks while you wait for your guided tour of our exhibition Pursuit & Persistence: 300 Years of Women in Science.
Guided tours will be at 6:00 p.m. & 7:00 p.m. on a first come, first serve basis. Tours are a maximum of 20 people per tour. After the last tour of the night, the exhibition will be open for self-guiding in case you wanted to get a closer look at something you saw along the way!
We hope you can join us on October 13th for some after work drinks, snacks, activities, and of course some tours!
Registration is required
This event is for ages 21 and over.