Prisoners, Violence, and Vengeance in the American Revolution--A Virtual Discussion with T. Cole Jones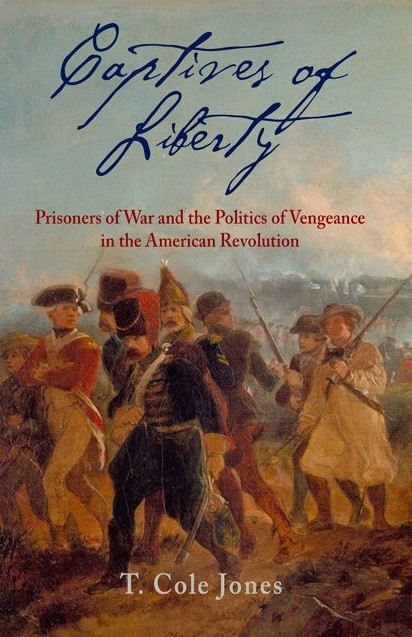 Join us for a virtual conversation with T. Cole Jones as we discuss his book, Captives of Liberty: Prisoners of War and the Politics of Vengeance in the American Revolution (University of Pennsylvania Press, 2020).
This lecture, hosted by the Society's David Center for the American Revolution, will examine how the American Revolutionaries grappled with the problem of prisoner treatment and what that treatment reveals about the nature of the American Revolution. During the eight-year conflict, American forces captured over seventeen thousand British and allied Germanic soldiers, as well as thousands more loyalist civilians and British mariners.
The number of enemy prisoners in American custody often exceeded that of American soldiers in the Continental army. These prisoners proved increasingly burdensome for the new nation as the war progressed. What was to become of these men? How should they be confined? Who would pay to house and feed them? When and how should they be released? A series of thorny political issues compounded these logistical difficulties. Throughout the war, the British government denied the legitimacy of the American cause and treated captured Revolutionaries as rebels in arms. While British forces declined to execute American POWs for treason, they did subject them to a grueling captivity aboard filthy prison ships in New York harbor and in damp stone prisons in England and Scotland. Over half of these men perished in British hands. How did the Revolutionary government respond to these provocations? This talk will take you from the meeting rooms of the Continental Congress to the prison camps of Virginia, Maryland, and Pennsylvania, revealing the factors that coalesced to transform the conflict into a war for vengeance, escalating its violence precipitously.
The event will take place on Wednesday, October 6 at 1:00pm EDT via Zoom. The event is free of charge, but registration is required to attend.
---
T. Cole Jones specializes in Colonial and revolutionary America, the Atlantic world, the cultural history of violence, and war and society. He is Associate Professor of History at Purdue University and holds a PhD in Early American History from Johns Hopkins University. Prior to joining the Purdue faculty, he was the Hench Post-Dissertation Fellow at the American Antiquarian Society and the National Endowment for the Humanities fellow at the New-York Historical Society.
In addition to Captives of Liberty, Jones has published articles in the New England Quarterly, the Journal of the Early Republic, the Journal of Military History, and Common-Place. He contributed a chapter to "Justifying Revolution: Law, Virtue, and Violence in the American War of Independence," edited by Glenn Moots and Philip Hamilton. His research has been supported by the Harry Frank Guggenheim Foundation, the United States Army Center of Military History, and the Fred W. Smith National Library for the Study of George Washington at Mount Vernon, among others. He is currently at work on his next book, "Loyalist Rising: The Battle of Moore's Creek Bridge," is under contract with Westholme Press, and is also working on a study of the western theater of the American Revolutionary War provisionally entitled, "Patrick Henry's War: The Struggle for Empire in the Revolutionary West."