Poor Richard's Women: A Talk with Nancy Rubin Stuart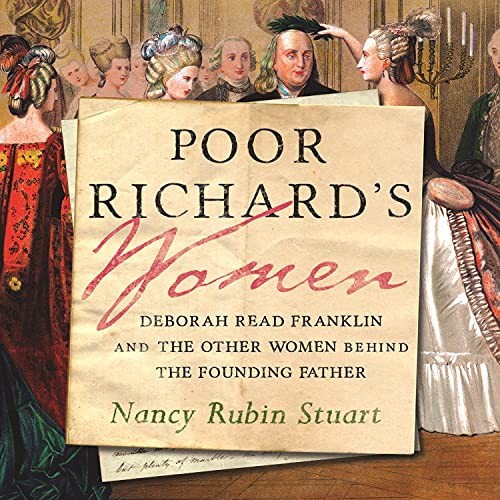 The Carpenters' Company and the American Philosophical Society's Library and Museum celebrate Women's History Month with a free virtual talk with Nancy Rubin Stuart, the author of the new book Poor Richard's Women: Deborah Read Franklin and the Other Women Behind the Founding Father (available March 15).
Poor Richard's Women reveals the long-neglected voices of the women Franklin loved and lost during his lifelong struggle between passion and prudence. The most prominent among them was Deborah Read Franklin, his common-law wife and partner for forty-four years. Long dismissed by historians, she was an independent, politically savvy woman and devoted wife who raised their children, managed his finances, and fought off angry mobs at gunpoint while he traipsed about England. Weaving detailed historical research with emotional intensity and personal testimony, the book traces Deborah's life and those of Ben's other romantic attachments through their personal correspondence. We are introduced to Margaret Stevenson, the widowed landlady who managed Ben's life in London; Catherine Ray, the twenty-three-year-old New Englander with whom he traveled overnight and later exchanged passionate letters; Madame Brillon, the beautiful French musician who flirted shamelessly with him; and the witty Madame Helvetius, who befriended the philosophes of pre-Revolutionary France and brought Ben to his knees.
This event will take place on Wednesday, March 2, 2022 at 1:00 p.m. EST via Zoom. The event is free of charge; registration is required to attend.
---
An award-winning author/journalist, Nancy Rubin Stuart specializes in social history, social trends and women's history. Her earlier book Defiant Brides: The Untold Story of Two Revolutionary-Eva Women and the Radical Men They Married was a selection of the Book-of-the-Month Club-2, the History Book Club and the Military Book Club. Other acclaimed books include The Muse of the Revolution, The Reluctant Spiritualist, American Empress, Isabella of Castile, The Mother Mirror and The New Suburban Woman. Nancy has appeared on national television, been interviewed on national radio, including NPR's Morning Edition. Her journalistic work includes The New York Times, Huffington Post, New England Quarterly, American History and other national magazines. Nancy serves as executive director of the Cape Cod Writers Center.