Cliveden of the National Trust
6401 Germantown Ave
Philadelphia, PA 19144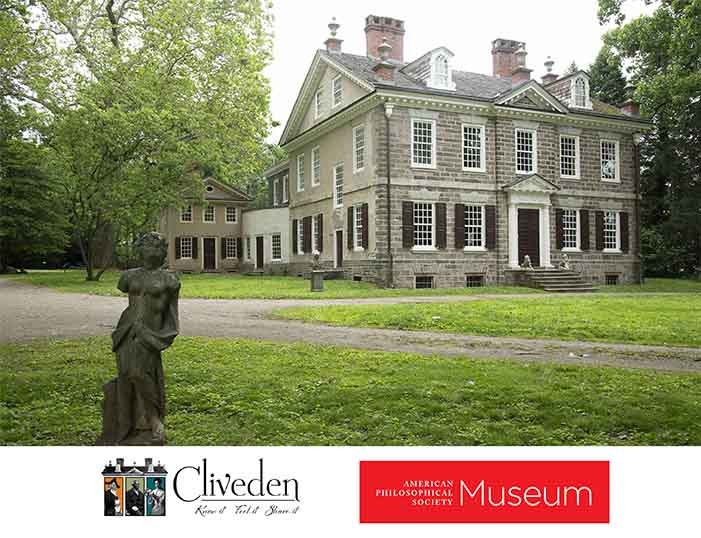 Sunday, July 28th from 2:00 p.m.-4:00 p.m.
Join us at Cliveden for the second lecture in the "Map Chats" series, running throughout the Mapping a Nation exhibition. Today, maps are used in a variety of ways, from artistic pieces to scientific tools. Throughout the program series, join us as we survey the different aspects and opportunities that maps present to us. 
At "Map Chats: Cliveden" learn about what is involved in surveying and making maps paired with tours of Cliveden. Curator of the current exhibition, Mapping a Nation, at the American Philosophical Society, Dr. Erin Holmes will be talking about what it takes to make a map and how surveying fits into map making. Afterwards, participants can see first-hand some 18th century surveying equipment and learn how they work! This is a free, family friendly event. Tours of Cliveden are available for an additional fee and begin on the hour.
2:00 p.m.-2:30 p.m.: Talk with Dr. Erin Holmes
2:30 p.m.-4:00 p.m.: Hands-on Surveying Equipment Demonstrations  
12:00 p.m.-4:00 p.m.: Tours of Cliveden (on the hour) 
About Erin Holmes: Dr. Erin Holmes is an Andrew W. Mellon Post-Doctoral Curatorial Fellow and lead-curator for the Museum's current exhibition, Mapping a Nation: Shaping the Early American Republic. She received her Ph.D. in History from the University of South Carolina in as well as a Certificate in Cultural Resource Management and Historical Archaeology, and a B.A. in History from the College of William and Mary. She is working on a book project titled The House that Slavery Built: Social and Material Transformation in the British Atlantic World, 1670-1831. Her research compares the evolution of plantation slavery and colonial identity through the built environment in South Carolina, Barbados, and throughout the Atlantic World during the long 18th century. 
About Cliveden: A site of the National Trust for Historic Preservation and a proud member of Historic Germantown, Cliveden opened to the public in 1972. Built in 1763-1767, Cliveden was home to seven generations of the Chew family, was the site of the Battle of Germantown in October 1777, and serves as an example of Philadelphia Georgian architecture. As a house museum, Cliveden focuses on telling the complete history of the property by interpreting the buildings and grounds; giving a voice to the men and women—black, white, free, enslaved, and indentured—who had contact with the Chews and engages community input through various programs and events. The site is open for tours through the spring and fall and for school and group tours year round. For more information: www.cliveden.org or 215-848-1777.
Registration is required. 
Cliveden Image Credit: Garth Herrick, courtesy of Cliveden of the National Trust.